What Chocolate Hampers Do You Have for a Christening?
Author: Nicole Adler Date Posted:20 April 2016


Many customers love to get chocolate hampers for a christening, considering the fact that our chocolate hampers contain gifts for the baby as well as the parents. Of course, you can also obtain one of our chocolate hampers for the parents alone, and get a separate baby hamper for the newborn baby. To get a better idea of the unique chocolate gifts we offer for christenings, be sure to discover our recommended luxury chocolate hampers below!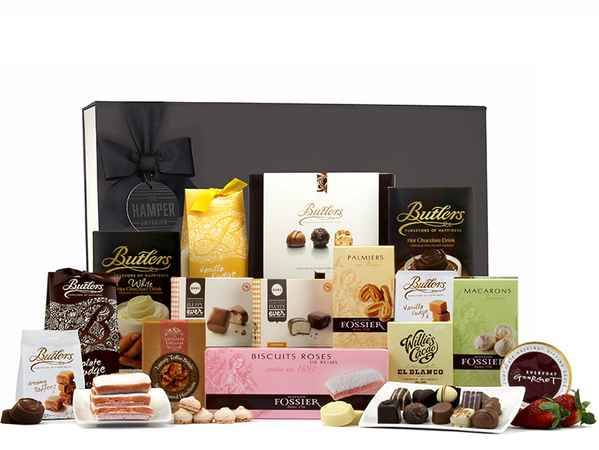 The Sophie & Moet Baby Gift Hamper
Our Sophie & Moet Baby Gift Baskets can be seen as the ultimate gift for christenings and a perfect christmas hampers gifts, because it has everything a perfect gift should have. Inside our Sophie & Moet Baby Gift Hamper, customers will find Maison Fossier French Palmier Pastries, a bottle of Moet & Chandon Champagne, Fardoulis Couveture milk chocolate and a variety of baby gifts.

Delicious chocolate does not have to necessarily come from Belgium; this has certainly been proven by our local chocolatier Fardoulis. Fardoulis is quite famous in Australia, simply because their chocolate bars and confections are made with passion and an eye for detail. When you obtain a chocolate hamper from our shop, you will not get any ordinary Cadbury chocolate or American chocolate, because Fardoulis can be considered top of the line where chocolate is concerned.

Naturally, our chocolate hampers for christenings would not be complete without a nice selection of gifts for the baby. In our Sophie & Moet Baby Gift Hamper, you will find some of the finest baby products available on the international and Australian market.

One of the baby brands that can be found in our beautiful Sophie & Moet Gift Hamper is Pure Baby, more specifically in the form of the Pure
Baby Organic Cotton Growsuit and the Pure Baby Organic Cotton Mittens. As you already can deduct from the product name, all the baby clothing from the Pure Baby brand is fully organic. Given the fact that most parents prefer organic baby products over mass-produced products nowadays, this baby clothing will be appreciated.

Another baby brand that can be found in our Sophie & Moet Gift Hamper is the Marquise Embroided Soft Singlet. Marquise has been one of the top baby fashion designers in Australia for many years, so many parents will have baby clothing from Marquise in their home. Marquise baby clothing is designed for the comfort of the baby, so this singlet is going to be one of the baby's favourites.

The Sophie & Moet Gift Hamper also contains a Sophie La Giraffe Teether, which is made from organic rubber and food grade paint. A teether is often forgotten by the parents when they purchase their baby supplies, so getting one of these teethers for the baby is definitely a good idea.

To finish the Sophie & Moet Gift Hamper, we also included a bottle of Moet & Chandon Brut Imperial NV Champagne, so everyone will be able to celebrate the christening of the baby. Moet & Chandon is one of the most loved champagne labels in the world, so we can guarantee that all the guests at the christening will love a glass of this champagne.

The Snuggles Baby Boy Hamper
When you need a christening gift for a baby boy and his parents, we can certainly recommend the Snuggles Baby Boy Hamper. Our Snuggles Baby Boy Hampers contains a selection of Jules Destrooper Almond Florentines, Brown Brothers Sparkling Wine, a Teddytime Blanket, a Snuggles Bear and a Marquise Soft Cotton Singlet.

The Jules Destrooper Almond Florentines are going to be loved by chocolate lovers at the christening, considering these biscuits are covered in the finest Belgian chocolate. Jules Destrooper biscuits are the favourite biscuits of the Belgian royal family, as well as most Australians who love a good quality biscuit covered in chocolate.

Of course, a christening hamper needs a celebratory drink, which is why we included the finest sparkling wine in Australia, more specifically the Brown Brothers Sparkling Wine. Brown Brothers Sparkling Wine is usually served with smoked salmon and caviar blinis, so this champagne will ensure a sophisticated christening as well. Of course, you are not obligated to serve this sparkling with foods, since this sparkling wine tastes amazing on its own.

The Snuggles Baby Boy Hampers contains a lot of baby items that are super soft; this much is proven by the Teddytime Super Soft Blanket and the Snuggles Bear. The materials used in all these baby items fully comply with Australian law and regulations, ensuring that the baby products are completely safe for the newborn baby.
More Chocolate Hampers for the Parents
There are a number of customers who prefer to gift two separate gifts for a christening, which is why it can be a good idea to combine one of our baby gift hampers with one of our gourmet or champagne hampers.

One of the additional hampers we can recommend for the parents is our Champagne Triple Treat. The Champagne Triple Treat is the ultimate hamper for celebrating, because it contains three of the finest champagnes in the world: Moet & Chandon Brut Imperial, Bollinger Special Cuvee and Piper-Heidsieck Brut.

Whether you are a champagne lover or not, you are going to love the three bottles of champagne in our Champagne Triple Treat Hamper. The Moet & Chandon Brut Imperial, Bollinger Special Cuvee and Piper-Heidsieck Brut are the highest rated champagnes in the world and allow you to have a sophisticated christening with elegant entertainment. These champagnes can be stored by the parents as well, and enjoyed on a later date.

To find more suitable gift hampers to gift to the parents for a christening, please head over to our large range of gourmet hampers. Also, do not forget to come back to the Hamper Emporium for other occasions as well, because we also provide gift hampers for Valentine's Day, Christmas, Mother's Day, Father's Day, birthdays and much more. The Hamper Emporium even provides corporate hampers for businesses, so be sure to have a look at our entire website before you make your final decision.