Set the Right Tone with Hamper Emporium's Corporate Gift Baskets!
Author: Nicole Adler Date Posted:9 March 2017


Gifting a nice gift hamper to an important client, supplier or business partner can help you to increase your brand exposure. You could also use one of our gift hampers to delight your employees during the holidays, and reward them for a good year. Do you wish to use our corporate gift hampers this year? Be sure to read on, because we are about to disclose the best corporate gift hampers on the Hamper Emporium!
The Chocolates & Red Hamper
Our Chocolates & Red Hamper is one of the most exquisite chocolate hampers in our range, featuring wonderful products from Butlers Irish Chocolates and Cape Mentelle. Given the high quality of the products inside our Chocolates & Red Chocolate Hampers, we can certainly recommend gifting one of these chocolate hampers to an important business client, partner or supplier.

Each of the products inside our range of chocolate hampers is hand-selected by our hamper designer; this ensures that each recipient gets the superior quality he or she deserves. So, by choosing one of the chocolate hampers or gift baskets from the Hamper Emporium, you make sure that your recipient only get the best!
The Premium Office Share Gift Basket
If you are looking for gift hampers that could be sent to another office, or if you wish to surprise your employees with one of our gift hampers, you could choose one of our Premium Office Share Gift Baskets. Our Premium Office Share Gift Baskets are the largest gift hampers available at the Hamper Emporium; this means that there is a suitable treat or alcoholic beverage for everyone!

Inside our Premium Office Share Gift Baskets, recipients can expect some of the most popular products in our range; this includes the Moet & Chandon Brut Imperial NV Champagne, Robert Oatley McLaren Vale Shiraz and Maison Fossier Biscuits. Still, there are many other things waiting to be discovered, so head over to the product description page of our Premium Office Share Gift Baskets to find out more!
The Best of All Gourmet Hampers
Customers looking to impress a genuine gourmet lover could gift the Best of All Gourmet Hampers, a hamper from the Hamper Emporium that contains some of the finest gourmet treats in the world. Inside this exquisite hamper, recipients can expect Le Cordon Blue Paris Olive Fennel Spread, Baylies Epicurean Delights Crackers with Sesame Seeds and other delightful treats.

The Best of All Gourmet Hampers would not be complete without a nice shiraz, so our hamper designer added the Cape Mentelle Shiraz. There are not many wineries who can create the perfect blend of French wine and Australian shiraz, but the Cape Mentelle winery has succeeded with the release of their Cape Mentelle Shiraz. By using various French and Australian winemaking methods, this shiraz offers a complexity and palate unmatched by most Australian shiraz releases, so be sure to obtain this hamper if your recipient likes to collect remarkable wines!
The Moet & Gourmet Nibbles Hamper
Customers could also choose the Moet & Gourmet Nibbles Hamper as a corporate gift, because this hamper has a lot to offer. Inside this hamper, you will find an amazing selection of gourmet nibbles, but also a bottle of Moet & Chandon Brut Imperial NV Champagne, one of the most recognisable champagnes in the world today.

The Moet & Chandon Brut Imperial NV Champagne is characterised by a fine bubble and green highlights running through the pale-yellow appearance of the champagne. It also has a wonderful aroma of vanilla and brioche, which only intensifies as the champagne matures.

Moet & Chandon is not an average champagne, since this champagne is often used for celebrity red carpet events and served in high-end restaurants. It is one of the most beloved champagnes, so gifting a hamper containing this bottle of champagne is not going to disappoint your recipient.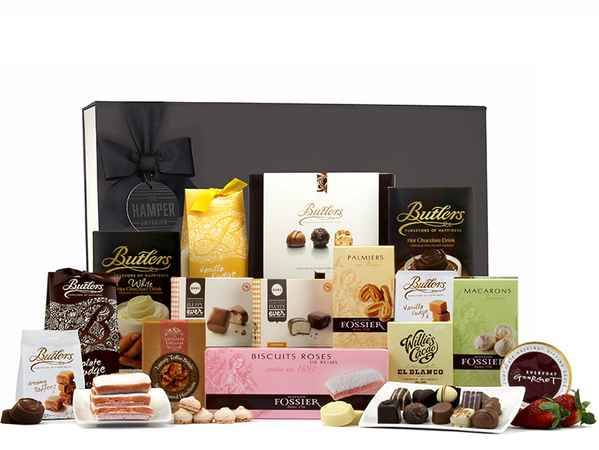 Champagne Triple Treat
If you are looking to impress an important customer, you cannot go wrong with the Champagne Triple Treat. Inside this hamper, customers can find three of France's most remarkable champagnes; this includes the popular Moet & Chandon, Piper-Heidsieck and Bollinger.

Each of the champagnes featured in this hamper are made from countless grape varieties, delivering a champagne that is as complex as it is delightful. However, this does not mean that these champagnes are the same, because each champagne has unique characteristics a champagne collector is going to appreciate. Of course, sending champagne to your best client is something that is bound to impress on its own as well.
Adding Your Brand!
Choosing and sending a corporate hamper to an important business relation is not the only thing you can do at the Hamper Emporium, because our team also offers customers the opportunity to add their company's brand to the hamper of their choice!

When you head over to our corporate hampers page, you'll immediately get an overview of the options available to you at the Hamper Emporium. Amongst other options available to you, clients can alter their chosen hamper and make it match their business by using customised ribbons, corporate gift tags and more.

The Hamper Emporium also provides customers with engraved gifts, which could be used to advertise your business even more. Examples of engraved gifts include engraved cheese accessories, crystal glasses, wine bottles and champagne bottles, so the possibilities are almost endless.

Lastly, customers can also delight their important business relation with an experience voucher; this voucher can be bought individually or added to your chosen gift hamper for an extra wow factor. We can also provide you with branded gift vouchers, so if you don't know what to choose for a client, the branded gift vouchers at the Hamper Emporium could be another option.
Discover More Corporate Hampers!
Haven't found the perfect corporate hamper? Head over to our main range of gift hampers and discover more possibilities! Do you have a question about corporate hampers or our corporate branding options? Do not hesitate to contact the Hamper Emporium for more information!