How Can You Create a Gift Basket?
Author: Nicole Adler Date Posted:19 July 2018


Being the number one gift basket supplier in Australia, the Hamper Emporium often gets the question "how to create a gift basket". The answer can be rather complicated though, so we decided to create a full overview with information for our valued customers. So, if you want to learn the secrets of our gift baskets, be sure to read the information on how to create some seasonal and special occasion gift baskets below.
How to Create Baby Gift Baskets?
Baby gift baskets are counted amongst some of the most common types of gift baskets in Australia. They are popular gifts for births, but also for special occasions such as baby showers and christenings. So, information on how to create these baby gift baskets is appreciated by many.
The main thing to consider when creating baby gift baskets is functional content for your gift basket. Functional gifts usually include items the baby can use during the first couple of months; this could include a growsuit, baby shampoo, or even a hooded towel. Simply think about some of the items the baby will need and include them in your baby gift baskets.
When creating baby gift baskets, do not forget that you should include some gifts for the new parents too. It helps to include some celebratory items such as a bottle of champagne or sparkling wine, especially if the parents are celebrating a birth or a christening.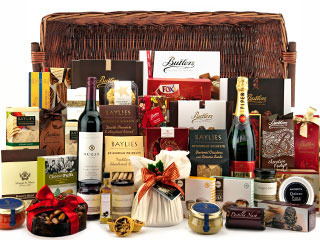 How to Create Chocolate Gift Baskets?
The chocolate gift baskets from the Hamper Emporium are some of the most popular hampers in Australia, so we certainly know how to make the best chocolate gift baskets. When it comes down to our gift baskets, we only use premium, trusted, and tried brands. So, customers can count on a combination of brands such Ernest Hillier, Butlers Irish Chocolates, and Willie's Cacao.
When creating sweets and chocolate gift baskets, the quality of the chocolates inside is paramount. Therefore, it is always a good idea to check out the reviews on certain chocolate brands before you include them inside your chocolate gift baskets.
Chocolates inside your created hampers should not just be limited to pure chocolate confections either, you can also add chocolate-covered treats and even a champagne to complement the delicious chocolate flavours. There is no real limit to the products you can include.
How to Create Christmas Gift Baskets?
The Christmas season is another time of year where a lot of gift baskets get exchanged. So, being able to create the perfect Christmas gift baskets is almost an essential skill. Being the number one supplier of Christmas gift baskets in Australia, we certainly picked up some tricks along the way.
Creating Christmas gift baskets is all about finding the perfect balance between delicious gourmet treats and seasonal foods. Certain gourmet foods are associated with the holiday season, so it makes sense to include these foods inside your Christmas gift baskets.
Popular foods that are often included inside our Christmas gift baskets are shortbread, handmade Christmas cake, and even a good bottle of Australian shiraz. When you create a gift basket for the holiday season, simply think about the foods you often enjoy yourself during the holidays and then include them inside the gift basket as well.
When creating a gourmet gift basket for the holiday season, do not forget to account for the shelf-life of your incorporated products. Remember, some products do not stay fresh for long periods of time, so you should always choose products with a long shelf-life. Of course, you can also create your gift basket close to Christmas celebrations, but this could cause some problems organisation wise.

How Do I Create Gift Baskets for Mother's Day and Father's Day?
When creating gift baskets for Mother's Day and Father's Day, the main thing to remember is the personal preferences of mum and dad. Of course, this is easier said than done for some, so there are some generalities you can fall back on when in doubt.
Both Mother's Day and Father's Day hampers contain products meant to pamper mum and dad. For mum, you can consider a combination of skincare products and a nice bottle of wine, while you could add a bottle of liquor for dad accompanied by some grooming products. There are many winning combination for this type of special occasion.
How Can I Get My Gift Baskets Easily?
Want to save yourself some time, effort, and money by buying a premade gift basket from the Hamper Emporium? At the Hamper Emporium, you can find a gift basket for every special occasion; this includes all the special occasions we mentioned above and so much more.
Do you have a question about the gift baskets available at the Hamper Emporium? Contact the Hamper Emporium through email or telephone for more information.