What to Put in an Engagement Gift Basket?


An engagement gift basket can be the perfect present for the happy couple. Of course, there are many things that can be included in an engagement gift basket, so this does not make your choice any easier. To help you create or obtain the perfect engagement gift basket from our collection, we listed some of the basic rules to take into consideration when creating an engagement gift basket.
What Products Can I Include Inside an Engagement Gift Basket?
Engagement gift baskets can contain a variety of items. Of course, there are certain products that must be included to make the gift basket the recommended choice for an engagement.
One of the products that must be included inside an engagement gift basket is a lovely bottle of sparkling wine or champagne. Remember, an engagement is a special occasion where people will toast to the happy couple, so champagne and sparkling wine is definitely going to find a place during this special occasion.
The label of champagne and wine you choose is important though, since it influences the enjoyment the happy couple will get from your gift. When you choose one of the engagement gift baskets from the Hamper Emporium, you do not have to worry about that though, since we only stock the finest champagnes and wines for our engagement gift baskets.
Champagnes and wines offered in our engagement gift baskets are diverse. We stock several luxury labels; this includes Moet & Chandon, Bollinger, Brown Brothers, Robert Oatley, and similar high-quality brands.
Gourmet nibbles should also be included in an engagement gift, especially if you are attending an engagement party. The gourmet nibbles are bound to be used during the party, although the happy couple might prefer to have them after all the guests have left.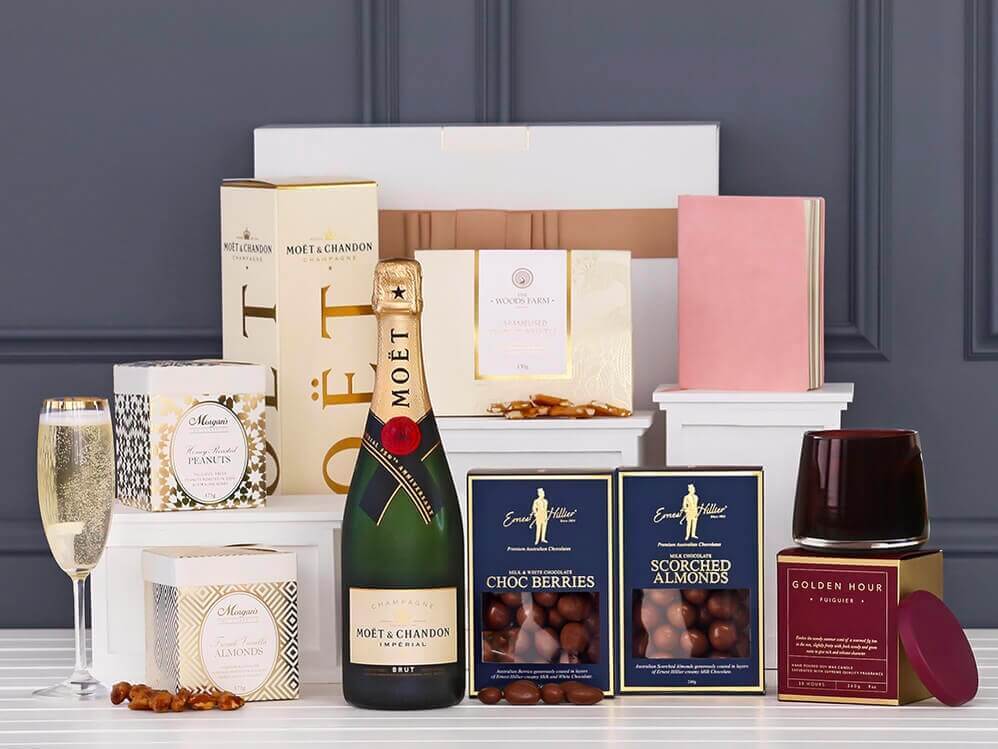 What Should I Know about the Presentation of an Engagement Gift Basket?
As is the case with all gifts for special occasions, an engagement gift basket will have a presentation box with a specific look. For an engagement, it is usually advised to go with light or luxurious colours, since these are commonly associated with engagements and weddings.
The safest colour for your presentation box is white. While this may sound a little plain, there are various shades of white you can consider. Some presentation boxes also come in various patterns, which makes the presentation a lot less boring.
If white is truly not your thing, you can always choose a more luxurious colour such as a faint silver or gold colour. However, be careful not to choose a luxury colour that is too overpowering. Otherwise, the gift is in danger of looking cheap and inappropriate.

Where Can I Find Premade Engagement Gift Baskets at the Hamper Emporium?
Customers who are looking for the best premade engagement gift baskets can easily find them in the chocolate gift baskets section at the Hamper Emporium. Our chocolate gift baskets can easily be used as an engagement gift, because they contain gifts that are more than suitable for an engagement.
Chocolate gift baskets at the Hamper Emporium usually contain a large range of chocolates, but chocolate gift baskets have more to offer than that. Our chocolate gift baskets also contain a nice bottle of celebratory champagne or a bottle of sparkling wine, which are bound to be appreciated by the happy couple. So, be sure to pick up one of our chocolate gift baskets to surprise your recipients.
Of course, engagement gift baskets are not only found in our section with chocolate gift baskets, you can also find them in the gourmet food & wine, gourmet food, and pamper gifts sections.
How Can I Customise the Engagement Gift Baskets Available at the Hamper Emporium?
Each engagement gift basket comes in a luxurious presentation box and can be customised by adding a personal message to the recipients on the accompanying gift tag. However, additional options for customisation are available, which can be found on our corporate branding section.
Corporate branding is commonly used by businesses who are obtaining a hamper to advertise their business. Of course, this is not the only purpose of branding, since it can also be used to create custom gift ribbons and even additional engraved gifts to make your engagement gift extra special.
Would you like to know what your options are for customising one of the engagement gift baskets at the Hamper Emporium? Head over to the corporate branding page or get in touch with the Hamper Emporium team for some additional information.
Do you need some help finding a suitable engagement gift basket for your recipients? Count on the extensive experience of our team! Get in touch with our friendly support team via email or telephone. Of course, you can also check out some of the gift suggestions available on the product description pages!