Surprise the Chocoholic with a Delightful Chocolate Gift Box from the Hamper Emporium!
Author: Nicole Adler Date Posted:7 March 2017


No matter the occasion, chocolate is always a lovely surprise. So, if you need a gift for a special occasion, you could consider one of the chocolate hampers from the Hamper Emporium, which always include the finest selections of chocolates we can find! Not familiar with our chocolate hampers yet? Discover the recommended chocolate hampers of the Hamper Emporium below!
The Chocolates & Red Hamper
Our Chocolates & Red Hamper is our bestseller from the chocolate hampers range. Inside this hamper from our chocolate hampers range, you will not only find delicious chocolates, but also a fine selection of chocolate-covered gourmet treats and a bottle of Cape Mentelle Shiraz.

The selection of chocolates inside our Chocolates & Red Gift Baskets includes chocolate selections from chocolatiers such as Butlers Irish Chocolates and Willie's Cacao. The combination of these brands ensures that our Chocolates & Red Gift Baskets are a suitable gift choice for lovers of traditional chocolates, but also recipients who prefer exotic chocolate flavours.

Of course, the Cape Mentelle Shiraz inside our Chocolates & Red Gift Baskets is also an experience on its own. The wine can be cellared for more than ten years and features a palate and aroma obtained through a combination of French and Australian winemaking techniques. It is a wine that retains all the fruity, floral and spicy flavours of the grape variety, a feat that many wine lovers know to appreciate.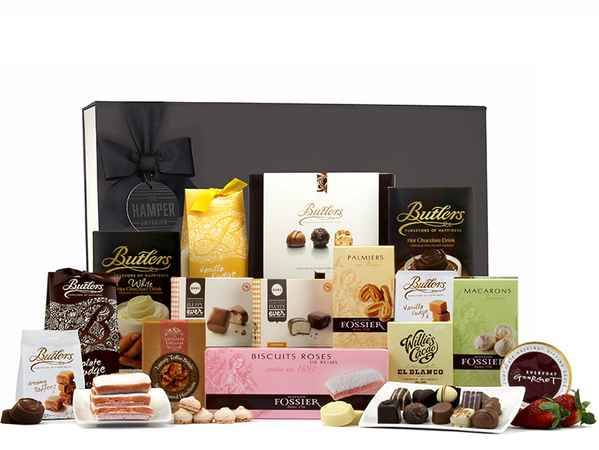 The Piper-Heidsieck Champagne & Chocolate Hamper
Our chocolate gift baskets do not always contain pure chocolates, because they can also contain a selection of the finest chocolate-covered treats. A good example of such gift baskets is the Piper-Heidsieck Champagne & Chocolate Hamper, which contains several chocolate-covered treats from Morgan's and a bottle of Piper-Heidsieck Champagne.

The treats inside our Piper-Heidsieck Champagne & Chocolate Gift Hampers feature a great variety of flavours, even if they are covered in chocolate. Therefore, recipients can expect delicious flavours such as coffee beans and chocolate, fruit & nuts covered in chocolate and French crème brûlée roasted peanuts.

All nibbles inside our Piper-Heidsieck Champagne & Chocolate Gift Hampers match the Piper-Heidsieck Champagne perfectly. The Piper-Heidsieck is a sductive champagne, made from a blend of more than a hundred different grape varieties. The grapes are obtained from numerous vineyards in the champagne region, and this certainly delivered a champagne that really stands out from the rest of the champagnes inside our gift hampers.
The Cape Mentelle Shiraz & Chocolates
If your recipient prefers shiraz with his chocolates, you could consider gifting one of our Cape Mentelle Shiraz & Chocolates Gift Hampers. Inside our Cape Mentelle Shiraz & Chocolates Gift Hampers, recipients will find the same three boxes of treats we described with our previous gift hamper, but instead of a bottle of Piper-Heidsieck, they will get an amazing bottle of Cape Mentelle Shiraz.
The Sweet Bites Hamper
Recipients who do not drink alcohol, but cannot say no to a nice selection of chocolates and biscuits, would love to receive one of our Sweet Bites Gift Hampers. Inside our Sweet Bites Hamper, you will find some delicious dark chocolate salt caramels from Butlers Irish Chocolates, but also other delicious treats from major gourmet brands, including Maison Fossier, Anna's Original, Luken & May and Morgan's.

The Luxury Chocolate & Champagne Hamper
If you want to gift your recipient the perfect combination of chocolates and champagne, you should consider the Luxury Chocolate & Champagne Hamper. Inside this hamper, recipients can find numerous chocolate-covered treats and chocolates, provided by brands such as Morgan's and Butlers Irish Chocolates. These treats are complemented with one of the most luxurious champagnes from the French champagne region – the Veuve Clicquot Yellow Label NV Champagne.

When you want to treat someone to a luxury champagne, you cannot go wrong when you choose a bottle of Veuve Clicquot Yellow Label Champagne. Veuve Clicquot Yellow Label has been the symbol of the Veuve Clicquot champagne house since 1772, so this remarkable champagne carries an incredible amount of history with it.

A bottle of Veuve Clicquot is always the perfect balance of power and finesse. There is also a certain complexity inside this champagne, which could be explained by the excellent pinot noir grape varieties and various reserve wines used in this champagne. Therefore, Veuve Clicquot displays the characteristics of the superb Veuve Clicquot vineyards, but also the consistent style of the champagne house.

Finally, the genuine beauty of Veuve Clicquot is that the champagne is loved by almost everyone. Its appearance is remarkably beautiful, featuring numerous tiny bubbles with a light golden appearance. The beautiful appearance of the champagne is complemented excellently by the aroma of the champagne, which is predominantly fruity with lots of peaches and pear. There are also notes of vanilla and brioche. These notes only become more dominant when the champagne can mature in a champagne cellar.
Australia's Finest Sparkling & Chocolates
If your recipient loves Australian sparkling wine above all other beverages, you could consider Australia's Finest Sparkling & Chocolates Hamper as a gift. Inside this hamper, recipients will find a bottle of Brown Brothers King Valley Pinot Noir, Pinot Meunier, Chardonnay, a sparkling wine that has obtained the title of "best Australian sparkling wine" numerous times in the past.

The Brown Brothers Sparkling Wine inside this hamper is beautifully complemented with numerous biscuits and sweets; this includes Byron Bay Cookies, Morgan's Dark Chocolate Coffee Beans and a whole lot more. In conclusion, this hamper is ideal for any recipient who loves a gourmet adventure.
More Chocolate Hampers for Chocoholics
The chocolate hampers described above are just some of the options available at the Hamper Emporium. Our hamper designer always make sure there is an expansive range of chocolate gift baskets and christmas gift hampers sydney available, so customers can always find a chocolate hamper that match their recipient's requirements perfectly.

Need more information about any products inside our chocolate gift hampers? Please refer to our product description pages for more information or contact our customer service team via chat, email or telephone.