How to Make a Chocolate Gift Basket?
Author: Nicole Adler Date Posted:19 July 2018


There is nothing like an amazing chocolate gift basket for a special occasion, providing your recipient with the finest selection of chocolates. Of course, chocolate gift baskets can contain a lot more than pure chocolate confections, so we decided to write up the ultimate guide for this type of gift basket. So, if you want to discover the secrets of the popular chocolate gift baskets from the Hamper Emporium, be sure to read on.
What Should Chocolate Gift Baskets Contain?
It is evident that chocolate gift baskets should contain a nice selection of chocolates. At the Hamper Emporium, we use chocolate selections from various chocolatiers inside our chocolate gift baskets. Some chocolate gift baskets contain more than one chocolate brand, while others contain a diverse selection from the same chocolatier.
In addition to pure chocolate confections from the world's finest chocolatiers, you can complement your chocolate gift basket with some chocolate-covered treats and sweets as well. You can also add gourmet nibbles or a nice bottle of wine. It all depends on the preferences of your recipient.

Can I Include Chocolates Inside Baby Gift Baskets?
You can include chocolates in any type of gift basket; this includes baby gift baskets. Of course, for baby gift baskets you will not need such a large selection of chocolates, since they are meant as a little additional gift for the parents.
When creating baby gift baskets, always make sure there are many functional items for the new baby. Functional items you could include are comforters, hooded towels, baby bath products, teethers, and more.
Before you add baby products, always check out the quality of your products. The Hamper Emporium only selects brands of the finest quality; this guarantees parents get the best supplies for their little one. So, if you want to make sure you get the best baby gift baskets, check out the extensive collection available at the Hamper Emporium.
Can I Include Chocolates Inside Christmas Gift Baskets?
Chocolates are an exquisite choice for the holiday season, because many people enjoy them. A lot of Christmas gift baskets at the Hamper Emporium contain chocolates. Of course, all chocolates in our Christmas gift baskets have a Christmas theme.
The Christmas gift baskets at the Hamper Emporium can contain additional gourmet treats as well. Naturally, these are typical gourmet treats that are best enjoyed during the holiday season; this includes shiraz, crackers, tapenades, handmade cake, or even a bottle of champagne.
To get a better idea about all the products that can be included in Christmas gift baskets, we recommend taking a look at the range of the Christmas gift baskets available at the Hamper Emporium. Our catalogue contains plenty of suitable gifts for the holiday season, so make sure to check out the available options if you need something special.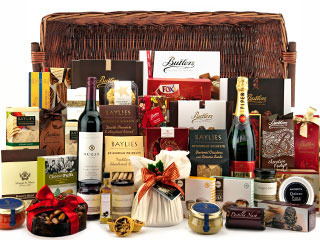 How Do I Keep the Chocolates Inside a Gift Basket Fresh?
When you include chocolates in your gift basket, it does not need to be said that you must store the gift basket in a cool place until it is gifted to your recipient. Keep the gift basket away from direct sunlight or warm locations within the house, since this could melt the chocolates before you can gift them to your recipient.
Packaging is also important, especially when you include chocolates. Ensure chocolates cannot get crushed by any other product inside the hamper, so this means giving each item inside the hamper a lot of space. Fortunately, you do not have to worry about this when you choose one of the Christmas hampers from the Hamper Emporium.
Creating a gift basket is more complicated than most people think, so it is often better to leave things to the professionals! Australian customers can count on the Hamper Emporium, the leading supplier of chocolate hampers and other gift baskets for Australia. When you choose us, you do not have to worry about finding the best products, because we do it for you! You do not have to worry about presentation either, since each of our gift baskets comes in a stunning presentation box!
There are more reasons to choose the Hamper Emporium for all your gift basket needs though. Not only do we provide the best gift baskets for recipients, we also provide a free delivery! This means you do not have to pay anything to get your gift basket delivered to your or your recipient's doorstep!
Can the Hamper Emporium Provide Me with Advice Regarding My Gift Basket Choice?
Are you looking for the perfect chocolate gift basket for your recipient? Do you need some advice on the chocolate gift baskets available at the Hamper Emporium? Pick the perfect gift basket for your recipient by contacting the helpful Hamper Emporium team. Customers can contact us via telephone, email, or the instant messaging function on the website.