Discover the Perfect Hamper for Your Recipient!
Author: Nicole Adler Date Posted:9 March 2017


If you are looking for the perfect gift hampers for your recipient, you are in the right place at the Hamper Emporium. Our range consists of numerous gourmet gift hampers, but also chocolate hampers and champagne hampers to delight that important recipient. Curious what we consider to be the perfect gift hampers? Check out our recommendations below!
The Pure Indulgence Hamper
Our first recommendation from our range of gift hampers is a hamper specifically created for female recipients, more specifically the Pure Indulgence Hamper. Inside this hamper from our gift hampers range, your female recipient can find cosmetics and a bottle of champagne, but also numerous chocolates from chocolatier Butlers Irish Chocolates.

Since the Pure Indulgence Hamper contains many delicious chocolates from our favourite chocolatier, it is not surprising that the Pure Indulgence Hamper is one of the best-selling chocolate hampers! For our chocolate hampers, our hamper designer always looks for the creamiest and flavourful chocolates, so each of our chocolate hampers is going to give your recipient a delightful surprise.

Naturally, the chocolates inside our chocolate hampers always match the beverage included in the hamper. For our Pure Indulgence Gift Basket, this is the Moet & Chandon Brut Imperial NV Champagne, the flagship champagne of the namesake French champagne house and one of the best-known champagnes in the world!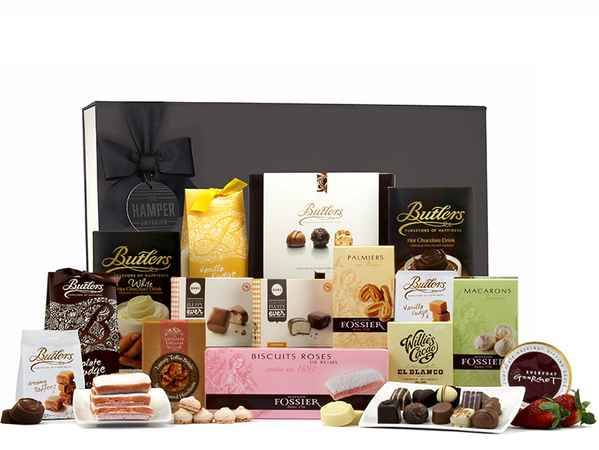 The Champagne Triple Treat
There are numerous gift baskets at the Hamper Emporium which feature a remarkable bottle of champagne. But what if you could get one of our gift baskets that does not contain one but three of the best champagnes in France? Fortunately, you can acquire such a hamper when you choose our Champagne Triple Treat.

Inside our Champagne Triple Treat Gift Baskets, recipients will find three of the finest French champagnes; this includes the Moet & Chandon Brut Imperial Champagne, Bollinger and Piper-Heidsieck. So, if you are looking to impress a champagne collector, one of our Champagne Triple Treat Gift Baskets will do the trick!
Mimco Limited Edition Blush Gift Hamper
If you are looking to pamper a female recipient with the most luxurious gifts, you should consider one of our limited-edition hampers in our christmas hampers in sydney collection. The Mimco Limited Edition Blush Gift Hamper contains a variety of luxurious items; this includes a high-quality robe, pouch and aromatherapy gifts.

Of course, true pampering requires a good alcoholic beverage and some nibbles, so our hamper designer included a limited-edition prosecco from Brown Brothers, as well as some delightful chocolate truffles from Butlers Irish Chocolates and some French Vanilla Almonds from Morgan's. In short, everything a woman needs to unwind!

The Mimco Limited Edition Blush Gift Hamper is just one of two options available to you, because our range includes another limited-edition hamper, more specifically the Mimco Limited Edition Pamper Hamper. So, if you wish to keep your options open before deciding, be sure to look at this hamper as well.
The Pretty in Pink Pamper Hamper
When you need a huge collection of treats for a special woman in your life, complemented by some quality cosmetics, you cannot go wrong by choosing our Pretty in Pink Pamper Hamper. Inside this hamper, recipients will find numerous biscuits and sweets from renowned brands such as Maison Fossier and Butlers Irish Chocolates, but also an outstanding collection of cosmetics from the MOR Marshmallow range.

If the presents described above are not enough for your recipient, no need to worry, because this hamper from our gift baskets range contains a whole lot more. Amongst the many other gourmet gifts inside this sweet hamper, you will also find the Brown Brothers Victorian Crouchen Riesling Rosé. This rosé from the Brown Brothers winery is a modern take on the classic rosé and should be tried by any rosé connoisseur out there!
The Today, Tomorrow & Every Day with Champagne Hamper
The range of hampers at the Hamper Emporium also includes some gifts for the avid reader; this much is proven with our Today, Tomorrow & Every Day with Champagne Hamper. Inside this exquisite hamper, recipients will find a range of treats and champagne, but also the Today, Tomorrow & Every Day book written by our favourite author M.H. Clark.

M.H. Clark has written some wonderful books for female readers and the "Today, Tomorrow & Every Day" book is certainly no different. The book features a story about a brave woman and her battles, but also a woman who is not afraid to live her own life. It is an inspirational and motivating book for any brave woman out there. So, if this description describes your recipient perfectly, you should certainly consider the Today, Tomorrow & Every Day Hamper as a gift.

The Festive Bubbles & Chocolate Hamper
If you have some celebrating to do with your partner, you could consider acquiring the Festive Bubbles & Chocolate Hamper. Inside this hamper, you will find everything you need for a proper celebration; this includes a bottle of Moet & Chandon Brut Imperial NV Champagne and several treats from Morgan's and Byron Bay.

Still, the Festive Bubbles & Chocolate Hamper keeps on giving, because this hamper provides recipients with one of the finest chocolate selections too! To ensure there is a suitable piece of chocolate for everyone's taste, our hamper designer made sure that the chocolates in this hamper are versatile in flavour. Firstly, there are the traditional chocolates from Butlers Irish Chocolates, followed by their rich chocolate truffles. Secondly, the hamper contains some exotic chocolates from Willie's Cacao, appealing to recipient with a more exotic chocolate preference. Therefore, this hamper is suitable for most recipients and special celebrations.
More Perfect Hampers for Your Recipient!
The Hamper Emporium takes great pride in each hamper it creates, so customers can always count on us to deliver quality products for special occasions. If you have not found the perfect hamper in the hamper overview above, you can find more hampers in our general range that could be the perfect hamper for your recipient.

Do you need to personalise one of our hampers? Or do you wish to gift one of our hampers as a business gift? Contact the Hamper Emporium today to discover personalisation and corporate branding options!