What Premium Chocolates Does the Hamper Emporium Include in Their Chocolate Hampers?
Author: Nicole Adler Date Posted:14 March 2016


The quality and taste of chocolates is really important for our chocolate hampers, so the Hamper Emporium searches for the best premium chocolates this world has to offer. If you have been curious about the premium chocolates in our chocolate hampers, be sure to read the information on our quality chocolate brands below!

Delicious Butlers chocolates from Ireland

One of the best known chocolate brands in the world is Butlers, a chocolate brand in Ireland that has been around for several decades. Thanks to a combination of experience and traditional recipes, Butlers stands at the top of the chocolate industry and has conquered a permanent spot in our chocolate hampers.

Butlers was founded in Dublin's Lad Lane in 1932 by Marion Butler. Her first chocolate creations, "Chez Nous Chocolates", was a big hit within Ireland and soon acquired worldwide renown. All chocolates from Butlers were handmade and this contributed to the outstanding quality chocolate lovers had come to expect and love.

Marion Butler managed Butlers until it was sold to the Sorensen family in 1959. The Sorensen family had a similar passion for chocolate and decided to keep the traditional recipes Butlers had become famous for. The sale of Butlers did not have a negative impact on the success of the company, given the fact that the Sorensen family continued Marion's work with the same passion and eye for quality.

Over the course of the years, Butlers has grown into one of the largest chocolate suppliers in the world. The confections are still handmade, but there are many Butlers franchises all across the globe. By franchising Butlers chocolates, the management could guarantee handmade quality no matter the location.

Even though Butlers has evolved over time, chocolate lovers can still taste the traditional and full flavours Marion Butler introduced so many years ago. On the Hamper Emporium, customers can find several chocolate hampers containing these confections. If you love your chocolates, do not forget to get one of the chocolate hampers with Butlers chocolates for yourself! This makes a great christmas gift baskets ideas too!

Willie's Cacao – Chocolates with an Exotic Twist

Willie's Cacao is another chocolate brand that returns frequently to the Hamper Emporium chocolate hampers. Willie's Cacao chocolates are best known for their exotic flavours, given the fact that the manufacturer uses exotic cacao beans to obtain superior chocolate flavours.
The Willie's Cacao brand was founded by William George Harcourt-Cooze, a Londoner with a love for chocolate and plenty of business sense. William, better known by nickname Willie, became a worldwide phenomenon after his participation to the reality TV show Willie's Wonky Chocolate Factory.

After his marriage to model Tania Coleridge, Willie visited Venezuela on horseback. During his honeymoon, he discovered an estate with 1,000 acres of land, the perfect location to farm exotic cacao beans. William Harcourt-Cooze and his wife Tania Coleridge eventually emigrated to Venezuela and bought the property to start their own chocolate factory.

When the couple obtained the property, they planted a staggering amount of 50,000 cacao trees. From the cacao beans, he created pure cacao bars for the local population, using the moulds from a clay pipe.

Due to a dispute with the population, Willie's chocolate factory relocated to Devon, England. This also led to a complete modernisation of the factory's installations and equipment. Shortly after the modernisation was complete, Willie acquired fame through the TV show on Channel 4.
The chocolates from Willie's Cacao can be very intriguing where flavour is concerned. Some of the flavours that are currently available are: Willie's Cacao El Blanco, Willie's Cacao Milk of the Gods, Willie's Cacao Hazelnut & Raisin and Willie's Cacao Ginger-Lime. These original chocolate flavours are also available in the chocolate hampers of the Hamper Emporium.

Fardoulis – Australia's Own Premium Chocolates

There are many international chocolate brands in our chocolate hampers, but we also included premium Australian chocolates from the well-known brand Fardoulis. Therefore, our customers can count on an exquisite collection of both international chocolates and Australian chocolates.

Fardoulis was founded in 1985 and started with a single idea for after dinner chocolate mints. Fardoulis decided to go for a two-toned chocolate swirl containing premium milk chocolate and dark chocolate. The unique chocolate swirl, made by Fardoulis, was served at restaurants and hotels. The success of the after dinner mint was so great, Fardoulis soon created more chocolates for Australian consumers.

A few years later in 1996, Fardoulis chocolates were very popular in another sector, more specifically the wedding industry. Many brides and grooms wanted to obtain personal gift boxes for their wedding and preferred the quality chocolates from Fardoulis. To meet the demands of brides and grooms, Fardoulis started a website, which supplied premium chocolates to individual consumers.

Since the creation of the website, the success of Fardoulis kept growing. The company started experimenting with new flavour and recipes, which eventually led to the creation of beautiful gift boxes in 2002. These gift boxes are also available in our chocolate hampers.

Recently, Fardoulis has created some new pure couverture chocolates for Australian cafes. When you visit a local café, it is highly likely you will come across one of these new creations. Nowadays, Fardoulis creates dedicated chocolate gift boxes, handcrafted confections and more, so there is plenty to discover!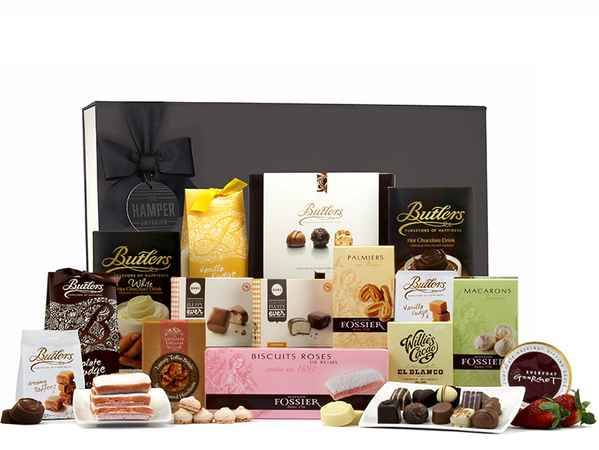 Choosing the Right Chocolate Hamper

When you need a good gift for a chocolate lover, you cannot go wrong by choosing one of the chocolate hampers on the Hamper Emporium. Depending on the personal preference of your recipient, you can choose between exotic chocolates, handcrafted chocolates and authentic Australian chocolates.

If the recipient you have in mind prefers Australian chocolates over international chocolates, we can recommend one of our chocolate hampers with Fardoulis chocolate. If the recipient in question prefers handmade chocolate with full flavours, a chocolate hamper with Butlers chocolates may be advised. However, if your recipient likes to try new things and loves to experiment with chocolate flavours, one of our chocolate hampers with Willie's Cacao chocolate squares will be appreciated the most.