What Chocolate Hampers Do You Have for Valentine's Day?
Author: Nicole Adler Date Posted:20 April 2016


Valentine's Day should always be celebrated with delicious chocolate, which is why the Hamper Emporium has created a number of chocolate gifts that will leave your other half in awe. Instead of gifting a basic bouquet of flowers this year, why not surprise your partner with one of our luxury chocolate hampers below?

The Piper-Heidsieck Champagne & Chocolate Hamper

Our Piper-Heidsieck Champagne & Chocolate Hamper is an excellent choice for Valentine's Day. Instead of some basic Cadbury chocolate or American chocolate bars, customers will get a selection of the finest Morgan's chocolate treats and a bottle of Piper-Heidsieck Champagne.
Morgan's is an Australian brand, well-known for their large selection of traditional nibbles. For Valentine's Day, the Hamper Emporium selected their Dark Chocolate Coffee Beans, Chocolate Enrobed Fruits & Nuts and Morgan's Crème Brûlée Roasted Peanuts. With this combination of chocolate nibbles, you can start Valentine's Day on a good note. It does not matter if you prefer milk chocolate or dark chocolate, because the chocolate nibbles in these chocolate hampers will appeal to most recipients.

Many of the gift baskets in our shop will contain a good bottle of bubbly, so the same applies to chocolates hampers such as the Piper-Heidsieck Champagne & Chocolate Hamper. The Piper-Heidsieck Brut Champagne in this Valentine's Day hamper is characterised by its crisp palate and elegance. Even customers who do not drink champagne frequently will enjoy this champagne, considering it is one of the most awarded champagnes in France.

Australia's Finest Sparkling & Chocolates

If you prefer chocolate hampers with handmade confections instead of chocolate coated nibbles, we can recommend Australia's Finest Sparkling & Chocolates. Inside these chocolate hampers, customers can find top brands such as Willie's Cacao and Butlers Irish Chocolates. These chocolates are presented in a way that matches the occasion, so you can definitely get the romance going with Australia's Finest Sparkling & Chocolates.

Butlers Irish Chocolates has been creating handmade chocolates since 1932. Even though the company was taken over by the Sorensen family several years after being founded by Marion Butlers, Butlers Irish Chocolates maintained the traditional recipes and kept on creating the handmade quality the brand was known for.

In addition to creating some of the finest chocolates in the world, Butlers Irish Chocolates also opened so-called chocolate cafés across the
globe. These chocolate cafes enable customers to get to know the latest chocolate products in a pleasant environment. If you ever visit a town with one of these chocolate cafes, be sure to go in for an unforgettable experience.

The second chocolate brand that can be found in Australia's Finest Sparkling & Chocolates is Willie's Cacao. Even though Willie's Cacao is just as popular and loved as Butlers Irish Chocolates, the chocolate brand has become famous for a very different reason. Willie's Cacao is mainly known because of its use of exotic cacao beans, which includes Peruvian and Venezuelan cacao beans. If you are in the mood to try some new flavours and experience chocolate flavours you have never experienced before, Willie's Cacao chocolates will be perfect.

Australia's Finest Sparkling & Chocolates comes to a conclusion with the best sparkling wine in Australia – the Brown Brothers Methode Traditionelle King Valley Pinot Noir, Chardonnay, Pinot Meunier. The Brown Brothers Sparkling Wine uses a variety of grapes to create the perfect sparkling wine, which is produced according to a traditional champagne production method. If you want to have a good bottle of bubbly on Valentine's Day, this particular wine will not disappoint.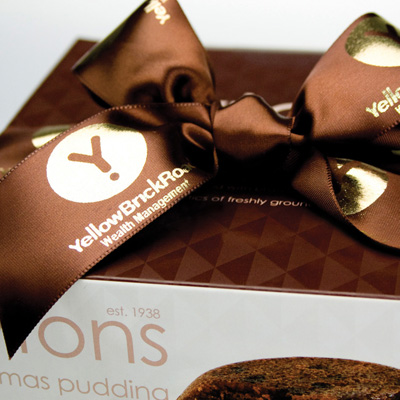 The Sweetest of Gift Hampers

Customers who want to go all out this Valentine's Day should stop to have a look at our Sweetest of Gift Hampers. Hamper Emporium's Sweetest of Gift Hampers is the ultimate gift hamper for chocolate & sweet lovers, because the treats in this hamper are bound to satisfy any sweet cravings you may have.

In addition to the usual brands, such as Butlers Irish Chocolates and Willie's Cacao, customers will receive a selection of Maison Fossier biscuits. Maison Fossier is a French biscuit manufacturer, situated in Reims, France. The French certainly know how to make the perfect biscuit, and this has certainly been proven by the biscuits in this hamper. Our valued customers who obtain the Sweetest of Gift Hampers will receive the Maison Fossier French Palmier Pastries, Maison Fossier French Almond Macarons and Maison Fossier Biscuit Roses.

Our Sweetest of Gift Hampers also contains a selection of cupcakes from Great Temptations. Great Temptations is an Australian brand that specialises in cupcakes. Some of the revenue of their cupcakes goes to good causes in the local communities of Australia, so by obtaining the Sweetest of Gift Hampers from our christmas hampers melbourne range, you directly support these good causes as well.

The Sweetest of Gift Hampers also needed a good dessert tea, especially when the products in this hamper are enjoyed by a couple on Valentine's Day. Fortunately, the Hamper Emporium found the perfect match for the sweet treats in this hamper – the Harney & Sons Vanilla Camoro Tea.

Harney & Sons Vanilla Camoro Tea is a relaxing tea blend that is best consumed after you had your dessert. However, this particular tea can also be drunk just before bed, since it does not contain any caffeine and the fact that the vanilla will help you sleep. If you live a busy lifestyle and do not get the time to enjoy life with your partner all that often, this tea will solve that problem for you.

Free Deliver on All Valentine's Day Hampers

The Hamper Emporium believes that Valentine's Day is extremely important; this is why we offer a free standard delivery on all the Valentine's Day chocolate hampers on the Hamper Emporium! However, if you forgot to order your Valentine's Day chocolate hamper and only have a day or two left to get a present, you can also take advantage of additional delivery options on our website. For more information on delivery options and delivery times, please head over to the delivery page on the Hamper Emporium website.