Ballantyne Ginger Lovers Spicy Ginger Pieces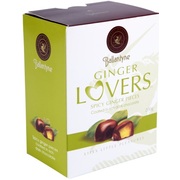 A packet of lip-smacking ginger pieces covered in some of the finest milk chocolate. Sweet chocolate treats with hints of ginger, coated in delicious chocolate. Ginger-chocolate snacks made by an Australian family-owned company – Ballantyne.
Spicy ginger pieces coated in delicious real milk chocolate.
Ballantyne Ginger Lovers Spicy Ginger Pieces Coated In Dark Chocolate 200g
Have you ever tasted a spicy ginger flavoured chocolate? If yes and if you feel like munching on such sweet delight, the Hamper Emporium has lots of gift hampers to showcase which includes the popular Ballantyne Ginger Lovers Spicy Ginger Pieces Coated in dark Chocolate in 200g pack. One of the highly in demand gift hampers of the Hamper Emporium with this yummy product is the Champagne Treats for only $119. You get to have this hamper with free delivery offered Australia wide. So if you get it straight from the Hamper Emporium, it does not matter where you are located as long as within Australia, you or your recipient gets to receive this treat without paying for delivery.
The Sweetest Treat
Chocolates are indeed the sweetest treat one could ever receive; however there are gift hampers that are not only filled with chocolates alone but other great products such as biscuits and champagnes. If you need an all around treat, something that will not only satisfy your sweet tooth but also your taste buds, the Champagne Treats of the Hamper Emporium is filled with more delicious sweets you can think of. As a start, you get to enjoy the popular Butlers Chocolates and Maison Fossier products. These sweet biscuits are included to give you a satisfying feeling after munching on Butlers Chocolates addictive Dark Chocolate Sale Caramels packed in 125g.
To add more excitement is the Chocolate Chip Puff Pastries of Maison Fossier that blends perfectly with any type of tea in the afternoon; or perhaps as your light dessert after meal. When it comes to wine and champagne, this is one of the elegant gift hampers you can grab online. It offers the Piper-Heidsieck Brut NV Champagne in a 750ml bottle. Imagine having this champagne for only $119, amazing isn't it? Yes, this is why a lot of customers prefer to have this as compared to other gift hampers. Of course, gift hampers will never be complete without its delectable chocolates.
This is one good reason why Champagne Treats hamper is highly in demand; the chocolate products featured in this hamper are of high quality and simply the best in the world. Who can resist the Fardoulis Chocolate Plato in 150g pack? Indeed, a luscious chocolate filled with 55% cocoa solids. Lastly, buying this basket out of other exceptional gift hampers of the Hamper Emporium is worth it because of the Ballantyne Ginger Lovers Spicy Ginger Pieces Coated in Dark Chocolate product. Imagine this chocolate melting in your mouth and tasting its real milk chocolate ingredient, truly mouth watering.
Be Romantic and Sweet
If you plan to impress the woman or man of your dreams, why not opt for this hamper and be the most romantic person ever. This hamper is filled with great sweet delights that are hard to refuse, this only shows it is not an ordinary hamper, this is what you need to show your real you, the sweetest person. So hurry now, grab the
Champagne Treats
hamper and have it delivered for free to your special someone with the confidence the he or she will certainly enjoy your gift.