Butlers Chocolates Gold Christmas Star Truffles 150g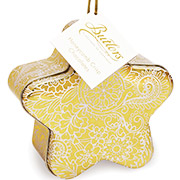 What a way to celebrate Christmas, with a delicious decoration filled with scrumptious treats. Tasty treats that will have them smiling at Christmas and help decorate and bring festive cheer too. A beautifully designed Christmas decoration that offers the tastiest Christmas treat ever.. Pudding flavoured.
A keepsake Christmas decoration filled with delicious crispy honeycomb chocolates and gooey caramel filled chocolate truffles. The perfect Christmas decoration that not only looks great it tastes great too! Crispy honeycomb is waiting to be savoured inside this gorgeous Christmas keepsake.