Butlers Chocolates Handmade Chocolate Collection 180g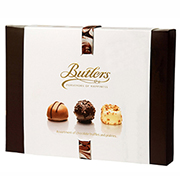 Alcohol-free chocolate selection from world-famous chocolate brand Butlers. Collection of mouth-watering chocolates, includes milk chocolate, white chocolate and dark chocolate. Handmade Irish chocolates providing real happiness since 1932.
A delectable collection handmade milk, dark and white chocolate truffles made by Butlers Chocolates, founded in 1932 in Ireland.
You can't go wrong with the delight that is Butlers Chocolate. These handmade truffles will impress.
When thinking about buying something that will gratify your gift recipient, there's one type of food that you shouldn't miss and that is the chocolate. Now, if you want luxurious dessert just like the Handmade Chocolate Collection of the Butlers Chocolate, there is only one site to check and that's The Hamper Emporium. Butlers Chocolates is one of the popular manufacturers of chocolate products which is managed and run by an Irish manufacturer since 1932, and was then managed by the famous Sorensen clan since the start of 1959. You are guaranteed that the product line of Butlers Chocolates are world class and exceptional. You might wonder of all chocolates out there, why should one grab this Handmade Chocolate Collection, and what gift hampers offer this product online. So let's find out what The Hamper Emporium has in stored that will really make customers happy.

What Are The Contents Found Inside the Butlers Chocolate Handmade Collection 180g?

If you are a chocolate aficionado, and would love to purchase gift hampers with mouth watering and luscious taste of chocolates, the Handmade Collection of Chocolates in 180g pack of Butlers Chocolates is the perfect option. This is because of its 12 enjoyable mixture of truffles in milk as well as pralines in different type of chocolates. There are dark and white chocolate inclusions that will keep you wanting for more. The truth is, there's more to expect from this collection like the orange crunch milk chocolate, the creme vanilla in a form of white chocolate and of course, a touch of espresso dark chocolate.

What's even better is the fact that all the chocolates included in this collection do not have any trace of alcohol. In other words, Butlers Chocolates made an effort to provide customers with alcohol free chocolates without risking the products' flavour. So make sure to buy gift hampers offered by The Hamper Emporium. Don't miss on great things when you can enjoy it in just few clicks away.

Can You Expect Assorted Chocolates From This Collection?

What's fantastic about this collection is it comes with assorted chocolates in one packaging and in a single layer! The 12 pieces of chocolates offer flavours that you won't forget, thanks to the company's amazing chocolatier that will really make your cravings go away, and your gift recipient satisfied too. So see to it to check gift hampers online, and start from one of Australia's trusted provider of gift hampers, The Hamper Emporium.

Is The Handmade Chocolate Collection 180g Included in Luxury Chocolate & Champagne Hamper of The Hamper Emporium?

If you want to get of this chocolate collection, there's one gift hamper you shouldn't forget to grab and that is the Luxury Chocolate & Champagne Hamper. This one is priced fairly, giving everyone a chance to enjoy sweet and healthy dessert inexpensively. This hamper is made of two top notch chocolates worldwide, the Handmade Chocolate Selection Gift Wrapped 160g by the Butlers Chocolates and the famous Handmade Collection in 180g.

These two products can already satisfy your longing for chocolates, and to top it all there's more such as the Maison Fossier pastries that will tease your taste buds! You will also get to taste the candied peanuts of Morgan & Albert's while drinking your favourite champagne, the Veuve Clicquot Yellow Label NV in 750ml bottle. As you can imagine, gift hampers with remarkable product inclusions are worth buying. So what are you waiting for? Obtain this gift hamper before it runs out and make sure to enjoy its delectable chocolates with friends and family members.
Impress even the fussiest of chocolate lovers with these handmade treats from Butlers.