Butlers Handmade Chocolate Collection 100g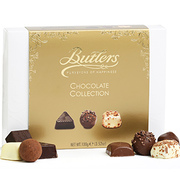 Beautifully decorated chocolates from Butlers, known for their rich flavours and pure ingredients. A must-try selection of Irish Butlers Chocolates, includes a variety of chocolate flavours. Outstanding selection of handmade Butlers chocolates, known for their handmade high-quality chocolates since 1932.
A delectable collection handmade milk, dark & white chocolate truffles made by Butlers Chocolates. Founded in Ireland in 1932, Butlers are experts at beautifully crafted chocolates that are made to impress without fail.
Give the Chocolate Lover the Ultimate Gift with Butlers Handmade Chocolates
Customers who are looking for the best gift for a chocolate lover do not need to look far. Our Christmas hampers contain some of the best chocolates in the world, including big brands such as Fardoulis and Butlers.
One of the chocolate products we can definitely recommend is Butlers handmade chocolate, which you can also find in our range of Christmas hampers. Read on and discover more about Butlers handmade chocolates.
The Ultimate Treat for Chocolate Lovers
Butlers is one of the world's most famous chocolate brands. Therefore it is no surprise that Butlers handmade chocolates are one of the most desired gifts for chocolate lovers.
A box of Butlers handmade chocolates provides exquisite flavours and some surprising combinations. For that reason, you will find the
Butlers handmade chocolates in more than one of our Christmas hampers.
Easy Flavour Combinations
The best thing about Butlers chocolates in our gift hampers is the fact that they are so easy to combine with other flavours and drink. Butlers chocolates have a traditional flavour, which makes it easier to find additional snacks to combine with them.
Hamper Emporium hand selects all the products that go in our gift hampers. Of course, this provides you with some surprising flavour combinations that you would not have thought of before. So let yourself be surprised and opt for one of our Christmas hampers this year.
Very Suitable for Christmas Hampers
There is a good reason why the majority of our
Christmas hampers
contain loads of chocolates, especially chocolate of the Butlers brand. When we think of Christmas, we think of cosiness, togetherness and of course traditional flavours.
Traditional flavour is exactly what you will get when you taste handmade Butlers chocolates. They also fit the time of year perfectly, because nobody can imagine a Christmas without chocolate.
The Most Delightful Corporate Hampers
Handmade Butlers chocolates are also excellent chocolates for corporate hampers. Not only do Butlers chocolates taste great, they also convey certain class and luxury.
So if you are looking for a great corporate hamper, we can definitely recommend the hampers containing some Butlers chocolate. Some of these hampers also contain an alcoholic drink, which can be great as a corporate gift during the holiday period.
Branding your corporate hamper is also a possibility. The only thing you need to do is contact one of our sales representatives or visit the corporate hamper page to discover all your options.
Hamper Emporium also offers some great deals for bulk offers, so do not hesitate to give us a call if you want to find out what deals you can benefit from.
Call Us for More Information
Need more information about the Christmas hampers of Hamper Emporium? Or do you have a special request for us? Call our sales representatives or our customer support team at 1300 459 452.
Outside office hours, customers can also send us an email. For general enquiries, please send your question to sales@thehamperemporium@com.au. For more information about corporate hampers, send your email to corporate@thehamperemporium.com.au. An exquisite selection of chocalates from world-class chocolatiers Butlers with a selection to impress everyone.
---