Butlers Milk Chocolate and Pudding Truffles 100g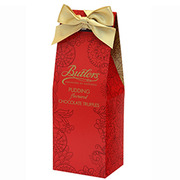 Collection of gorgeous milk chocolate truffles from Butlers Chocolates, comes in a beautiful tapered box with bow and ribbon. The perfect chocolate box for sharing from Butlers Chocolates, contains some of the finest chocolate flavours from this chocolate brand. Gorgeous Christmas-themed collection of milk chocolate from Butlers Chocolates.
Mouth-watering milk chocolate truffles from Butlers Chocolates infused with the flavour of traditional Christmas Pudding. Flavour-filled with the finest of flavours these milk chocolate and pudding truffles are delicious at every bite.
Discover the Ultimate Christmas treat in Butlers Milk Chocolate and Pudding Truffles
One of the most delicious Christmas treats is without a doubt Butlers Milk Chocolate and Pudding Truffles. These gorgeous pudding truffles can also be found in a few of our Christmas hampers, so you can also have a taste of these amazing treats this year.
Butlers History
The very first Butlers chocolates were created by Marion Butler, the original founder of the company. However, the company would undergo some serious transformations until it was known as Butlers.
Butlers was taken over by Mr. Seamus Sorensen in 1959, who continued to run the business as a specialist chocolate shop. The business kept on running for several years, until it was officially named as Butlers in 1984.
Over the past few years, Butlers chocolates has expanded considerably. The chocolate company has started various chocolate cafés and currently exports their famous chocolates all over the world, including Australia.
Award Winning Chocolate
Butlers chocolates, as well as the company itself, has received various awards since its founding in 1932. Some of the most recent prizes obtained by Butlers chocolate are the Irish Franchise Awards, Irish Quality Food Awards, Irish Food & Drink Exporter of the Year and many more.
Due to the high quality of these chocolates, and the bountiful awards this company has obtained, Hamper Emporium needed to include a multitude of their products in our Christmas hampers. Anyone who visits our Christmas hampers category will immediately notice how much we appreciate the quality and tastiness this brand provides.
Pudding Truffles Christmas Hampers
Are you ready to taste this delicious treat from Butlers? Then we can recommend getting one of our Christmas hampers containing this amazing treat.
The first Christmas hamper we can recommend is the
Christmas Delights Hamper
. Next to the gorgeous Butlers pudding truffles, you will also find some additional high-quality treats. What would you say to Harney & Sons holiday tea, Devil's Corner Tasmanian Pinot Noir and Willie's chocolate? If you are thinking this is something I would love to have, then the Christmas Delights Hamper will be absolutely perfect for you!
Customers who would like to share Butlers pudding truffles with their colleagues, should opt for the Deluxe Office Share Christmas Basket. This particular Christmas hamper is large enough to share with your entire office, which means you can start the holidays on a positive note.
There are also additional Christmas hampers where you will find the Butlers pudding truffles. These Christmas hampers are The Best of all Christmas Gift Hamper, the Celebrate Xmas Hamper and the Indulgence Xmas Hamper.
Christmas Hamper Delivery
Every customer who orders a Christmas hamper on our website is eligible for a free standard delivery. The free standard delivery option is also available for our corporate and gourmet hampers, so be sure to take advantage of this option.
Customers in Sydney Metro can also get their Christmas hamper the same day of ordering. Simply order your Christmas hamper before 1 pm on a working day and you will be enjoying your Butlers pudding truffles that very same evening! Christmas pudding flavoured milk chocolate truffles, what could be more tempting than that!