Chocolate Plato by Fardoulis 55% Couveture Dark Chocolates 150g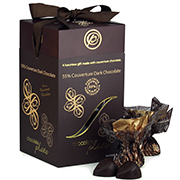 Gift box containing the finest dark chocolates from Australian chocolate brand Fardoulis. Pure couverture chocolates from Fardoulis, made from 55% dark chocolate and providing a superb taste sensation. The perfect chocolate gift box for Valentine's Day or Christmas, containing rich and full-flavoured Fardoulis dark chocolates.
Lucious dark chocolate pieces that simply melt in the mouth, made using Callebeut chocolate with 55% cocoa solids.
Chocolate Plato by Fardoulis 55% Couveture Dark Chocolates 150g
Undeniably, when it comes to quality chocolates and superior brand, there's only one that stands out and that is the Fardoulis! No wonder a lot of gift hampers from the Hamper Emporium are filled with the yummy tastes of chocolates from the Fardoulis Family. So if you need distinctive chocolate tastes, something that will tease the taste buds of most eaters and inflict cravings, make sure to grab gift hampers from the Hamper Emporium such as the ones with Chocolate Plato 55% Couveture Dark Chocolates packed in 150g. You will never feel guilty for spending your money, the Christmas hamper offered by the Hamper Emporium is not only filled with Fardoulis products but are also affordable and well presented before delivery. So let's explore the different christmas hamper that contain the delightful dark chocolate of Fardoulis.
Gift Hampers with Chocolate Plato by Fardoulis
There are many gift hampers online to choose if you want the best for your special someone, hampers with champagnes, gourmets, pantry items and of course chocolates. When it comes to chocolates the Hamper Emporium has great selections and mostly presents Fardoulis chocolates.
Australia's Finest Sparkling & Chocolates
- There's nothing better than a pair of Pinot Noir of Brown Brothers and a yummy treat of Fardoulis chocolates in one hamper. For only $79, you get to enjoy the Methode Traditionelle King Valley Chardonnay, and a pair of the most delectable selection of Fardoulis chocolates, the Chocolate Plato made with 35% and 55% Couveture milk and dark chocolates!
Luxury Chocolate & Bollinger Hamper
- Gift hampers can also be luxurious and expensive, good thing the Hamper Emporium has luxurious gift hampers that are affordable for only $199. This hamper is consists of biscuits and sweets, wine and champagne and the ever delicious Fardoulis chocolates in milk and dark flavours.
Moet & Chocolates
- If you need simple gift hampers with impressive presentation upon delivery, this Moet & Chocolates Hamper is the right choice for as little as $125. Again, a pair of wine and chocolates never grows old so make sure to grab this if you want a delightful experience with your hamper.
Deluxe Office Share Christmas Basket -
Of course, there will always be premium types of gift hampers such as this Premium Office Share Gift Basket. It comes with a little steep price for a Christmas hamper at $459 yet the experience, the goods and delights you'll receive is truly amazing. You can share this with friends at home and at work. Baylies products, Morgan & Alberts, Valley Produce Co and so much more. Not to miss the popular Chocolate Plato of Fardoulis.
Velvety Chocolate Hamper
Receiving a velvety chocolate Christmas hamper is really irresistible. No one can easily resist such tempting delight, so if you need gift hampers with exceptional taste of chocolates, check the Hamper Emporium and you will be prompted with lots of options to choose from, each Christmas hamper with Fardoulis chocolate you can't say no to. So hurry and grab this hamper while supplies last.