Fardoulis Caramel Mousse Filled Chocolates 100g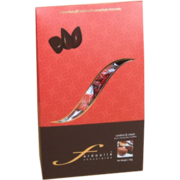 A fine selection of Fardoulis chocolates, filled with a creamy chocolate mousse and topped with the finest chocolate. Fardoulis fine chocolates with caramel mousse, one of the finest creations of Fardoulis since their foundation in 1985. A delicate blend of chocolates filled with a creamy caramel mousse, which provides the trademarked Fardoulis flavour.
Delicious caramel mousse filled truffles, covered with a blend of dark couverture chocolate. Made in Australia. When it comes to sweet products, Fardoulis takes the chocolate business quite serious. The company started back in 1985 and has been on top when it comes to the creation of world class and delightful chocolates. In fact, Fardoulis is totally serious that it is now acknowledged as one of the top producing chocolate manufacturers, with more than 400,000 varying units of chocolates distributed around the globe. So if you need gift hampers that are tempting and delicious, the only hamper to check is the one with Fardoulis products in it.
From gourmet products down to tasty chocolates, you are guaranteed not to be disappointed by this brand. There are gift boxes for everyone, there are corporate products for the company and more types of products coming from Fardoulis including gift hampers too. You can also peek at The Hamper Emporium and scan few gift hampers online; you will be delighted to know there are Fardoulis products included in some gift hampers.
What Can You Expect From Fardoulis Caramel Mousse Filled Chocolates 100g?
If you or your recipient wants to be surprised, buying the Caramel Mousse Filled Chocolates of Fardoulis is the perfect option. This box of chocolate is comprised of excellent sweets such as the chocolate mousse filled with lots of cream and an impressive and delicious chocolate topping. This caramel mousse is also considered as one of the premium creations of the luxurious chocolatier, Fardoulis ever since it started in 1985. This product is well balanced between the flavour of real and yummy chocolate as well as the caramel.
Yes, you will certainly be surprised with this chocolate as it also features truffle caramel mousse and covered adequately with the finest quality of dark couverture chocolate. This is all made to serve chocolate lovers and those that are pampering their sweet tooth often. Note that this product is made in Australia, giving a lot of Aussies the opportunity to have a taste of heaven in a chocolate form. For sure, there are dozens of gift hampers online offering this treat, and The Hamper Emporium is definitely one of those hamper providers.
Are There Other Fardoulis Gift Boxes You Can Purchase Online?
Yes, luxurious chocolates are at hand thanks to Fardoulis. This company offers the finest chocolates available in the world, and you can expect more variety of products online and are mostly incorporated in gift hampers. Aside from the Caramel Mousse Filled Chocolates, there are other choices available like the cookies and cream, the delectable raspberry & orange truffle, some hazelnut praline and last is the mint creme. Imagine these flavours and more, you will really get confused which product to get. For now, you can check
gift hampers
from The Hamper Emporium and grab the delicious and extraordinary taste of the Caramel Mousse Filled Chocolates in 100g pack.
Will Your Recipient Love This Gift Chocolate?
The answer is a big YES! Whoever will be receiving your gift box of Fardoulis, there's one thing for sure and that he will find himself in cloud nine! Who won't be delighted to receive Fardoulis gift box? So hurry now, purchase lots of gift hampers with Caramel Mousse Filled Chocolates in it, and start painting that wonderful smile on each of your recipient's faces.