'The Dessert Menu' by Butlers Chocolates 110g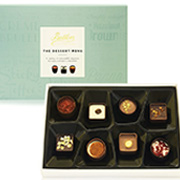 Excellent selection of handmade Butlers Chocolates, each topped with unique hand finished decorations. Assortment of Butlers Chocolates containing, Lemon Parfait, Hazelnut Brownie and Raspberry Panna Cotta and more. An exquisite collection of Butlers Chocolates with eight assorted chocolate flavours and chocolate decorations.
Lovingly crafted in a delicate chocolate shell are our favourites desserts; Crème Brûlée, Lemon Parfait, Raspberry Panna Cotta and more. Considered by a lot of people as one of the tastiest and yummiest foods on Earth, Chocolates can really mend your broken heart! No wonder most Aussies prefer to munch on this delectable delight most of the time. Chocolates are also found in different stores; whether it is online or not, you will always find delightful chocolates to satisfy your cravings. Gift hampers of The Hamper Emporium offer a lot of chocolates in varying brands and flavours. Some are hesitant to purchase chocolate gift hampers because of health reasons, however unknown to many chocolates have its own beneficial health effects. So let's explore what are the healthy benefits of chocolates, and why you should have a bite or two!
What Are The Different Benefits of Chocolates?
Chocolate gift hampers are often given away during holiday season especially on Christmas and Valentine's Day. This is like a tradition because chocolates signify sweetness and giving gift hampers filled with these yummy products is really a great idea. In addition, chocolates come with healthy benefits such as its antioxidant ingredients! There are flavenoid which fights against diseases, thanks to its bountiful flavenoid especially in most dark chocolates.
Believe it or not, consumption of chocolates can also improve the amount of endorphins released in your body. This in effect provides calming sensation which can help you lessen your anxieties. Good thing there are gift hampers offered at The Hamper Emporium with great chocolate selections such as the Moet & Chocolate Christmas Hamper. This one is filled with products from Butlers Chocolates and purchasing this will really turn yours or someone else's frown upside down. For women out there who wants to get pregnant, healthy consumption of chocolate may help avoid major complications in pregnancy! Just bear in mind that the darker ones are highly recommended.
What Gift Hamper Offers 'The Dessert Menu' by Butlers Chocolates?
The Hamper Emporium offers the
Moet & Chocolate Christmas Hamper
. This one is priced accordingly based on its impressive line of products from the biscuit and sweet selections, the wine & champagne and of course, the chocolates. In terms of its chocolate contents, this gift hamper presents you Willie's Cacao Peruvian Dark Chocolate in hazelnut and raisin flavour. There's also the Willie's Sierra Leone in ginger and lime, and the Butlers collection. If you want gift hampers filled with Butlers Chocolates, this one is highly recommended. It comes
with Butlers Premium Handmade Chocolate Collection, Butlers Red Floral Ballotin and the most delicious of all, 'The Dessert Menu'.
Is It Really True That Chocolates Can Lower Cholesterol Level?
Yes, moderate consumption of your favourite chocolate especially if you love dark chocolates with cocoa, you can rest assured that your cholesterol level will lower down. Thanks to its flavanol content, your cholesterol as well as your blood pressure will certainly improve. Therefore, don't hesitate to spend your money on gift hampers that are healthy and yummy just like the Moet & Chocolate Christmas Hamper of The Hamper Emporium.