Willie's El Blanco White Chocolate 50g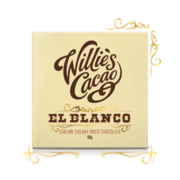 A piece of true chocolate delight, expertly crafted Venezuelan cacao butter and creamy British milk. Willie's Cacao white chocolate combination, crafted from Venezuelan cacao and sugar cane from Guadeloupe. Handmade Venezuelan chocolate from Willie's Cacao, famous for their unique flavour combinations quality.
White chocolate as it should be. Venezuelan cacao butter, sugar cane from Guadeloupe and British milk.
What chocolate should taste like with the exotic joy of Willie's Cacao crafted from Venezualan ingredients.
Willie's Cacao El Blanco Venezuelan Pure White Chocolate 50g

Dark chocolates are indeed delicious and mouth watering; however white chocolates are also impeccably tasty and yummy. No wonder lots of people are into white chocolates, and one of the most popular and highly in demand online is the Willie's Cacao El Blanco Venezuelan Pure White Chocolate. This explains why of all gift hampers from the Hamper Emporium, only three hampers are widely known and loved by many and that's all because of Willie's white chocolate.

The hampers to purchase if you feel like having this delight are the Pretty in Pink Pamper Hamper, the Premium Office Share Gift Basket and the Pure Indulgence Hamper. All these hampers are satisfactorily delicious and filled with more than just chocolates; there are champagnes, biscuits, gourmets and more products that you wouldn't think you'll find inside these reasonably priced hampers.

Pretty in Pink Pamper Hamper - This hamper is widely purchased because of its MOR cosmetics products which a lot of women are crazy about. It features the popular MOR Blood Orange Body Butter in 50g container which is recommended for all skin types. This moisturiser is very soft and its orange scent is really tempting. So if you want gift hampers filled with lots of products, this one is perfect for you. Of course, it wouldn't be as in demand as it is if not for the very delectable white chocolate of Willie's Cacao. It's a pure white chocolate in 50g pack which uses the very soft and buttery Natural Venezuelan cacao. It has sugar cane ingredient straight from Guadeloupe and the delicious British milk that is responsible for its milky flavour. This hamper is priced for only $179.

Premium Office Share Gift Basket - If you need premium gift basket, this one must be your choice. Although it is priced a little bit high for $459, this basket offers so many premium delights you can share with your friends and family at home, or even your co-workers at the office. It is filled with so many savoury products ranging from Morgan & Alberts, Baylies Gourmet Crackers, Partridges Artisan Bakehouse, Tasmanian Fruit Pastes and more. Despite all the delicious edible products in this basket, there's one that stands out, the Willie's Cacao El Blanco Venezuelan Pure White Chocolate. There's nothing wrong if you want gift hampers that are a bit expensive, this one will surely impress a lot of people.

Pure Indulgence Hamper - Yes, you need to indulge and treat yourself with this $249 luxurious hamper from the Hamper Emporium. There may be lots of gift hampers online, but only few can really tickle your taste buds and this hamper is highly recommended. Along with its reasonable price is the white chocolate of Willie's Cacao. You don't need too much items in your hamper, for as long as the ones you have are very delicious then it is definitely satisfying and all worth it.

Level Up Your Taste

At the Hamper Emporium, you get to taste truly mouth watering and exquisite edible products in just one hamper. This is why choosing for the best gift hampers online is important, you spend for just one hamper and you get to receive more than what you paid for, this is what the Hamper Emporium wants. So make sure to level up your taste, opt for gift hampers of the Hamper Emporium and have a chance to munch on its highly popular white chocolate for a reasonable price, plus more sweets and biscuits too.
Discover the joy of pure chocolate bliss with hand crafted Willie's Cacao made from Venezualan Cacao.
---