Willie's 70% Dark with Ginger & Lime 50g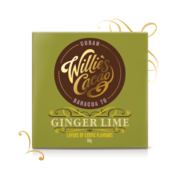 Unique chocolate flavour made from ginger, lime and cacao beans from Sierra Leone, handcrafted in the UK. Ginger and lime chocolate combination made with cacao beans from the Kailahun District in Sierra Leone. A delicate ginger and lime chocolate suitable for both vegetarian and vegan consumers hand crafted in the UK.
The beautiful honey notes in the Baracoan beans dancing with the ginger and lime to an irrepressible Cuban beat.
Willie's Cacao has done it again with an exotic chocolate blend crafted from Sierra Leone Dark Chocolate.
Willie's Sierra Leone 70% Dark Chocolate Ginger & Lime 50g

An exotic chocolate is all you need to enjoy your hamper, this is why the Hamper Emporium is there to present you with different gift hampers that come with one of the most exotic blend of chocolate, Willie's Sierra Leone 70% Dark Chocolate Ginger & Lime 50g. This chocolate is said to be crafted from England which gives you the flavours of ginger and a little hint of lime, and as a result leaves you with a yummy chocolate delight.

The Hamper Emporium presents you with varying gift hampers that contains this exotic chocolate; the following are the Christmas Delights Hamper, the Best of all Christmas Gift Hamper, Deluxe Office Share Christmas Basket, and the Celebrate Xmas Hamper. So if you want gift hampers that are unique and totally delicious, make sure to grab one of the above mentioned gift hampers.

Deluxe Office Share Christmas Basket - Gift hampers are usually filled with sweet edible treats such as biscuits and nibbles, wine and champagne, gourmets and a lot more. If you need all these products to give away, the Hamper Emporium has all you need and having this Deluxe Office Share Christmas basket for $549 is a good idea. This hamper has lots of savoury delights from Morgan & Alberts, Partridges Artisan Bakehouse, some Tasmanian Fruit Pastes, and more. Of course when it comes to chocolates, this basket offers the Willie's Sierra Leone 70% Dark Chocolate Ginger & Lime in 50g.

Celebrate Xmas Hamper - If you need to celebrate an occasion and you want to keep it simple and light, one of the best gift hampers to choose is the Celebrate Xmas Hamper for only $189. Enjoy a bottle of champagne and a wide selection of chocolates including the best tasting 70% dark chocolate of Willie's Sierra which is in ginger and lime. There are Butler's products too and a pantry item such as the Harney & Sons Holiday Tea 5 Silk Tea Pyramids.

The Best of all Christmas Gift Hamper - Looking for holiday gift hampers is easy especially if you check the Hamper Emporium. One of its highly recommended gift hampers is the Best of all Christmas Gift Hamper priced for only $245. This hamper presents you with lots of biscuits such as the Maison Fossier French Galettes, some chocolate chips, and different epicurean delights.
Christmas Delights Hamper - This is one of the most affordable gift hampers online with a lot of treats for only $159. This hamper comes with a keepsake box, free delivery and yummy chocolates such as Willie's Sierra Leone Dark Chocolate. So hurry and grab this hamper for a pocket friendly price.

Premium Hampers for You

Chocolates are must have delights in a hamper and having the best tasting chocolate is really important for the hamper to be highly in demand. At the Hamper Emporium, you are not only guaranteed to receive a beautifully packed hamper but as well as a reasonable priced one with lots of high quality products such as the yummy dark chocolate offered by Willie's Sierra. Looking for premium gift hampers is never a problem with the Hamper Emporium.
An exotic treat beautifully hand crafted by Willie's Cacao from the finest chocolate from Sierra Leone.
---