Christmas Hampers Brisbane
---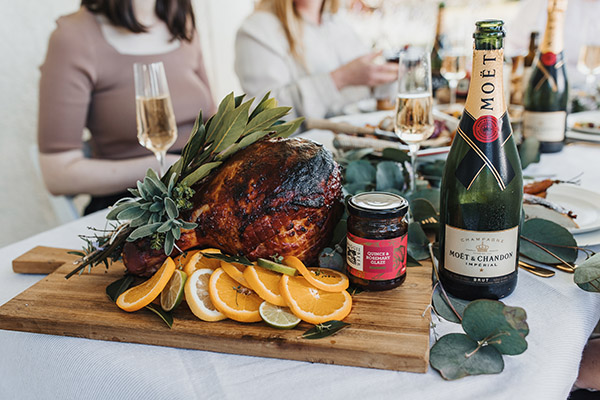 It Wouldn't Be Christmas Without These Iconic Aussie Essentials With the busyness of the season, it wo...
Read Full Post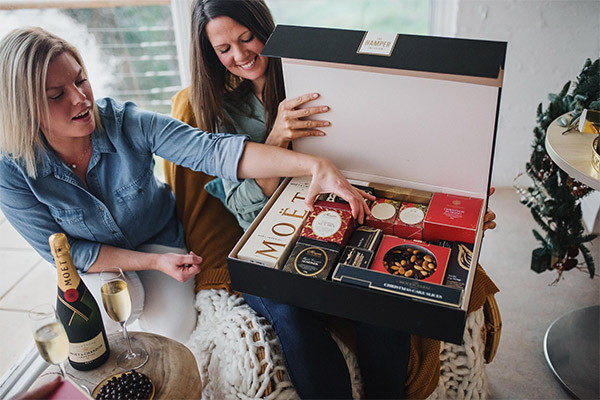 Christmas Basket Ideas You Will Love Picking out just one Christmas present for a loved one can be tou...
Read Full Post
Bestselling Christmas Gift Boxes Brisbane
We know that no matter where in Brisbane your loved ones are, they'll adore a festive gift delivery from The Hamper Emporium. Our team are all about sharing love in the festive season which is why we do our very best to make shopping for Xmas gifts as easy as we can here at The Hamper Emporium. Christmas time in sunny Brisbane is made for enjoyment, time together, family gatherings and, of course, a sun-filled celebration of the festive season, all made better when it includes the finest wines and deluxe gourmet foods. The Hamper Emporium Christmas hampers enhance the Christmas spirit with their beautifully designed, exclusive range of specialty hampers that are expertly curated to bring joy and deliciousness to elated Brisbane gift recipients.
There's a festive gift hamper for every recipient; parents, friends, colleagues or even staff within our range of Brisbane Christmas hampers. Australia's best festive gift boxes include the finest artisan edibles and drinks to suit every taste as they kick back in the sunshine, celebrate a fabulous year gone by and bond together over delicious treats and fine drinks.
Of course, it's not just about Xmas hampers here at The Hamper Emporium, we've got all the major events and holidays covered with an incredible selection of unique gift hampers for Mother's Day, Father's Day, Valentine's Day, anniversaries and milestone birthdays. These include newborn baby gift hampers, birthday gift hampers, wine hampers, pamper hampers, get-well gift hampers, Father's Day gift hampers and new baby gift hampers. All delivery information is available on the website.
Frequently Asked Questions regarding Christmas Hampers Brisbane
The premium sparkle dazzles even brighter in Brisbane with the deluxe Christmas Indulgence with Veuve Hamper. Featuring an exquisite bottle of Veuve Clicquot Brut Imperial, and scrumptious festive treats. With the addition of artisan-made, sweet nutty treats, your sophisticated gift recipient will know that all their Christmases have come at once with this supreme Christmas gift hamper, which combines the ultimate luxury in one elegant keepsake gift box.
Your Brisbane guy would love the James Squire Ale Hamper, which features a selection of premium craft beers, locally produced savoury crackers, tapenades, roasted nuts, kalamata olives and every nibble he will need to accompany these fine pale ale flavours.
The Everything But the Ham with Red Wine Hamper features a deluxe gourmet abundance to delight the entire family. With its feature bottle of Barossa Shiraz, gourmet nuts, chocolate slice, sticky figs, Christmas bonbons, and luscious Maggie Beer glaze for the perfect Christmas ham, mums and dads can relax as they savour the refined flavours. All-age foodies will find sweet temptation in the range of handmade Christmas cakes, buttery shortbreads and Morgan's crème Brulee roasted peanuts.
Sparkling wines, full-bodied reds and crisp whites are included in many of the traditional-style Christmas hampers on offer at The Hamper Emporium.
The finest spirits, craftsman-brewed beers and ciders also come complete in the extensive selection available to order online.
There are artisan-made mince pies, plump fruit cakes and festive chocolate Christmas cakes, buttery shortbreads, sweet and roasted nuts, sublime Christmas bonbons and every essential extra to unite the family in loving joy at your Christmas table.
The Hamper Emporium has carefully selected and curated Christmas hampers that are brimful of the finest wines, world-leading Champagnes and spirits, craft beers and ciders.
Every selection also includes gourmet foods, such as handmade fruit and nut cakes, deluxe mince pies, delectable sauces, accompaniments and every artisan-crafted savoury and sweet treat, that embraces the finest tastes for Christmas entertaining to savour.
You can also choose from deluxe Christmas hampers that feature monogrammed leather accessories, leading skincare gift sets, grooming products and all manner of premium gift-giving embellishments.
Simply jump online at The Hamper Emporium and prepare to be dazzled by the extensive range of gift boxes for Christmas that are on offer.
There's one to suit every taste and age group. They're all bursting with luxurious appeal and made to be shared in the spirit of festive love by your family and friends.
As you peruse the extensive Christmas hampers range online, you can click on the premium selections that pique your interest to discover the epicurean treasure chest that is brimming within.
The Hamper Emporium also provides an online customer support service for guiding or fine-tuning all your festive gift-giving choices.
The Hamper Emporium is the online gift retailer for all your Brisbane Christmas hampers.
Just like Santa's helpers, the ever-busy and dedicated team members have put time, care, professionalism and attention to detail into every luxurious Christmas hamper in the extensive range.
With free delivery, Australian-wide, including Melbourne, Sydney, QLD, and NSW for all hamper purchases at The Hamper Emporium, complete with a complimentary gift card for you to personalise, premium gift-wrapping and prompt arrival of every purchase, Brisbane gift-givers turn to the Christmas, birthdays and special occasions experts: The Hamper Emporium where gifting is made special.
With the Champagne taste flowing, the Jurlique and Moet Rose Imperial Hamper provide an exquisite selection for Brisbane wives or girlfriends this festive season. An elegant satin robe with a vibrant floral print and a range of Jurlique skincare and cosmetics bags provide the ultimate in pampering indulgence. The featured bottle of Moet & Chandon Rose Imperial and sweet nutty treats is sure to be shared with devoted partners everywhere.
Brisbane Christmas hampers celebrate the best of the sunny-side-up Queensland lifestyle.
Gift givers can choose from supremely packaged Christmas hampers and gift baskets that are brimful with the finest wine gifts, Champagnes, premium spirits, craft beers and ciders, and even designer Christmas crackers filled with sweet treats and surprises.
The Brisbane Christmas hampers range is complemented by the delectable taste of Christmas in traditional and festive sweet-themed sweet and savoury gourmet foods from the entire selection on offer at The Hamper Emporium.
With free delivery, Australia-wide, for all Brisbane Christmas hamper purchases at The Hamper Emporium, complete with a complimentary gift card with your personalised greeting, premium gift-wrapping and prompt arrival, Brisbane Christmas hampers are custom curated for Queensland gift-giving greatness.
Christmas celebrations and artisan chocolates go together like strawberries and cream to be savoured on sunny days.
The Hamper Emporium offers a taste-tempting Christmas selection of indulgent chocolate hampers from the cream of Australia's confectioners and it is the perfect chocolate gift.
The Sweet Bites Hamper is not only priced to delight, but it is also brimming with the finest-quality sweet treats and is one of The Hamper Emporium's gourmet hampers. There's a tempting assortment of artisan chocolates in the premium truffles and chocolate-covered nuts and berries, sweet, nutty brittles and a featured bottle of Black St. salted caramel sauce to enhance all of your family-favourite festive desserts this Christmas. This high-quality hamper could be the perfect corporate gift for the office this festive season. But be sure to browse through our large selection of corporate hampers and gourmet gifts all which can be delivered straight to your office free of charge.
Whatever Christmas hamper gift idea you have in mind for the elderly, including premium selections filled with traditional festive fare, such as handmade Christmas cakes, fruit mince tarts and buttery shortbreads, or gourmet chocolate hampers for sweet tooths and sweethearts, the expert staff at The Hamper Emporium can help you compile the perfect Brisbane Christmas hamper.
Online customer service will guide and fine-tune your gift-giving selection for Christmas hampers that are custom curated for Brisbane residents of all tastes and ages. Mature palates will rejoice in the Christmas Decadence with Red Wine Hamper, which is perfectly put together for grandparents to share.
Adding to the selection of Christmas cakes, traditional pudding, and endless sweet treats are a range of gourmet Maggie Beer produce. These include delicious chocolate wafers, gingerbread almonds, brandy butter sauce and more. The feature bottle of McLaren Vale Shiraz by Mr Riggs is certain to be savoured by discerning grandparents and elderly gift recipients this Christmas.