Christmas Hampers Sydney
Our extensive range of Sydney Christmas hampers are filled with summertime celebratory spirit at The Hamper Emporium. The perfect addition to festive celebrations, the world's finest brands are presented in luxury gift baskets that are beautifully presented and all about bringing people together with delicious gifts of pure joy.
Whether your family and friends crave delectable gourmet foods, the finest wines, leading Champagnes, spirits, beers or ciders, our huge selection of festive hampers comes packed full of only the finest selections no matter what their favourites.
Each Sydney Christmas hamper arrives beautifully packaged in an elegant keepsake gift box, featuring a complimentary greeting card personalised with your message, premium gift-wrapping and, what's more: they're all delivered free of charge.
Order online today to select the perfect Sydney Christmas hampers for all your family and friends, or perhaps as a wonderful corporate gift for Sydney clients or colleagues.
---
Complete Christmas indulgence in our luxury hampers Yes, here's a little marketing alarm bell from The...
Read Full Post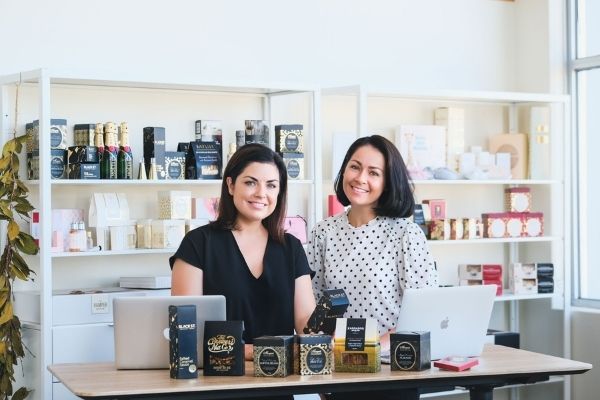 Insider picks for the best gift hampers Here at The Hamper Emporium, we spend an enormous amount of ti...
Read Full Post
Bestselling Christmas Gift Boxes Sydney
We're always excited that The Hamper Emporium is Sydney's favourite gift hamper company. Knowing that our Christmas gift hampers offer gourmet indulgence at thousands of Australian homes during the festive season brings a smile to our faces each and every year. Everyone sitting around the Christmas tree, chilling with family, Chatting around the BBQ, grazing a table of artisan nibbles, listening to kids play under sprinklers on the lawn, it's the Christmas that traditions are made of and the traditional Christmas hampers from our range are perfect for Sydney families wanting to make the most of their summer days.
The Hamper Emporium comes to the party with an extensive range of irresistible Sydney Christmas hampers that are custom made for rejoicing in the festive spirit.
Everything You Need To Know About Our Sydney Christmas Hamper Ordering:
The range of Christmas hampers offered online at The Hamper Emporium combines the finest wines, world-leading Champagne, refined spirits, craft beers and ciders. They are also jam-packed with delectable gourmet foods for sweet and savoury taste buds. Our brands such as Willie's Cacao, The Woods Farm, Chandon, Ernest Hillier, Gourmet Regional Produce Co, The Figgery, Morgan's and so many more, have been selected because of their fabulous flavours and amazing quality.
As if that weren't enough, the range of Sydney Christmas hampers have also been expertly curated to include premium skincare gift sets, personalised leather accessories, wine gifts, plush bathrobes and so much more. We know how difficult it can be to choose the perfect gift for Christmas, so we hope our amazing range makes that choice just a little easier.
Gift hampers delivered at Christmas time make the perfect choice for family and friends you won't get to see this Xmas. Our special delivery packaging and courier service, ensures our hampers arrive to the door packed full of the most delicious of gourmet foods all presented perfectly.
You could aim for the top-of-the-range of popular hampers The Celebration of Christmas Hamper would be on the list. This premium selection features a bottle of Moet & Chandon Brut Imperial, Cape Mentelle Shiraz and all the artisan-made sweet and savoury gourmet foods and comestibles that you could imagine. It's simply brimming with family-style gift giving to be shared with taste-tempting pleasures to treasure.
For more affordable but equally indulgent tastes, you could opt for the Rose Christmas Hamper, which offers the fruity flavours of a blush pink wine, the sweetest artisan-crafted treats and even comes complete with gold-encased Christmas bonbons.
The Everything But The Ham Festive Hamper, featuring a range of deluxe cakes, mince pies, buttery shortbreads, rich salted caramel sauce and a selection of local and imported savoury delights, is also curated in the spirit of family sharing this Christmas and beyond.
The precious celebration of a new baby is the ultimate gift at Christmas time and all others.
The range of gift hampers for mums and baby's first Christmas at The Hamper Emporium features adorable plush toys, baby clothes and accessories and organically made skincare selections that are expertly formulated for tender baby skin.
The 'Guess How Much I Love You' range of baby hampers for baby boys, girls and classic selection includes a gorgeous plush hare, range of baby books, super-soft baby wear from Marquise and sweet treats or exquisite bottle of Moet Champagne for new mums and dads to nibble and sip.
Another popular choice is the Aromatherapy Co Baby Nourishing Care hamper, featuring a plush hooded towel and baby wear, bamboo muslin cloths, aromatic diffusers, organic soaps and skincare range for new bubs and a selection of adorable rubber duckies.
Abundant surprise packages filled with the festive spirit are the making of Christmas gift-giving. The Hamper Emporium has worked tirelessly and lovingly to custom curate a luxurious range of Christmas hampers.
They all come complete in elegant keepsake gift boxes, complimentary greeting cards and expert gift-wrapping.
The gift of love is beautifully packaged and brimful of premium gourmet hampers and the finest wines, Champagnes, world-famous spirits, craft beers and ciders in all the Christmas hampers on offer at The Hamper Emporium.
The Hamper Emporium provides free delivery service on Christmas hampers and all gift purchases. We can also organise bulk order deliveries for corporate hampers anywhere in Australia including Sydney, Perth, Brisbane, Adelaide and Melbourne.
All Christmas hampers and every unique gift purchase at The Hamper Emporium also comes complete with a complimentary greeting card for you to personalise, premium gift-wrapping and indefinable professional flourish that epitomises the festive spirit.
Mini is maxi when it comes to the Mini Delight Christmas Hamper. These irresistible gourmet treats are designed to delight your sweet tooth recipient and also feature a petite price tag. There's cranberry and pistachio crispbread, pure butter shortbreads, nutty festive treats, artisan crackers, Tasmanian quince paste and more inside this keepsake gift box.
The Indulgence Xmas Hamper is also offered in premium abundance at the sweetest price. A range of festive gourmet treats, including handmade Christmas cake, fruit mince tarts, ginger thins, gourmet crackers, toffee popcorn brittle and other tempting sweets will keep the Sydney party spirit alive this Christmas.
The Hamper Emporium is a favourite online gifting retailer, for Christmas hampers full of goodies and all special occasions, with Sydneysiders and Australia wide. More than 200,000 delighted customers attest to the professional gift-giving finesse provided by the winning team at The Hamper Emporium.
An extensive Christmas hampers range is brimful of themed festive delicacies, the finest wines, world-famous Champagnes, spirits, pamper, grooming and skincare products, personalised leather accessories, corporate gifts and so much more in store.
The Hamper Emporium offers online customer service support to guide Christmas hampers selection and fine-tune the ordering process when and where you need it.
Your luxurious Sydney, NSW Christmas hampers also include free Australia-wide delivery at The Hamper Emporium. They are set to arrive in their elegant keepsake gift box; complete with a complimentary gift card that includes your personal message and premium gift-wrapping.
Sydney Christmas deliveries are estimated to take between one and three business days, according to your time of purchase.
Order early to ensure your perfect Sydney Christmas hamper is in stock and ready for immediate delivery online at The Hamper Emporium.
Mums and dads are icons in their children's lives and deserve to be fittingly rewarded. Indulge their festive spirit in iconic style with the Luxury Christmas Icons Hamper and everyone can share the abundant riches.
The featured bottle of Moet & Chandon Grand Vintage Champagne is perfectly complemented with an endless range of deluxe festive fare to suit sweet and savoury palates. There's Tasmanian black truffle paste, imported olive oil, encased in gold foil, semi-dried tomato halves, kalamata olives from Kangaroo Island, artisan crackers, tapenades, roasted nuts and so much more. Sweet tooths will be left in no doubt that all their Christmases have come at once with the taste-tempting selection of handmade Christmas cakes, fruit mince tarts, salted caramel sauce, sweet, nutty treats and brittles galore in store.
There's also a range of hampers including - baby gift hampers, chocolate hampers, birthday gift hampers, mothers day hampers, fathers day hampers, get well gift hampers and gift baskets for mums and newborns to choose from this Christmas.
The 'Guess How Much I Love You Range' features personalised mementoes and gorgeous accessories for baby boys and girls, Moet & Chandon Champagne for parents to sip and gourmet treats to nibble.
Gourmet food and wine hampers are filled with festive flair at The Hamper Emporium. There are indulgent chocolate truffles and chocolate-covered nuts, berries and pretzels by artisan Australian chocolatiers.
Sweet and savoury nut selections are also popular Sydney Christmas hamper fare.
Premium local tapenades, pastes, crackers, olives and semi-dried tomato halves provide savoury notes to savour at Christmas and all special occasions.
The Hamper Emporium also complements its extensive Sydney Christmas hampers range with boutique craft beers, such as the MicroBreweries of Australia Hamper, and fine local wines, including the Red Wine and Gourmet Nibbles Hamper, the perfect gourmet gift for your loved one. The Hamper Emporium offers a range of quality luxury hampers which are the perfect Christmas gift this festive season and will leave a lasting impression with your loved ones for years to come.
The Hamper Emporium also offers a range of father's day gift hampers, anniversary gift hampers, pamper hampers, and new baby gift hampers with many delivery options available including express next business day delivery Australia-wide.