Register For The Early Bird Special
1. Order 6 or more hampers using our bulk order form
2. Pay in full by 5 pm (AEDT) on the 12th of November 2021
3. Automatically get 10% off your order
Thank you for subscribing!
We'll be in touch soon

Why Corporate Christmas Hampers?
Every year we send out hundreds of thousands of hampers, many on behalf of our corporate customers. See why they love The Hamper Emporium below.
GREAT RANGE
Dealing with The Hamper Emporium has been a great experience and we will continue to order from you.
Debbie Frommer
MediSecure & Simple Retail
CUSTOM BRANDING
They look great! Thank you very much for your assistance with our order and the corporate set ups.
Bonnie German
Full Circle PA
BULK ORDERING
Thanks so much for everything! You've been most helpful and this was such an easy and efficient process.
Camelia Denison
Toll Group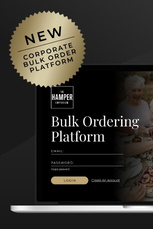 Want more information?
Talk to a real person in our corporate team today.
Thank you for subscribing!
We'll be in touch soon