Father's Day Hampers
Father's Day gift shopping is as easy as it gets with our stunning range of luxury Father's Day gift hampers for 2020. Packed full of every dad's favourites, whether it's beer gift baskets with free delivery or a men's pamper hamper with award-winning Australian red wine, we've got every dad covered.
Don't wait until the last minute to pick out a Father's Day hamper this year. The Hamper Emporium offers a variety of combinations of chocolates, beer and gourmet nibbles, so there will always be a choice of Fathers Day Gift Hampers filled with his favourites. Show your dad how special he is with a Father's Day gift from the hamper experts. Our gourmet hampers are guaranteed to impress.
Why choose The Hamper Emporium to deliver a gift hamper for Dad? With over a decade of experience, and some of the industry's most impressive partnerships, our men's gift hampers are packed full of quality, and beautifully presented in our own custom-designed luxury gift boxes, so that from the moment they arrive at Dad's door right through to his journey of flavours and pampering, he'll know just how much he means to you.
Don't waste another Father's Day with just undies and socks. Your dad deserves better, and we're here to make sure you make the right impression this Father's Day. Isn't it time you were the favourite child? Help us help you by sending one of our stunning men's gift hampers right to his door Australia-wide.
---
Whisky is a perfect combination of glowing warmth and soothing flavours. For those who just enjoy...
Read Full Post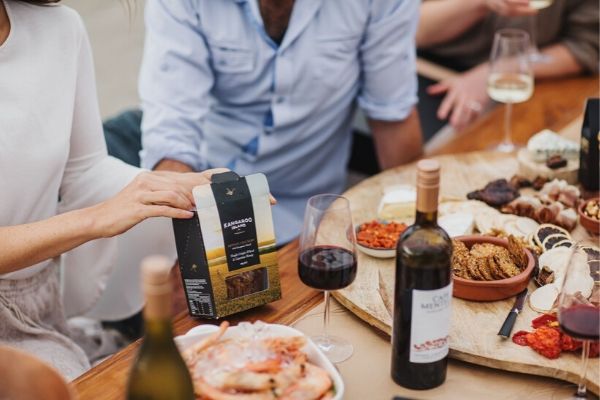 Forget chocolate and cosy up with a velvety-rich red As winter starts to wrap its cold arms around Aus...
Read Full Post
Father's Day Hampers
The Hamper Emporium has done it again, with Australia's largest range of Father's Day gift hampers for Father's Day 2020. Whether you are looking for affordable Father's Day hampers packed full of nibbles and gourmet treats or luxurious Father's Day beer hampers, you can find them all at The Hamper Emporium!
From the finest in pampering hampers for men that will help him feel loved and relaxed this Father's Day, right through to a journey of Whiskey joy with our Glenmorangie Hampers, and for the bbq king, we've even got a range of delicious bbq treats and craft beer gift boxes to bring the biggest smile to his face. Our exclusive range of Men's gift hampers all include FREE Delivery right across Australia, with same-day delivery options available for Sydney.
Wondering why to choose a hamper for dad from The Hamper Emporium? As Australia's premium gift hamper provider, we've spent over a decade refining not only the gourmet food products we've selected to include inside our gift hampers, but also our presentation and delivery too. At every single step of the way, from the moment you order to the moment their hamper arrives, to the joy they'll find from every product included inside, for Australia's best Father's Day Hampers, you won't find better than a gift hamper from The Hamper Emporium.
Why Are Hampers The Perfect Gift for Father's Day?
Father's Day in Australia is extremely special. It provides you with the opportunity to thank your dad for all the wonderful things he has done for you over the years; this also means that Father's Day in Australia is a great chance to find a wonderful gift for dad. Don't get stuck in the trap of finding a last-minute gift for Father's Day, our gourmet gift hampers will be packed so full of treats that there's guaranteed to be something special inside that he'll absolutely adore.
To enable customers to quickly find the best gifts for Father's Day in Australia, we provide the most outstanding collection of Father's Day gift hampers. Each of these hampers contains a large variety of items dad will love, so you do not have to worry about getting the wrong gift.
For Father's Day in Australia, customers can choose from various types of Father's Day gift hampers too; this includes beer hampers, wine hampers, gourmet gift baskets, and a whole lot more. So, Father's Day in Australia should be no reason for stress, especially when you choose one of the gift baskets from our Father's Day 2018 range.
What Beers Are Included in the Father's Day Beer Hampers?
Our Father's Day hampers can contain a selection of beers as well as whiskey or wine. Finding the perfect gift for beer-loving dads is easy with our Father's Day beer hamper range. Customers can choose exotic beers, but also local Australian beers.
When you look at the range of beer hampers at The Hamper Emporium, you will discover premium beers from Burleigh Brewing, James Squire, Murray Craft Brewing, and a whole lot more. To check out the entire collection of beer hampers available for dad, check out the options in the Father's Day range today.
Even if dad isn't a beer lover, we offer luxury wine hampers with red wine and white wine, and a range of brands including Penfolds. Our deluxe hampers feature only the finest quality products, so you know dad is getting the best gift ever.
What Are the Most Affordable Father's Day Hampers?
Customers searching for cheap Father's Day hampers and ideas for Christmas hampers are also at the right place at The Hamper Emporium. Since we source the world's most luxurious products in large quantities, we can keep the prices for our Father's Day hampers affordable.
Looking to find the perfect Father's Day gift on a budget? Simply sort our Father's Day hampers by price using our online store functionality and get the most affordable options displayed first. Then, you can easily choose a hamper to suit your needs.
Can I Get My Father's Day Hamper Delivered?
We may be based in NSW, but whether your dad is in Sydney, Melbourne, Brisbane, Adelaide, Perth, or anywhere across Australia we've got you covered. Customers can choose various delivery options for Father's Day gift hampers and top gifts at The Hamper Emporium. You can choose to have dad's gift basket delivered directly to your own doorstep and hand-deliver it to Dad yourself, but also get your hamper delivered straight Dad's door.
Don't just buy dad a boring gift card this year, our new product range for 2020 is our best ever, packed full of delicious goodies, beer, wine, nibbles, chocolate gifts, yum! Did you know, Australia's best-selling Father's Day gift hampers also include FREE Delivery right across Australia? Don't miss our delivery cut-offs! Ordering early is the best option, so your dad doesn't miss out on Australia's best gifts for dad for 2020.