Glenmorangie Quinta Ruban Hamper
Smooth Scotch Whisky & Gourmet Sweet & Savoury Treats
In stock | Ships now
$259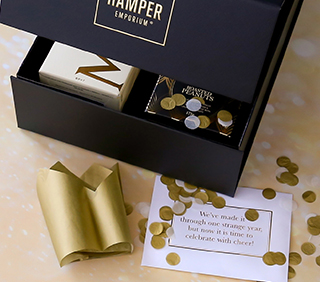 FREE Party Pack
Add a free Christmas Party Pack to your hamper to help get your Christmas party started in 2020! Our free party packs includes a party hat; cringe worthy joke and confetti. All presented to your recipient in a simple gold foil envelope.
The Glenmorangie Quinta Ruban Scotch Whisky; its creamy sweetness and signature fruity smoothness is the true star of this gourmet Father's Day gift hamper. Accompanied by carefully selected quality gourmet treats, both savoury and sweet; this is the perfect hamper for those who appreciate quality. Featuring a custom handcrafted wooden hamper box and FREE Australia-wide Delivery, he's sure to feel loved.

own it now, pay later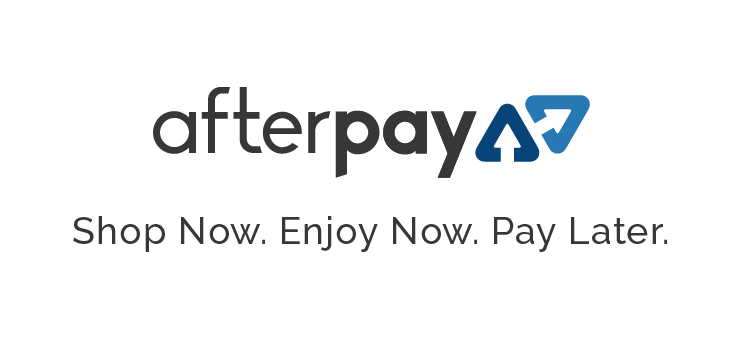 ---
Savoury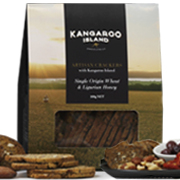 Kangaroo Island Produce Co Artisan Crackers 100g
Artisan Crackers made with Kangaroo Island single origin flour, a premium quality grain that is safe & traceable.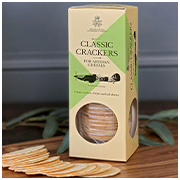 Regimental Condiment Co Plain Crackers 100g
Designed not to impose their own flavour, these expertly crafted crackers offer the perfect crunch and accompaniment to cheese.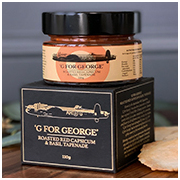 Regimental Condiment Co Roasted Capsicum Tapenade 85g
With a nod to 'G for George' of World War II fame, this delicious tapenade is packed full of flavour to delight their tastebuds.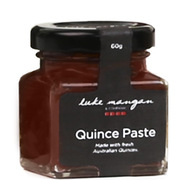 Luke Mangan Quince Paste 80g
Luke has produced a balanced fruit paste that is a simply outstanding match to any quality cheese platter. Delicious!
Biscuits & Sweets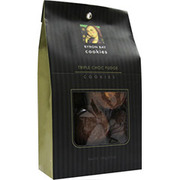 Byron Bay Cookie Triple Choc Fudge Bag 150g
Inspired by the joy that is Byron Bay, this exquisite cookie offers rich, sweet flavours they'll savour.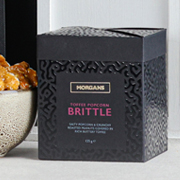 Morgan's Toffee Popcorn Brittle 135g
It's a journey of delicious flavour with buttery toffee and crunchy peanuts roasted to perfection; the ultimate tasty combo.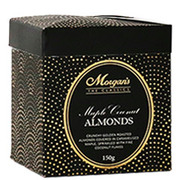 Morgan's Maple Coconut Roasted Almonds 150g
The perfect treat to share when entertaining. A generous coating of caramelised maple, a sprinkle of coconut & crisp, crunchy almonds.
Kangaroo Island Produce Co. Honey Popcorn 80g
Featuring delicious, sweet honey from the world's only pure strain of Ligurian Honey Bees situated on pristine Kangaroo Island.
Wine & Champagne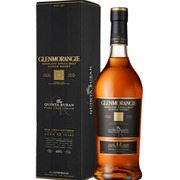 Glenmorangie Quinta Ruban Single Malt Scotch Whisky 700ml
A creatively intoxicating realm of flavour comes to life in this ward winning whisky.
Pantry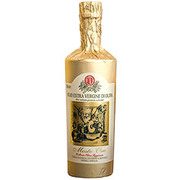 Calvi 'Mosto Oro' Extra Virgin Olive Oil 250ml
Beautifully presented with gold foil wrap to protect this delicious oil from light, enjoy the almond flavour and rich finish.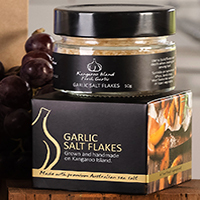 Kangaroo Island Garlic Salt 65g
Grown and hand harvested on the North Coast of Kangaroo Island, sprinkle over lamb chops, steak or veggies before cooking.
Also Included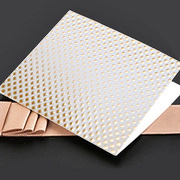 Optional FREE Premium Greeting Card
Enjoy our FREE personalised gift card. Featuring an embossed finish and your words printed inside, it's the best way to add a personal touch.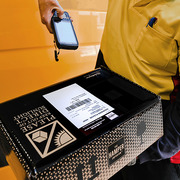 Comprehensive Track & Trace
Track your order right to their door with your tracking ID. Enjoy total peace of mind with our comprehensive system.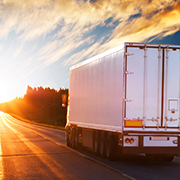 Free Delivery To Anywhere In Australia
Enjoy FREE standard delivery Australia-wide, all included in the price of your hamper. Close the distance between you and those that matter.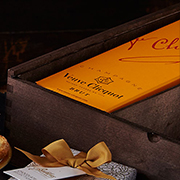 Handcrafted Wooden Wine Box
Our beautiful wooden crates can be repurposed once their goodies have been savoured. They will appreciate the custom design and sliding lid.
---
Standard Delivery with Australia Post - FREE ** DELIVERING AUSTRALIA-WIDE **
NSW, VIC, QLD metro areas
1 - 5 Business Days
TAS, SA metro areas
3 - 6 Business Days
Perth, Darwin & regional areas
5 - 12 Business Days
Express Delivery - from $16.95 per hamper ** DELIVERING AUSTRALIA-WIDE **
Sydney Metro Area
Same / Next Business Day
Melb, Bris, Adel, Perth, ACT, NSW cities
1 - 3 Business Days
Darwin & outside of major cities
3 - 5 Business Days
WE ARE STILL DELIVERING AUSTRALIA-WIDE.
Visit our
Delivery C
alculator
for estimated timeframes to your delivery postcode.
We continue to send orders on the same day if received before 1pm AEST (10am AEST for Sydney same day), however Australia Post and Star Track are experiencing some COVID-related delays.
Due to the unpredictability of these delays we are currently unable to offer Preferred Date Delivery, and some Standard and Express deliveries are arriving well outside of estimated timeframes. Please keep this in mind when placing your order.

Due to seasonal variations and exclusivity of our stock, items in hampers are occasionally substituted for products of the same or higher value and quality.
Celebrate Father's Day with the Glenmorangie Quinta Ruban Whisky Hamper

Considering a lot of fathers enjoy a good glass of whisky, can you think of a better way to celebrate Father's Day than with a Glenmorangie Quinta Ruban Whisky Hamper? Read on to learn more about the amazing whisky that makes this hamper special!

What Is the History of Glenmorangie Whisky?

The Glenmorangie distillery is situated in Scotland. It is currently the oldest distillery in the region, which still provides one of the most popular whiskies in the world – the Glenmorangie Quinta Ruban. The actual distillery was founded as early as 1824, but became really big after the second world war.

Even though the distillery has Scottish roots, the distillery is no longer in Scottish hands. Today, the company is owned by the French company Pernod Ricard. Under their leadership, the distillery produces more than five million litres of Glenmorangie single malt, with a small portion being used for the blended whisky brands owned by Pernod Ricard.

Does Glenmorangie Whisky Use a Special Production Process?

There are some aspects of the production process that make Glenmorangie unique compared to most other whisky brands out there. During the production of the whisky, the distillery draws water from Josie's well and other springs that are situated near the distillery. It is believed the water used for their whisky has a unique flavour that makes Glenmorangie smoother than most whiskies.

The stills of the Glenmorangie distillery are also quite unique when you compare them to most stills in other whisky distilleries. The stills have an extraordinary lantern shape with a long neck; this specific shape of the stills enables the distillers to create a lighter tasting whisky.

Glenmorangie distillery currently has four wash stills, each with a capacity of approximately 15,000 litres. The distillery also has four spirit stills, which have a capacity of 10,000 litres. Once the spirit has gone through these stills, Glenmorangie lets the whisky mature in some quality oak casks. The oak casks used during this process could have been used before to store sherry, port or bourbon.

The distilling equipment at Glenmorangie has enabled the distillery to deliver whiskies that range between the age of 12 years and 25 years. There are also a number of limited edition whiskies, such as the cellar collection, which are quite popular with whisky collectors.

Still, the main product provided by the Glenmorangie distillery is the single malt scotch whisky. However, the use of this main product is not limited to the well-known Glenmorangie Quinta Ruban, but is also used for some of the blended whiskies of Pernod Ricard.

In order to meet with the demand for Glenmorangie whisky, the distillery had to upgrade their equipment and increase their capacity in 2008. To meet the high worldwide demand for Glenmorangie from all over the world, the distillery had to build a new masher, stills and wash backs.
How Is Glenmorangie Single Malt Whisky Made?

The formula of Glenmorangie Single Malt Whisky needed centuries to be perfected, so the manufacturing process of this whisky is quite a lengthy and complicated process. However, all that is needed to create the perfect Glenmorangie single malt is barley, water and yeast.

Malting is the first process that the whisky has to go through. During this process, the maltsters at the Glenmorangie distillery soak Scottish barley in water for several days; this is necessary for the germinating process. When shoots come out of the barley, the maltesers continue to heat and dry the barley. Once this process has been completed, the barley is referred to as malt.

One of the differences between Glenmorangie and other distilleries is the fact that Glenmorangie does not use peat during the drying process of barley. By leaving out peat, Glenmorangie is able to maintain the natural flavour and aroma of the barley.

Once the malting process has been completed, the whisky is pulled through the milling process; this is a process where the malt is put through the malt mill. The malt mill is equipment that grinds the malt into a substance called grist, a type of coarse flower. During this process, the husks of the barley are opened and the starch inside is released.

After the malting, the grist is mashed with hot water in a masher; this is equipment with rotating arms, meant to keep rotating the mixture of grist and water. At the Glenmorangie distillery, there are modern mashers, which were especially designed to maintain the maximum level of sugar and starch from the grist. The result is a substance called wort.

Once the malting has ended, the wart is transported to special units called wash backs. Glenmorangie uses Oregon pine wash backs, while most other distilleries use stainless steel wash backs. The use of pine wash backs is also advantageous for the aroma and taste of the whisky.

When the work has been added to the wash backs, it goes through a cooling process. During the cooling process, the sugar is converted into alcohol. 2 days later, the substance has become a wash; this is a frothy beer with an alcohol level of maximum 9%.

Once wash has been obtained, it goes through a two-stage distilling process. Of course, this is not the last process for the outstanding Glenmorangie whisky. After the whisky has gone through the distilling process, the whisky is allowed to mature for a certain period of time. This maturation process is needed to give the whisky an outstanding flavour.

Are There More Glenmorangie Gift Hampers at the Hamper Emporium?

There are several Glenmorangie gift hampers at the Hamper Emporium, so you will have plenty of gift hampers to choose from for Father's Day. Each of our Glenmorangie hampers contains a good bottle of Glenmorangie whisky, as well as a large selection of snacks.
Thank you for subscribing!
We'll be in touch soon