What Premium Brands Are Offered At the Hamper Emporium Gift Hampers?
Author: Nicole Adler Date Posted:23 March 2016


The gift hampers of the Hamper Emporium contain some of the finest gourmet products the world has to offer. In order to help you get familiar with our range of gourmet gift hampers, we have created a summary of the most popular gourmet treats below. Read on to discover the luxurious gourmet brands in Hamper Emporium's gift hampers!

Enjoying Delicate Biscuits with Maison Fossier

France is known for their delicious food, so it is not surprising that one of the best biscuits in our gift hampers comes from a French biscuit manufacturer – Maison Fossier. Maison Fossier has conquered a permanent spot in the gift hampers of the Hamper Emporium, since the combination of their biscuits and French champagne is truly divine.

Maison Fossier has been around for centuries. In the early days, Maison Fossier supplied their delicate biscuits to the French royals, who thoroughly enjoyed their trademarked biscuit roses by dipping them in a glass of champagne. Biscuit roses are still around today and are still consumed with a glass of bubbly. For that reason, you may find that Maison Fossier is often combined with a bottle of luxurious champagne in our best christmas gift hampers.

The Hamper Emporium gift hampers contain a variety of Maison Fossier products. In addition to the Maison Fossier Biscuit Roses, you can find other releases as well, which includes the Maison Fossier Feuilletes, French Palmier Pastries and Macarons. If you want to try any of these delicious biscuits and pastries, be sure to have a look at our gourmet hampers!

Luxurious Indulgence with Moet & Chandon

Customers who wish to indulgence on a bottle of luxurious champagne must try one of our gift hampers containing the well-known Moet & Chandon Imperial Champagne. The champagne goes remarkably well with Maison Fossier Biscuit Roses as well, so be sure to try this combination when you get the chance.

Moet & Chandon Imperial Champagne is probably one of the best known champagnes in the world, considering the fact it is often endorsed by celebrities. Roger Federer and Scarlet Johansson are just two celebrities who endorsed the famous champagne in the past, but other celebrities such as Mariah Carey, Leonardo Di Caprio, Lady Gaga and Jennifer Lopez are also known to enjoy a glass of Moet & Chandon from time to time.

Many hampers on the Hamper Emporium contain a bottle of Moet & Chandon Imperial Champagne, so you will be able to easily select some additional treats as well. The Moet & Chandon Champagne is often combined with delicate biscuits, pastries and some scrumptious nibbles in our hampers, so be sure to explore your options before choosing a specific hamper.

Butlers Irish Chocolates for Chocoholics

Many people are crazy about chocolate. For that reason, the Hamper Emporium included some of the best chocolates in their range of gift hampers. These chocolates are made by Butlers Irish Chocolates, an Irish chocolatier with a history that dates back to 1932.

Chocolate lovers will not be disappointed with a hamper containing Butlers Irish Chocolates, since these chocolates are known around the world for their superior taste and creamy texture. The Hamper Emporium included the most popular chocolate selections from Butlers Irish Chocolates in their range of hampers, which includes Butlers Handmade Chocolate Collection and The Dessert Menu.

Butlers Irish Chocolates does not only create chocolates though, because they have released a number of sweets as well. In addition to delicious chocolate, you can also count on our hampers for a supply of Butlers Irish Chocolate Fudge Gift Boxes or Butlers Hot Chocolate Milk.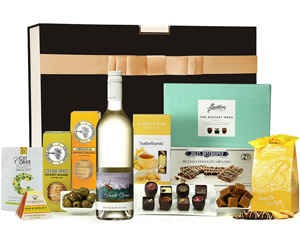 The Ultimate Pampering Experience with MOR Cosmetics

In order to create the perfect range of gift hampers for female recipients, the Hamper Emporium needed a cosmetics brand that would appeal to the majority of the female population in Australia. Fortunately, the Hamper Emporium did not need to look far, because one of the best cosmetic brands in the world can be found in Australia.

MOR Cosmetics is probably one of the best known cosmetic manufacturers in Australia. MOR products can easily be recognised by their trademarked rose-gold packaging or design. All cosmetics from MOR have anti-ageing properties as well as great moisturising abilities, which makes MOR a much desired addition to any woman's cosmetics collection.

On the Hamper Emporium website, you will find several hampers containing MOR cosmetics. To discover some of these great products, be sure to have a look at our
dedicated hampers for female recipients.

Willie's Cacao for an Exotic Chocolate Experience

There are plenty of chocolates to be found on the Hamper Emporium. In addition to premium Butlers Irish Chocolates, you will also find Willie's Cacao Chocolates in our range. Willie's Cacao stands for luxurious yet exotic enjoyment, since each chocolate square is made from exotic cacao beans.

Depending on your personal preference, you will find a number of great Willie's Cacao Chocolates in our chocolate hampers. However, these chocolates were also added to a number of gourmet hampers. If you like to try something new, or need a present for a recipient with adventurous taste preferences, be sure to grab one of our gift hampers with Willie's Cacao Chocolates!

A Large Selection of Wine from Brown Brothers

One of the best wineries in the world is situated in Australia, so we are very proud to announce the addition of many Brown Brothers wines to our range of hampers. If you are a wine collector or wine lover, you will find many hampers on the Hamper Emporium that appeal to you.

In addition to common Brown Brothers wines, you will also find some exclusive releases on the Hamper Emporium that are only available at the cellar door of the winery. One of these releases is the 2010 Brown Brothers Cellar Release Shiraz, which cannot be found at your normal wine supplier, except when you order it specifically.

The Hamper Emporium has several classic releases from Brown Brothers in its range, going from white wine to an outstanding rosé. To see all these great Brown Brothers releases, head over to our gourmet hampers for more information.