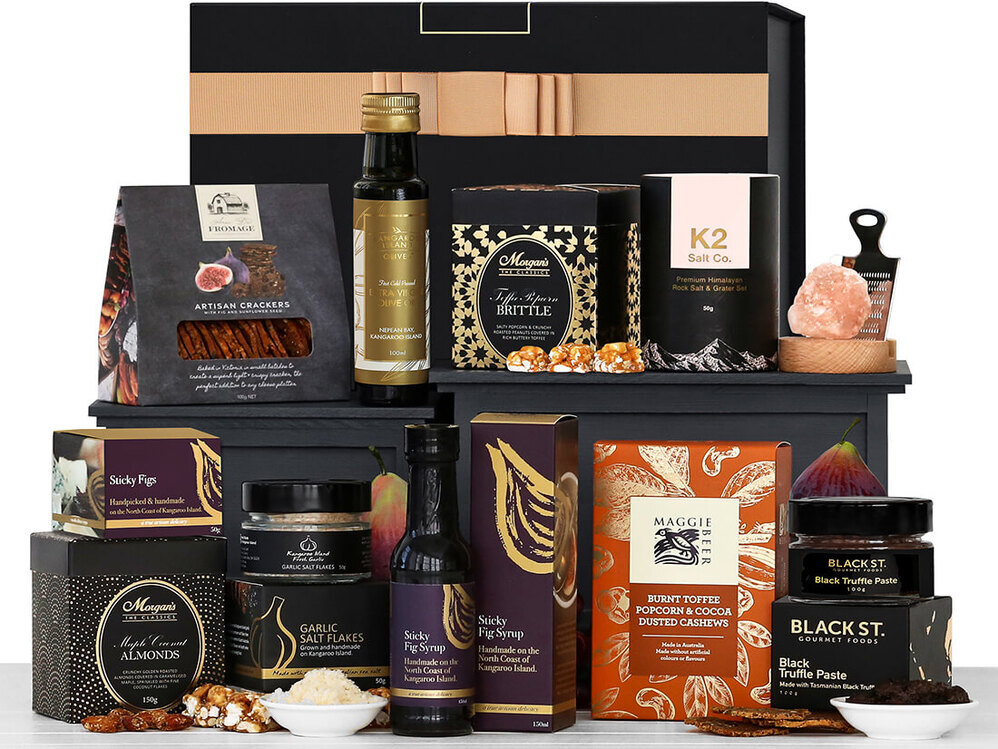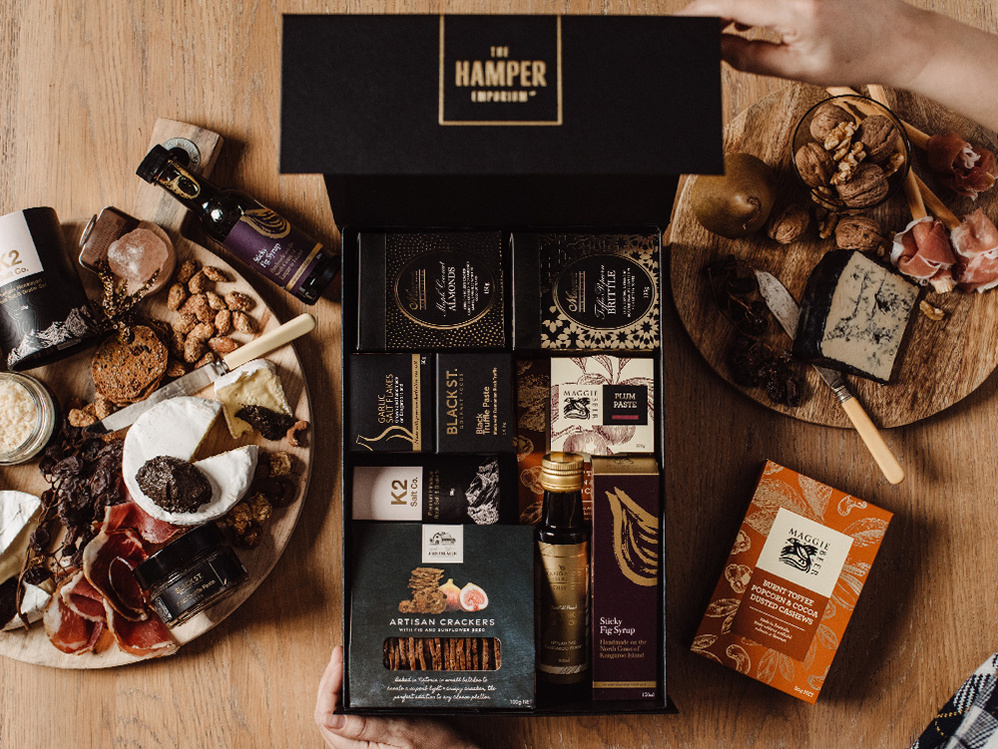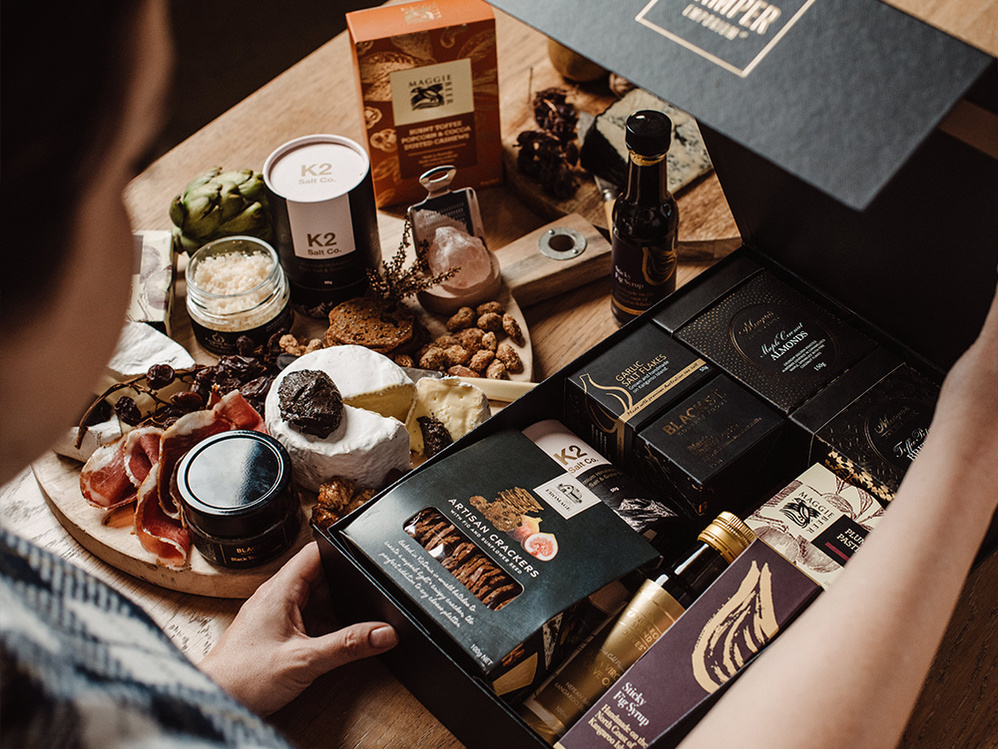 Foodies Hamper
Sweet & Savoury Delights From Australia & The World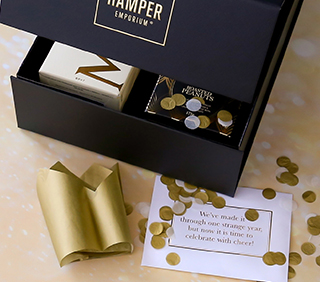 FREE Party Pack
Add a free Christmas Party Pack to your hamper to help get your Christmas party started in 2020! Our free party packs includes a party hat; cringe worthy joke and confetti. All presented to your recipient in a simple gold foil envelope.
Experience some of the best gourmet flavours in Australia with our Foodies Hamper, an excellent gift choice for anniversaries, Valentine's Day, birthdays, Christmas and other special occasions. The Foodies Hamper also comes with a free Australia-wide delivery, so don't forget to take full advantage of this amazing offer today!

own it now, pay later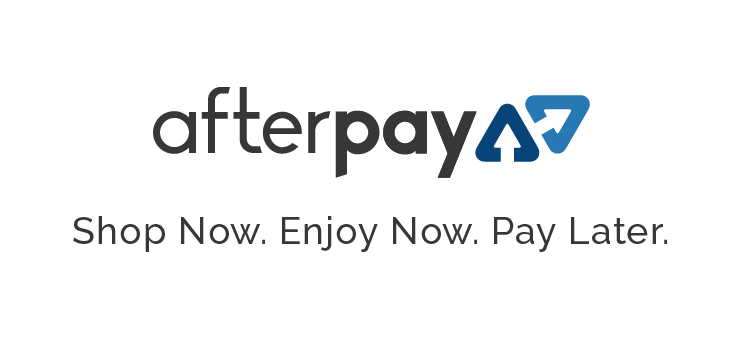 ---
Savoury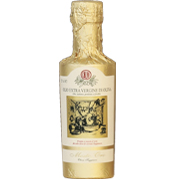 'Mosto Oro' Cold-Pressed Olive Oil 100ml
Extra Virgin oil made in Italy with the finest hand-picked Taggiasca olives known for their delicate flavour. Perfect for dipping bread.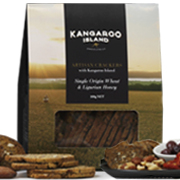 Kangaroo Island Produce Co Artisan Crackers 100g
Artisan Crackers made with Kangaroo Island single origin flour, a premium quality grain that is safe & traceable.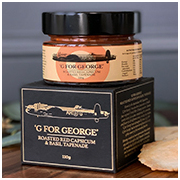 Regimental Condiment Co Roasted Capsicum Tapenade 85g
Made from fresh ingredients from a traditional family recipe, this tapenade is packed full of vibrant flavours of roasted capsicum & basil.
Biscuits & Sweets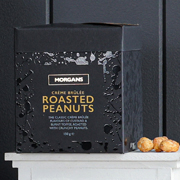 Morgan's Crème Brûlée Roasted Peanuts 175g
The classic crème brûlée flavours of custard and burnt toffee roasted with crunchy peanuts.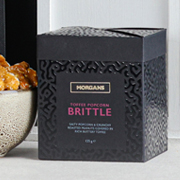 Morgan's Toffee Popcorn Brittle 135g
Salty popcorn and crunchy roasted peanuts covered in rich buttery toffee. Made in Australia.
Kangaroo Island Produce Co. Honey Popcorn 80g
Featuring natural Kangaroo Island Pure Ligurian Honey for a crisp, sweet snack to delight the tastebuds.
Pantry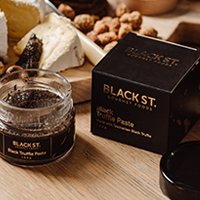 Black St. Gourmet Tasmanian Black Truffle Paste 100g
True Australian made indulgence, featuring the aromatic flavour of Tassie black truffles.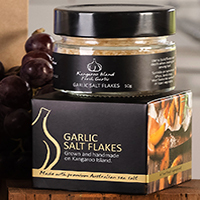 Kangaroo Island Garlic Salt 65g
Grown and hand harvested on the North Coast of Kangaroo Island, sprinkle over lamb chops, steak or veggies before cooking.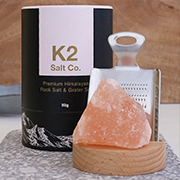 K2 Salt Co. Himalayan Rock Salt & Grater Set
Presented on an oak stand this Himalayan Salt and Grater Set add luxury and flavour to your dining table.
Also Included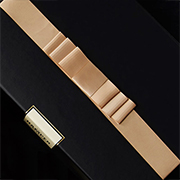 Premium Black Gift Box with Gold Ribbon
Lined with white embossed paper and finished with a fine grosgrain ribbon, this gift box is just as beautiful as the carefully curated contents.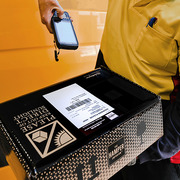 Comprehensive Track & Trace
Rest easy with a tracking ID number that helps you follow your order. Our comprehensive system gives you total peace of mind with every gift.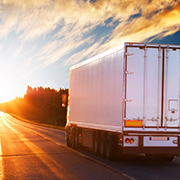 Free Australia Wide Delivery
Enjoy our completely FREE standard delivery to anywhere in Australia! Express upgrades are available for any address across the country.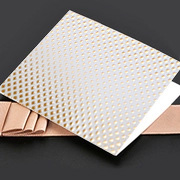 Optional Free Premium Gold Card
This luxury gold gift card with elegant embossing is completely FREE with your order. Add a special message at checkout for a personal touch.
---
Standard Delivery with Australia Post - FREE ** DELIVERING AUSTRALIA-WIDE **
NSW, VIC, QLD metro areas
1 - 5 Business Days
TAS, SA metro areas
3 - 6 Business Days
Perth, Darwin & regional areas
5 - 12 Business Days
Express Delivery - from $16.95 per hamper ** DELIVERING AUSTRALIA-WIDE **
Sydney Metro Area
Same / Next Business Day
Melb, Bris, Adel, Perth, ACT, NSW cities
1 - 3 Business Days
Darwin & outside of major cities
3 - 5 Business Days
WE ARE STILL DELIVERING AUSTRALIA-WIDE.
Visit our
Delivery C
alculator
for estimated timeframes to your delivery postcode.
We continue to send orders on the same day if received before 1pm AEST (10am AEST for Sydney same day), however Australia Post and Star Track are experiencing some COVID-related delays.
Due to the unpredictability of these delays we are currently unable to offer Preferred Date Delivery, and some Standard and Express deliveries are arriving well outside of estimated timeframes. Please keep this in mind when placing your order.

Due to seasonal variations and exclusivity of our stock, items in hampers are occasionally substituted for products of the same or higher value and quality.
Discover the Favourite Products of Foodies in The Hamper Emporium's Gift Hampers!
At The Hamper Emporium, we have many gift hampers that contain delicious foods. As you may expect, these gift hampers are extremely popular amongst foodies and gourmet lovers throughout the year. If you are curious about the favourite products of foodies you could find in Hamper Emporium's gift hampers, be sure to read on, because we are about to disclose these favourites!
What Are the Favourite Savoury Snacks of Foodies in the Gift Hampers of The Hamper Emporium?
Customers who have browsed our range of Christmas hampers already noticed a large selection of savoury treats. Since these savoury treats are extremely popular amongst foodies, you will find countless options in our Christmas hampers. Here are some of the best-sellers from our Christmas hampers collection!
Kangaroo Island Kalamata Olives
Kangaroo Island is an Australian brand known for growing some of the finest olives in the world. They often use their olives to make the finest extra virgin olive oil, but fortunately they also supply their finest Kalamata olives for our Christmas hampers!
Gourmet Regional Tapenades
Gourmet Regional is quite popular amongst gourmet lovers because this Australian brand makes some of the finest tapenades in the country. In our collection of Christmas hampers, you can often find some of their releases; this includes their roasted eggplant tapenade, chargrilled capsicum tapenade, and many others.
Tasmanian Fruit Pastes
Everyone in Australia knows the brand Tasmanian Fruit Pastes. The brand creates some of the best fruit pastes in the country, often used as a spread or as an accompaniment on a cheese platter. So, whether you are buying for a cheese lover or a foodie, the Tasmanian Fruit Pastes will always look great in any gift.
What Are the Favourite Biscuits and Sweets of Foodies in the Gift Baskets of The Hamper Emporium?
Foodies also love biscuits and sweets, so you can find a lot of those in our gift baskets. Today, we have listed some of the most popular options, so you can easily find some biscuits and sweets for your recipient in our range.
Morgan's
Australian brand Morgan's is renowned for its boxes filled with delicious treats. You can find Morgan's everywhere on the Hamper Emporium, especially in our Christmas hampers with options such as crème brûlée roasted peanuts and toffee peanut crunch!
Byron Bay
When you need a good selection of cookies, Byron Bay is certainly the smart choice. Their signature cookie is a triple chocolate fudge cookie, filled with rich flavours and textures. Of course, the Hamper Emporium offers more than just their signature cookies, so be sure to check out some of the other Byron Bay cookies in our gift baskets!
Butlers Irish Chocolates
While Butlers Irish Chocolates is a brand we mainly used for the chocolate selections in our gift baskets, the brand also delivers some delicious treats foodies adore; this includes their vanilla fudge and creamy toffees!
What Are the Favourite Chocolates of Foodies in the Gift Baskets of The Hamper Emporium?
A good selection of gift hampers requires some chocolates too, so you can find numerous chocolate brands at The Hamper Emporium for your foodie recipient. Of course, some chocolatiers are more popular than others, so here is our shortlist enabling you to make a quick decision.
Butlers Irish Chocolates
We already mentioned Butlers Irish Chocolates in the biscuits and sweets section, but they should also be mentioned in the chocolate section. Butlers Irish Chocolates is one of the best chocolatiers in the world, delivering handmade confections with some of the fullest flavours. So, if you are buying for a chocoholic, one of our gift hampers with a selection of Butlers Irish Chocolates will be an amazing choice.
Willie's Cacao
Another popular chocolate brand at the Hamper Emporium is Willie's Cacao, a chocolatier who is known to use fresh, exotic cacao beans with extraordinary flavour combinations. Therefore, these chocolates mainly appeal to the adventurous chocolate lover, but also the gourmet lover who wants something different than traditional milk chocolate from the supermarket!
What Are the Best Alcoholic Beverages for Foodies in the Gift Baskets of the Hamper Emporium?
A nice alcoholic beverage goes well with a selection of gourmet treats, so you can also find many alcoholic beverages in the christmas gift baskets alcohol catalogue of the Hamper Emporium. Below, you can find some of the most popular choices in our collection!
Cape Mentelle Shiraz
When you want to play safe, you should certainly choose the Cape Mentelle Shiraz. Made by one of Australia's best wineries, this shiraz combines Australian and French winemaking techniques to bring you something unique and complex! It is a suitable shiraz for foodies, but also for wine collectors and connoisseurs because this universal shiraz appeals to almost everyone.
Glenmorangie Whisky
At the Hamper Emporium, customers can find many Glenmorangie whiskies; this goes from the Glenmorangie Original to the Glenmorangie Quinta Ruban, Nectar D'Or and Lasanta. These whiskies work remarkably well with savoury treats, so any savoury foodies hamper tends to contain a drop of this sublime whisky!
James Squire Craft Beers
If you do not want to go too fancy for your recipient, but still want to provide an outstanding beverage to accompany delicious treats, the James Squire craft beers in our collection may be the advised choice. From the Chancer to the Constable, our craft beers appeal to a wide range of foodies!
What Are the Best Products for Foodies Inside The Hamper Emporium's Mother's Day Hampers?
Some foodie products inside our Mother's Day hampers are more popular than others amongst mums. Over the years, we have seen a clear trend towards Mother's Day hampers filled with various chocolate selections, and we cannot say we are surprised!
The Mother's Day hampers at the Hamper Emporium are filled with delicious chocolates from Butlers Irish Chocolates, Willie's Cacao, and Ernest Hillier. There are also sweet biscuits that your mum will love. So, if your mum is a foodie, you will undoubtedly find an exquisite option inside our Mother's Day hampers.
What Are the Best Products for Foodies Inside The Hamper Emporium's Australian Christmas Hampers?
Australian Christmas hampers at the Hamper Emporium are a little different from the average gourmet hamper. While our Australian gift hampers contain many suitable products for foodies, the Australian Christmas hampers solely contain foodie products with a Christmas theme.
Inside our Australian Christmas hampers, customers can find foodie products such as butter shortbread, nut mixes, chocolates, fruitcakes, and a whole lot more. If you want to get more familiar with this range for foodies, be sure to look at our Australian Christmas hampers this year!
What Are the Best Products for Birthdays Inside Hamper Emporium's Gift Baskets?
Since birthdays are usually celebrated with a nice bottle of bubbly, we usually recommend one of our birthday hampers for 18th, 20th, 21st, 30th, 40th, 50th, 60th and 70th birthdays with a nice bottle of wine or champagne. Alternatively, you can also choose a birthday hamper for containing whiskey or beer for a male recipient.
Of course, not all recipients are fond of alcohol, in which case you must revise the type of birthday hamper you obtain. There are many alcohol-free birthday hampers at the Hamper Emporium, which may contain anything from chocolates to crackers. So, if your recipient is not an alcohol lover, be sure to check out the alcohol-free birthday hamper options at the Hamper Emporium.
What Are the Best Products for Thank You Hampers at the Hamper Emporium?
A thank you hamper is one of those gifts that could contain anything. Thank you hampers are heavily based on the personal preferences of the recipient, although there are some general products that you can usually find in a thank you hamper; this includes chocolates, wine, and a bottle of champagne.
To determine the best thank you hamper for your recipient, it can help to look at some of the most popular thank you hamper choices at the Hamper Emporium. Simply choose a category that matches your recipient's preferences and filter the results by popularity.
Where Can I Find More Products for Foodies at the Hamper Emporium?
The products and brands mentioned above are just some of the most popular, as obtained by customers for foodies. If you would like more ideas, we suggest heading over to our range of gourmet hampers. The gourmet hampers range only contains hampers that were created with foodies in mind, so you will always make a good choice.
Do you need some help choosing a foodie hamper for your recipient? Do not hesitate to contact the experts at the Hamper Emporium. Simply call us by telephone, or message us via email or live chat for some recommendations!
Thank you for subscribing!
We'll be in touch soon