Corporate Melbourne Christmas Hampers – the Perfect Gift for the Office!
Author: Nicole Adler Date Posted:15 November 2016


Would you like to surprise your employees this Christmas? Do you want to treat your colleagues to an amazing gourmet experience? Then be sure to take advantage of our Melbourne Christmas hampers this year, because they are packed with amazing gourmet foods for the office. Want to get more familiar with our finest Melbourne Christmas hampers for the office? Check out our information below!
Getting Corporate Branding
Before we elaborate on the available Melbourne Christmas hampers for corporations and business professionals this year, we would like to tell you a little more about our corporate branding service, which is available for all gift hampers available at the Hamper Emporium.

Thanks to our in-house graphics designer, we can provide businesses with a personalised gift hamper. Simply pick your favourite hamper from our range of Melbourne Christmas hampers, or any other category containing hampers at the Hamper Emporium, and request corporate branding via telephone or our web form. Once we receive your request, our graphics designer will discuss your corporate branding request with you. Many clients already have an idea of what they would like their hamper to look like, and our graphics designer will be more than happy to help you realise that vision.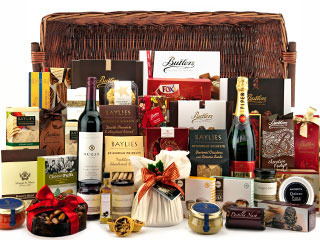 Do you have more questions about the corporate hamper possibilities at the Hamper Emporium? Head over to our corporate hampers page and discover which parts of your corporate hamper can be customised or personalised. For more questions regarding corporate branding and our corporate hampers, do not hesitate to contact the Hamper Emporium team.
The Deluxe Office Share Xmas Basket
Our Deluxe Office Share Xmas Basket is undoubtedly the best hamper in our Melbourne Christmas hampers range. The Christmas hamper is jam-packed with Australian and international gourmet treats, as well as a nice bottle of champagne and a genuine Australian shiraz from Cape Mentelle.

The Deluxe Office Share Xmas Basket from our Melbourne Christmas hampers range is the perfect hamper for office sharing. There is a great variety of products, so there is bound to be something for every colleague or employee.

Each of the treats inside the Deluxe Office Share Xmas Basket has a Christmas theme as well, so it is only natural that this hamper is most suitable for the Christmas season. If you are organising the Christmas party this year, or simply want to treat your employees after a year of good work, this hamper should be on your Christmas shortlist.
The Premium Office Share Gift Basket
Do you want as much product variety as our Deluxe Office Share Xmas Basket, but for an office with less employees? Then our Premium Office Share Gift Basket will be the perfect choice for your office. The Premium Office Share Gift Basket contains numerous savoury gourmet foods, champagne, shiraz, biscuits, chocolates and so much more, so like our deluxe office hamper, the Premium Office Share Gift Basket has a nice treat for every employee.
The Pure Indulgence Hamper
Are you looking for a Christmas gift for a female colleague or client? The Pure Indulgence Hamper gives you everything you need to give a female business relation the perfect surprise! The hamper is not only filled with delicious biscuits from Maison Fossier and a bottle of Moet & Chandon Champagne, it also contains an excellent selection of skincare products from MOR Cosmetics.

The champagne and the numerous skincare products inside the Pure Indulgence Hamper will certainly be appreciated by your female business relation, but pure indulgence is never complete without a good selection of chocolates. To ensure that your female recipient can enjoy creamy chocolates with their champagne, our hamper designer included award-winning chocolates from Butlers Irish Chocolates, and an exotic chocolate square from Willie's Cacao, the chocolatier recently featured in a reality TV-show.

The Best of All Christmas Gift Hamper
When you want to gift an important business relation a great gift, but are not familiar with the preferences of your recipient, the Best of All Christmas Gift Hamper will be the answer to your prayers. The Best of All Christmas Gift Hamper contains a great variety of products, so there are going to be plenty of products that your recipient is going to love inside this gift basket.

To ensure the products inside the Best of All Christmas Gift Hamper are liked by your important business relation, our hamper designer only uses renowned and award-winning brands; this includes brands such as Butlers Irish Chocolates, Cape Mentelle, Willie's Cacao, Baylies Epicurean Delights, Maison Fossier, Belgian Butters and Morgan's. It is a collection of Australian and international brands, which ensures there is something suitable for recipients with a preference for both traditional and adventurous flavours.
The Champagne Triple Treat
If you want to impress a business relation this year, we can certainly recommend the Champagne Triple Treat, a collection of the finest French champagnes. Inside this corporate Christmas hamper, you will find the Bollinger Special Cuvee Brut NV Champagne, the Moet & Chandon Brut Imperial NV Champagne and the Piper-Heidsieck Brut NV Champagne.

Of course, the Champagne Triple Treat is not only meant to impress potential clients or an important business relations, since it can also be used for celebrations in the office. If you had a particularly good year in 2016, be sure to grab this hamper to celebrate with your colleagues or employees.
More Corporate Christmas Hampers at the Hamper Emporium
The corporate hampers mentioned above are just some of the options you will have when you decide to shop at the Hamper Emporium, because there are a lot more hampers available. From exclusive cellar door release wines to French gourmet treats, you can find it all in our range of corporate hampers.

Businesses can also save some money when they shop with us, because we offer special deals on bulk orders. Each of our corporate hampers is also accompanied by a free standard delivery, so sending your corporate hamper to your recipient is not going to cost you anything. What are you waiting for? Grab your Christmas hamper right now to benefit from these amazing deals!