Express Delivery with our Melbourne Christmas Hampers This Year!
Author: Nicole Adler Date Posted:15 November 2016


Have you forgotten to purchase a Christmas present for a friend or relative, or didn't you have the time to go Christmas shopping yet? Then our Melbourne Christmas hampers will be your saviour, since the Hamper Emporium can provide you with express delivery options to get your Christmas presents a lot quicker! Find out more about our Melbourne Christmas Hampers and delivery options below!
What Is Inside Your Melbourne Christmas Hampers?
Our Melbourne Christmas hampers are filled with superior gourmet products, which have been hand-selected by our experienced hamper designer. To find the best products for our customers, our hamper designer searches the entire world for the finest gourmet brands, which has led to discoveries such as Maison Fossier, Moet & Chandon, Butlers Irish Chocolates and many others.

To discover all the products inside our premium Christmas hampers, please head over to the main menu and select the Christmas hampers category. You will be taken to a new page, where you will see all the festive-themed hampers our hamper designer has created for Christmas 2016!

Cannot find what you are looking for in our range of festive-themed hampers? No need to worry, because there are many other categories in our range. At the Hamper Emporium, you can find a suitable hamper for any special occasion, so be sure to browse our entire range to get a better view of what we can offer you.

What Is the Express Delivery for Gift Hampers?
Our Express Delivery option is used when customers need their hamper delivered more quickly than usual, for example when they are late buying a present for a Christening or a birthday party. Customers living in areas such as Melbourne, Brisbane, Adelaide and Perth, will get their hamper the next business day. However, the estimated delivery time for your hamper may vary depending on your location. While customers in Perth and Brisbane could get their hamper the next business day under express delivery, customers living in Darwin or outside major cities may have to wait up to three days for the delivery of their hamper.

If you do not have the time to send the hamper to your address and give the hamper to your recipient, you can also choose to send the hamper to your recipient directly. To do this, simply add the address of your recipient to the empty delivery address fields.

Before confirming the delivery address, please double-check the entered information for errors; this to avoid your hamper from being sent to the wrong address. Have you noticed a mistake in address after you have already confirmed and paid for your order? Then contact the Hamper Emporium via telephone to change the delivery address and make sure your hamper ends up in the right place.
Can I Get My Hamper the Same Day of Ordering?
Some customers can get their hamper on the same day of ordering. However, the customer in question must live in the Sydney Metro Area and place his order before 1 pm on a business day. If the same day delivery is available to you, the option will be made available during the checkout process. This also applies to the other delivery options available for our hampers.

When you take advantage of our same day delivery service, please note that delivery may take place later in the evening. Therefore, make sure that there is someone at home or available to sign for your delivery.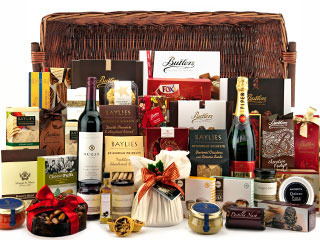 Does the Hamper Emporium Have Any Discounts on Deliveries?
There are some special deals available for customers who like to save some money on delivery costs. When you look at our range of hampers, you will notice that most of our hampers have a free delivery option. Every hamper at the Hamper Emporium is eligible for this free delivery. The only thing the customer needs to do is select the standard delivery option during the checkout process.

Please note that the delivery times of our free standard delivery option are different from the delivery times of the express delivery option. When you use our free option, your hamper will be delivered within one to eight days, while the express delivery option provides you with a delivery between one and three days.
What Are the Cut-Off Times for Christmas Hampers This Year?
To make sure all our customers can get their Christmas gifts on short notice, we try to keep our cut-off dates as close to Christmas as possible. Unfortunately, we are not able to provide our services on Christmas itself, since the Hamper Emporium is also dependent on couriers and postal services.

The cut-off dates for Christmas 2016 are different for various locations, because some locations take a longer time to deliver to. For customers living in capital cities, except for Darwin, the cut-off date is Thursday the 22nd of December. The cut-off date for customers residing in Sydney Metro is the 21st of December. For remote and regional locations, the cut-off date has been determined on the 19th of December.

Please note that Christmas hampers must be ordered before 1 pm on the cut-off date to ensure your order will get to you on time. If the hamper is ordered after 1 pm, we cannot guarantee that your order will arrive in time.
How Can I Place and Ship a Bulk Order?
Businesses who want to advertise their business or strengthen the relationship with their clients often take advantage of our corporate hampers. Of course, sending corporate hampers to your address and then sending them to your recipients yourself can be very time-consuming and expensive, so the Hamper Emporium provides you with the option to place a bulk order and send the hampers directly to your recipients.

To place a bulk order and provide us with the delivery addresses, please download the bulk order form from our corporate hampers page, or contact the Hamper Emporium via telephone to place your order. Alternatively, you can also place your order by sending us an email.