Food Hampers Perfect for Christmas This Year!
Author: Nicole Adler Date Posted:15 November 2016


Are you looking for some gourmet hampers for Christmas this year? Then look no further, because the Hamper Emporium has numerous Melbourne Christmas Hampers to offer you this year! Our Melbourne Christmas Hampers contain everything from sparkling wines and champagnes to chocolates and biscuits, which means they could be the perfect gifts for your friends and family! Read on and discover the best food hampers from our Melbourne Christmas Hampers range!
A Sparkling Xmas Hamper
Christmas is often associated with a lot of sparkling things, so the Sparkling Xmas Hamper from our Melbourne Christmas Hampers range certainly won't look bad under the Christmas tree this year. This hamper contains a wide range of festive-themed treats, which includes the Brown Brothers Methode Traditionelle King Valley, Copperpot Christmas Spiced Butter Fudge and Farrah's of Harrogate Biscuits.

Our Sparkling Xmas Hamper also contains a handmade cake from Baylies Epicurean Delights, which certainly deserves mentioning. The cake is made with fresh ingredients, which are sourced locally from the Adelaide Hills. There is also a special ingredient, Barossa Valley Brandy, which makes this handmade cake stand out from the usual holiday cakes.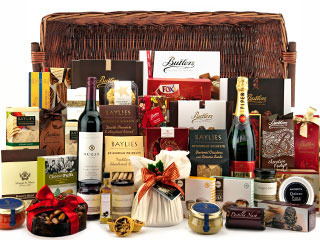 Australia's Finest Sparkling & Chocolates
Cannot get enough of the Brown Brothers Methode Traditionelle King Valley Sparkling Wine? Then be sure to have a look at our Australia's Finest Sparkling & Chocolates Hamper as well. As the name already suggests, this hamper also contains a bottle of Australia's favourite sparkling wine, but also a selection of chocolates that will make any chocolate lover go wild.

For the chocolate selection inside Australia's Finest Sparkling & Chocolates Hamper, our hamper designer selected Butlers Handmade Chocolate Collection, Willie's Cacao Peruvian 70% Dark Chocolate with Hazelnut and Raisins, and Butlers Red Floral Ballotin Chocolate Selection. Butlers Irish Chocolates are perfect for those who prefer traditional, creamy chocolates, while Willie's Cacao is suitable for the more exotic chocolate lover.
Cape Mentelle Shiraz & Chocolates
One of our newest Melbourne Christmas hampers is the Cape Mentelle Shiraz & Chocolates, which contains three boxes of Morgan's treats, as well as a bottle of Cape Mentelle Shiraz. The Cape Mentelle Shiraz is based on the wines of the French Rhone Valley, delivering a wine with an inky appearance and a vibrant aroma of fresh fruit.

The Cape Mentelle Shiraz & Chocolates Hamper is undoubtedly a great gift for wine collectors. This outstanding shiraz can be stored in your wine cellar for more than ten years, after which wine lovers can experience a shiraz unlike any other shiraz on the market. Of course, gourmet lovers can enjoy this wine right away, and pair it with duck or roasted baby vegetables.
Celebrate Xmas Hamper
Our Celebrate Xmas Hamper is the best choice for the host of this year's Christmas party. It contains numerous gourmet foods that can be served during this celebration, but also a nice bottle of champagne from French champagne house Piper-Heidsieck.

Piper-Heidsieck Brut NV is one of the most awarded champagnes in the world. Recently, the champagne won silver at the International Wine Challenge and silver outstanding at the International Wines and Spirits Competition. Since its creation, this champagne has obtained awards at wine and champagne competitions around the world, so their latest accomplishment is no surprise to us.

The Piper-Heidsieck Brut NV is characterised by a full-bodied structure and a fruity flavour. The champagne obtained its unique characteristics from the grapes used during the wine making process, which were harvested from more than a hundred different growing areas.

Before you serve the Piper-Heidsieck during your Christmas party, be sure to chill the champagne to a temperature between 8 and 10 degrees Celsius. Then, pour the champagne in a special champagne flute or a dedicated wine glass with a tulip shape. Also, do not forget to seal between servings to maintain the freshness of this exquisite champagne.

Champagne Festive Hamper
If you cannot get enough of champagnes inside our range of festive hampers, then we can also recommend having a look at the Champagne Festive Hamper, which also contains a bottle of Piper-Heidsieck Brut NV and numerous treats that match the Christmas season perfectly.

One of the delicious treats inside the Champagne Festive Hamper is a pack of Byron Bay Cookies, infused with creamy European chocolate. Byron Bay is an Australian bakery, known for its handmade cookies bursting with flavour. So, if you need a selection of chocolate cookies for your Christmas table this year, you will not regret getting this Champagne Festive Hamper with Byron Bay Cookies.
Classic Port Hamper
Some Australians prefer a glass of port over all other alcoholic beverages, so our Classic Port Hamper could not be missing from our range of Christmas-themed hampers this year. The port inside this hamper is provided by Penfolds Father, a popular brand that uses old oak casks to mature its port for a minimum of ten years. Naturally, this ensures a superior flavour for the port in this gift hamper.

There is also plenty of local produce inside the Classic Port Hamper, provided by some of Australia's finest gourmet brands; this includes Gourmet Regional, Tasmanian Fruit Pastes, Kangaroo Island, Baylies Epicurean Delights and a lot more.
Deluxe Office Share Xmas Basket
Need the perfect Christmas present for your colleagues or business partners? The Deluxe Office Share Xmas Basket is filled with savoury nibbles, appetisers, biscuits, sweets, wine, champagne and delicious chocolates. Thus, the variety in this hamper makes sure that everyone in the office gets something they like!
Conclusion
The food hampers mentioned above are just a few hampers we can offer our customers this year, so be sure to browse our entire range of hampers via the main menu to get a complete overview of your options. Cannot find what you are looking for? Then do not hesitate to contact our team of experts for some professional advice.

When you grab one of our hampers today, you will also get a free standard delivery! Whether you send your Christmas hamper straight to your recipient or to your own address, you can save some money on shipping costs. So, grab yours today and benefit from this great deal!