Ideas for Pamper Hampers Melbourne
Author: Nicole Adler Date Posted:22 November 2017


Are you a Melbourne resident searching for the ultimate pamper hamper for your recipient? Then you are in the right place, because the Hamper Emporium has one of the most extensive collections of gift hampers in Australia! To get the right gift for your recipient, head over to our overview below to discover the finest pamper hampers for your Melbourne recipient.
Which Melbourne Hampers Could I Buy to Pamper a Melbourne Recipient?
At the Hamper Emporium, customers can find Melbourne hampers specifically created for recipients in that area. Of course, our Melbourne hampers can also be used to provide a pampering experience to a resident in another area. The possibilities of our Melbourne pamper hampers are limitless.
One of our recommended Melbourne hampers this year is the Glenmorangie 10-Year Original with Whisky Tumblers. This hamper from our Melbourne hamper has everything the Melbourne recipient needs: a good whisky, several chocolate-covered treats, and two tumblers to optimise their whisky-drinking experience.
Which Australian Hampers Could I Buy to Pamper My Recipient?
Customers are not obligated to shop in our Melbourne hampers section, since there are many Australian hampers to take advantage of too. We have special Australian hampers for a variety of special occasions; this includes our Champagne & Christmas Cake Hamper for the holiday season.
The Champagne & Christmas Cake Hamper at the Hamper Emporium is truly something special. It contains an exquisite bottle of Moet & Chandon Champagne, complemented by countless chocolates and Christmas-themed treats. So, this Christmas hamper from our Australian hampers range is something you cannot pass on!

Which Chocolate Hampers Could I Buy to Pamper My Recipient?
There are also many subcategories in our Australian hampers range. One of these subcategories is our section with chocolate hampers; this section only contains hampers filled with the most exquisite chocolates. Therefore, if you need hamper suitable for the chocoholic, you will most likely be shopping in our chocolate hampers range.
One of our chocolate hampers that is unbelievably popular throughout the year is the Luxury Chocolate & Veuve Hamper. The Luxury Chocolate & Veuve Hamper from the chocolate hampers catalogue is popular for anniversaries and Valentine's Day, but also a top choice for the holiday season. So, for any occasion that involves surprising a chocoholic, we certainly recommend the Luxury Chocolate & Veuve Hamper first.
Which Pamper Hampers Can Be Used Throughout the Year?
Customers who are looking to surprise their recipient with a relaxing and indulgent experience will certainly choose a hamper from the pamper hampers range. Inside this selection of hampers, customers can find hampers filled with pampering products; this includes cosmetics, a nice alcoholic beverage, countless chocolates, and much more.
A prime example of the pampering power of the pamper hampers is our new L'Occitane Celebration Pamper Hamper. The L'Occitane Celebration Pamper Hamper at the Hamper Emporium is one of the most extensive pamper hampers for female recipients. It is filled with chocolates from Ernest Hillier, Chandon sparkling wine, L'Occitane cosmetics, and countless other things that your recipient cannot miss!
Naturally, there are some pampering gift baskets that are suitable for male recipients too. One such a hamper is the Moet Nectar Imperial Hamper, which includes loads of chocolates, sweets, biscuits, and an outstanding release from the Moet & Chandon Champagne house.
Of course, one of our pampering gift baskets is not just suitable for recipients who require a pampering experience. The pamper hampers at the Hamper Emporium are also a good choice for recipients you do not know the personal preferences of, since these hampers contain a large variety of products the recipient in question may appreciate. So, if you have problems deciding on a gift for any occasion, we guarantee a pamper hamper will go down well.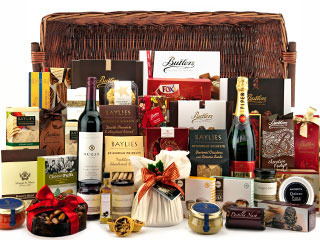 Why Should I Choose Hampers from the Hamper Emporium?
Even though there are other hamper suppliers out there, the Hamper Emporium is Australia's leader. For years, our company has provided the highest quality gift hampers, which are unmatched in presentation and quality. This is just one of the reasons why many customers return to the Hamper Emporium for all their gift needs.
Where Can I Get More Inspiration for Gift Baskets at the Hamper Emporium?
Customers love to get some inspiration for gift baskets on our site, since we have so many hampers available. Today, we have provided you with some of our top choices, but this does not mean there isn't more to discover. If you want additional inspiration for a special occasion, we urge you to visit our main catalogue and discover the countless other hampers available there.
Do you need help choosing the right gift basket for your recipient? Feel free to take full advantage of our team's experience. Contact the Hamper Emporium via telephone, email, or instant messaging to get some personal gift basket recommendations!