Luxury Chocolate Hampers
Author: Nicole Adler Date Posted:22 November 2017


At the Hamper Emporium, customers can find luxury chocolate hampers for all special occasions. If you are buying for a chocoholic, one of these luxurious chocolate gift baskets is certainly a good idea. Want to learn more about the chocolate baskets of the Hamper Emporium? Be sure to read the information provided by the Hamper Emporium below.
What Are the Luxury Chocolate Hampers at the Hamper Emporium?
The luxurious chocolate gift baskets at the Hamper Emporium are gift baskets filled with the finest chocolates. Chocolates included in these hampers could be pure chocolate confections, but also chocolate-covered treats. Therefore, any of these chocolate gift baskets is suitable for Australian chocoholics.
What Luxury Chocolate Hampers Are Available for Melbourne Recipients?
At the Hamper Emporium, customers can find a special section with Melbourne hampers. These Melbourne hampers also include chocolate gift baskets, which means these Melbourne hampers will undoubtedly be appreciated by the Melbourne chocoholic.
Of course, Melbourne hampers containing chocolate are not the only types of Melbourne hampers in our collection. In addition to chocolate gift baskets, customers can also find wine hampers, whisky hampers, gourmet hampers, and countless others. So, if you require a hamper for a Melbourne resident, be sure to check out this exquisite collection of Melbourne hampers.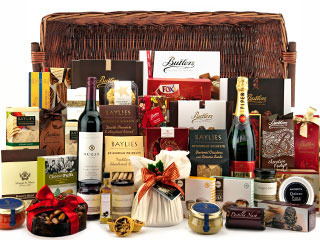 Are Luxury Chocolate Hampers Available for Other Australian Residents?
At the Hamper Emporium, customers can find Australian hampers too. These Australian hampers are used for residents across the country, but also businesses who want to advertise their business with a gift basket.
Businesses can acquire corporate branding for all Australian hampers at the Hamper Emporium, which enables them to advertise their business the right way. Corporate branding options for Australian hampers include ribbons and gift tags, but also engraved gifts and branded experience vouchers. So, if you are looking for the ultimate corporate gift, be sure to check out our Australian hampers and corporate branding options this year.
What Other Hampers Are Available for Aussie Recipients at the Hamper Emporium?
We already mentioned some of the hampers available at the Hamper Emporium, but there are many others available for a wide range of recipients. Some of the other hampers available at the Hamper Emporium include pamper hampers, which may contain products to pamper a male or female recipient.
The pamper hampers at the Hamper Emporium could be used for many different occasions. Pamper hampers are a popular choice for Christmas, but also Mother's Day and Father's Day. So, if you want to provide someone with the ultimate pampering experience in the convenience of their own home, be sure to consider one of the pamper hampers at the Hamper Emporium. We guarantee Hamper Emporium's pamper hampers will not disappoint!

Why Should Melbourne Residents Choose the Hamper Emporium?
There are many reasons why Melbourne residents should choose the Hamper Emporium for all their gift hamper needs. Firstly, our selection of Melbourne gift baskets is one of the most extensive in Australia, providing customers with the perfect gift for any kind of recipient.
The Melbourne gift baskets at the Hamper Emporium also guarantee the finest quality, since each of the products included in the gift basket is hand-selected by our hamper designer. A lot of thought goes into the creation of these hampers too, since they are designed to meet the expectations of most Melbourne residents and Aussie recipients overall.
Finally, customers can get some great deals at the Hamper Emporium. Even though we already offer our hampers at the sharpest prices, our team also provides a free delivery with each gift basket sold at the Hamper Emporium. There are additional delivery options available, but customers can get their hamper delivered free of charge by selecting the free standard delivery during the checkout. So, if you shop with the Hamper Emporium, you are immediately saving money on postage and packaging!
Businesses can also get wonderful deals by getting their Melbourne corporate hampers at the Hamper Emporium too, since we offer some great offers on bulk deals. There is also a special deal during the holiday season, which ensures that every business gets a wonderful Christmas surprise. So, we ask you: is there any reason why you shouldn't choose the Hamper Emporium for all your gift basket needs?
Where Can I Discover More Melbourne Chocolate Baskets for My Recipient?
We already covered a lot of information about the chocolate gift baskets, as well as other gift baskets available at the Hamper Emporium. However, this does not mean there is nothing left to discover! Our range of gift baskets is packed with luxurious chocolates, amazing biscuits, outstanding wines, and so much more. So, before you leave the Hamper Emporium today, we certainly suggest checking out our entire catalogue to discover the possibilities.
Do you have a question about a chocolate gift basket available at the Hamper Emporium? Feel free to contact the Hamper Emporium for some additional info.