What to Put in a Pamper Hamper?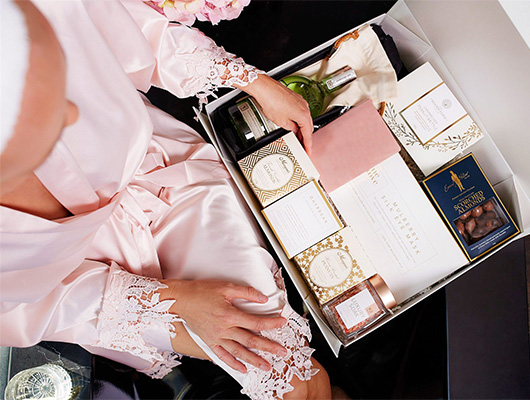 Pamper hampers are popular gifts for women throughout the year. They are often used for occasions such as birthdays, Mother's Day and Christmas. Any relaxation or pampering skin and beauty gift is a beautiful way to treat someone to a little 'me time'. But what do you put in pamper hampers for the best indulging gift? To learn what you could put in pamper hampers, and ensure your recipient gets an amazing surprise, be sure to discover some of the top tips provided by the leading online supplier of Australian hampers, the Hamper Emporium!
What is in a pamper hamper?
There is no restriction to the products you can put in a pamper hamper. Of course, there are certain products that are more suitable for the pamper hamper than others. When you choose something for the pamper hamper, it must be a product intended on pampering the recipient. Therefore, products such as chocolates, beauty products, cosmetics, sweets and biscuits are usually perfect choices for the pamper hamper.

What beauty gifts to put in a pamper hamper?
Facial toners, face creams, clay masks, hand cream, body lotion, make-up items, beauty and hair products, fragrances and aromatherapy products made from premium or all-botanicals ingredients are ideal pamper hamper inclusions.
MOR Cosmetics, Jurlique, L'Occitane, Benefit, Kangaroo Island Skincare, Aromatherapy Co. are some of the leading cosmetics and skincare brands that provide the sweet smell of gift-giving success in the pamper hamper range at The Hamper Emporium.
What to put in a pamper hamper for wife?
The Jurlique & Moet Rose Imperial Hamper is a premium pamper hamper for your wife. Featuring rose and rosewater skincare products by all-botanicals brand Jurlique in their custom toiletry bag, this perfect pamper hamper also includes a vibrant floral bathrobe in matte satin, exquisite bottle of Moet Rose Imperial by the world-famous Moet & Chandon brand and a selection of sweet gourmet delectables for your darling to sip and savour.
Personalise your loving devotion with the ever-popular choice of the Personalised L'Occitane Hamper. A plush white bathrobe, cherry blossom skincare selection and cosmetics bag from L'Occitane, taste-tempting treats and monogrammed leather luggage tag provides pampering and personalised indulgence in one.
What to put in a pamper hamper for mum?
The Little Relaxation Tea & L'Occitane Hamper is a beautiful and memorable pamper hamper selection for your loving mum on her birthday or for Mother's Day.
The range of natural skin care products from L'Occitane complements the relaxing bath soak and silk eyemask. The rosy glow is set to continue with the inclusion of a keepsake mug, organic English Breakfast tea from Bun Tea and artisan nutty nibbles from Morgan's of Sydney.
The Jurlique Pure Indulgence Hamper, which includes premium Brut Imperial Champagne by Moet & Chandon, skincare selection by Jurlique and an endless supply of gourmet chocolates, biscuits and sweet, nutty treats, is also the ultimate in pampering indulgence.
Where to buy items to put in a pamper hamper?
Luxurious gift giving is a specialty at The Hamper Emporium. There is an appealing range of perfectly packaged premium products in the pamper hampers for you to purchase online.
The added bonus of free delivery, Australia wide, keepsake gift boxes and gift baskets, a complimentary gift card, including your personal message, and premium-gift-wrapping, makes the choice of providing a stunning pamper hamper from The Hamper Emporium irresistible.
The Hamper Emporium has more than 12 years' experience in curating and artfully compiling pamper hampers and all gift hamper selections in the extensive online range. They're filled with the finest luxury items for Mother's Day, birthdays, anniversaries, corporate gift giving and all special occasions.