Gourmet Wine Hampers This Christmas!
Author: Nicole Adler Date Posted:15 November 2016


Wine collectors will be happy with our new Melbourne Christmas Hampers, since our hamper designer added numerous new wine releases to the range of gift hampers. If you are not familiar with our range of Melbourne Christmas hampers yet, or the wines you can find in our Melbourne Christmas hampers, the following overview is especially meant for you!
The Brown Brothers 18 Eighty-Nine Shiraz
Brown Brothers has become a permanent fixture in our range of Melbourne Christmas hampers, so you can expect a lot of Brown Brothers wines in our new Melbourne Christmas hampers this year as well. One of the Brown Brothers wines that can be found in our range this year is the Brown Brothers 18 Eighty-Nine Shiraz, an award-winning shiraz released in 2013.

The Brown Brothers 18 Eighty-Nine Shiraz is characterised by a lifted aroma of dark berries and classic pepper notes. The fruity aroma of the shiraz also follows through in the taste of this outstanding wine, featuring a juicy fruit palate with a fine tannin structure.

An 18 Eighty-Nine Shiraz can accompany the treats inside our Christmas hampers perfectly, but it can also be stored in your wine cellar to drink on a later date. It is also a great shiraz for a cheese and wine evening, so recipients will have plenty of options if they receive this wine as a gift this Christmas.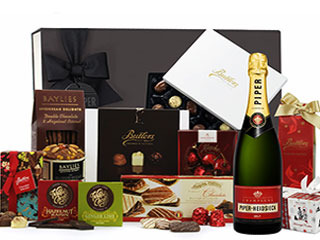 The 2013 Cape Mentelle Shiraz
There are many good shiraz options in our gift hampers this year. In addition to the Brown Brothers shiraz we described earlier, customers can also find the 2013 Cape Mentelle in our hampers, a shiraz inspired by the elegant red wines of the French Rhone Valley.

To create a shiraz with obvious French influences, Cape Mentelle uses a specific wine making method. The fruits are destemmed, cold soaked and then traditionally fermented to obtain a shiraz that cannot be compared with the usual Australian shiraz releases, because resulting from this unique wine making methods is a shiraz with a vibrant aroma of blueberries, violets and cured meat notes.

The unique aroma of the Cape Mentelle Shiraz is also noticeable in the palate of this shiraz. Wine lovers will immediately notice a burst of red fruits, dark savoury pepper and cardamom spices. There is also a hint of integrated oak, which rounds off the palate of this shiraz perfectly.

Recipients getting a Cape Mentelle Shiraz this year may store this shiraz in their wine cellar for another ten years, but this shiraz goes extremely well with gourmet foods as it is right now; this includes cherry-glazed duck and roasted baby vegetables. Your recipient can also have this shiraz with dessert, since it complements forest berry tart perfectly.
The Brown Brothers Pinot Noir, Chardonnay & Pinot Meunier Sparkling Wine
The Brown Brothers Pinot Noir, Chardonnay & Pinot Meunier sparkling wine is probably a wine with one of the longest name in the world, but this fact won't bother wine lovers considering this is the officially the best sparkling wine in Australia. The wine has won numerous awards at various wine competition, including one at the 2016 Royal Queensland Wine Show, so this one will not disappoint this holiday season.

There are numerous things that make this sparkling wine special. The wine is made with chardonnay grapes from cool climate vineyards and complemented with the finest pinot noir grapes, which give the wine a lot of fullness, weight and a lengthy palate. Brown Brothers also uses handpicked pinot meunier grapes in this blend, since this provides a lot more roundness and fruitiness to it.


To create the Brown Brothers Pinot Noir, Chardonnay, Pinot Meunier Sparkling Wine, Brown Brothers needs to use several grape varieties in one primary blend. The grapes are therefore obtained from more than one vineyard, more specifically their King Valley and Whitlands vineyards.

When serving this wine with a selection of gourmet foods, Brown Brothers recommends traditional aperitifs, but also elegant dishes such as oysters drizzled in lemon juice. The wine also goes well with a smoked salmon or a caviar blinis.

For those who like more adventurous combinations and adventurous foods, they can try this Brown Brothers Sparkling Wine with some shallow fried calamari, accompanied by a lemon and dill mayonnaise. However, nothing is stopping the recipient from coming up with some new and exciting food pairings as well.
The 2014 Robert Oatley Signature Series Shiraz
If you cannot get enough of the excellent shiraz options in our range, then we have more good news for you! Our range of Melbourne Christmas hampers now contains an exquisite 2014 Robert Oatley Signature Series Shiraz; a fact wine aficionados are bound to appreciate.

The 2014 Robert Oatley Signature Series Shiraz is a homage to more than forty years of wine making experience. According to Robert Oatley, founder of this wine label, a great wine requires knowledge of the land. We cannot say we disagree with him, considering the outstanding wines that have been released by this wine label over the years.

Robert Oatley Signature Series Shiraz draws inspiration from the winery's large portfolio of vineyards and enables wine lovers to get more familiar with some of the most successful wine styles and regions. The high quality of this wine immediately appeals to collectors looking for some exquisite releases to add to their collection, while the regular wine drinker cannot wait to add this wine to their Christmas spread.
Other Wines, Champagnes and Whiskies at the Hamper Emporium
We briefly discussed some of the most popular wines in our range of gift hampers, but there are many others still waiting to be discovered by you. Our hamper designer regularly looks for wines, champagnes and whiskies that have obtained an award-winning status, while maintaining a consistent range of wine hampers throughout the year.

Want to discover more wines, whiskies or champagnes in our range of gift hampers? Be sure to head out to our main range and discover other options such as Glenlivet, Moet & Chandon, Piper-Heidsieck and Bollinger. Cannot find the wine, champagne or whisky you need? Be sure to check with the Hamper Emporium team!