in stock | ships now
$479
The Hamper Emporium is proud to offer the Premium Office Share hamper to its customers. Ideal for celebrating the achievements of your co-workers or a memorable family reunion, this exceptional hamper features only the finest nibbles, chocolates, gourmet treats and price includes FREE Delivery Australia-wide.
---
Savoury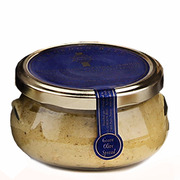 Le Cordon Bleu Paris Olive Fennel Spread 180g
A traditional French spread celebrating 120 years of fine food production; with full flavours that pair perfectly with soft cheeses.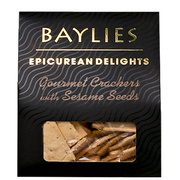 Baylies Gourmet Crackers with Sesame Seeds 130g
Gourmet crackers; handmade with Australian extra virgin oil; these are perfect for platters and entertaining.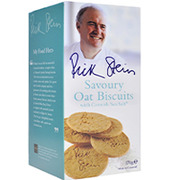 Rick Stein's Cornish Seasalt Oat Biscuits 170g
English oat biscuits made with Cornish sea salt, a great biscuit alternative for health-conscious customers.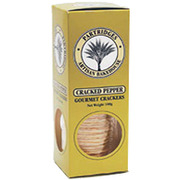 Partridges Artisan Bakehouse Pepper Crackers 100g
An excellent selection of gourmet crackers from Partridges Artisan Bakehouse, prepared with local ingredients from the Yarra Valley.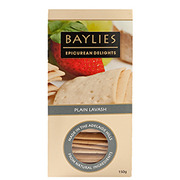 Baylies Epicurean Delights Plain Lavash 150g
A delightful cracker low in salt but with plenty of flavour, which goes extremely well with a nice cheese platter.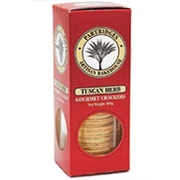 Partridges Artisan Bakehouse Tuscan Crackers 100g
Delicious Artisan herb crackers made with the freshest rosemary, basil and oregano. Ideal for dips, fruit pastes & cheeses.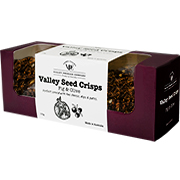 Valley Seed Crisps Fig & Olive 170gm
Outstanding selection of seed crisps from the Valley Produce Company, contains figs and olives.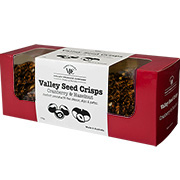 Valley Seed Crisps Cranberry & Hazelnut 170gm
Delicious seed crisps made from local ingredients from the Yarra Valley, an exquisite snack for everyone.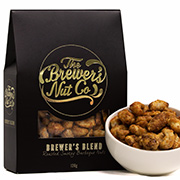 Brewer's Nut Co. Brewer's Blend BBQ Mixed Nuts 120g
Perfect smokey blend of delicious barbecue nuts; ideal for summer entertaining.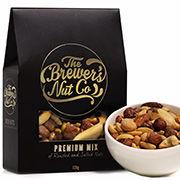 Brewer's Nut Company Premium Nut Mix 120g
The finest selection of nuts including salted Brazilian nuts, creamy cashews and Australian peanuts and almonds.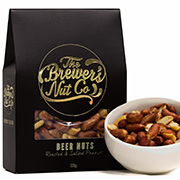 Brewer's Nut Co. Classic Beer Nuts 120g
The perfect nuts to enjoy with a nice glass of Australian handcrafted beer or a classic Australian red wine.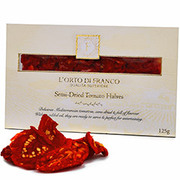 L'Orto Di Franco Semi-Dried Tomato Halves 125g
Tomato halves that are full of flavour and ready to serve for that special occasion.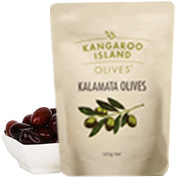 Kangaroo Island Olives Kalamata Olives 185g
Delicious organic olives from Kangaroo Island bursting with flavour.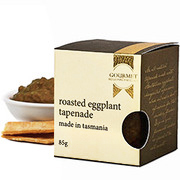 Gourmet Regional Roasted Eggplant Tapenade 85g
Australian tapenade that can be served as an appetiser or on a cheese platter. Made in Tasmania.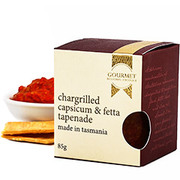 Gourmet Regional Chargrilled Capsicum Tapenade 85g
Delicious tapenade suitable for foodies, gourmet lovers and even food critics! Made in Tasmania.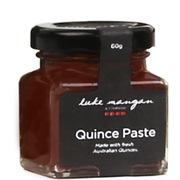 Luke Mangan Tasmanian Quince Paste 60g
Blended from the finest Tasmanian ingredients; this is the perfect quince paste to accompany the finest quality cheeses.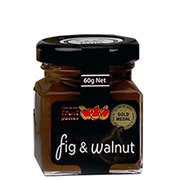 Tasmanian Fruit Pastes, Fig & Walnut Paste 60g
A unique fruit paste combination of figs and walnuts, created with fresh local ingredients.
Biscuits & Sweets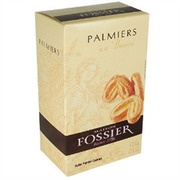 Maison Fossier French Palmier Pastries 125g
Delicate palmier pastries created by Maison Fossier, a biscuit manufacturer with a long history dating all the way back to the 17th century.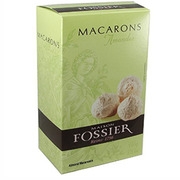 Maison Fossier French Almond Macarons 100g
Exquisite selection of Macarons with almond flavour, made by Maison Fossier, the inventor of the world-famous biscuit roses.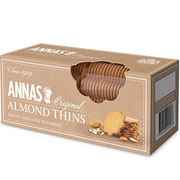 Anna's Original Almond Thins 150g
Swedish almond thins perfect for the holidays or another special occasion where you wish to spoil your guests.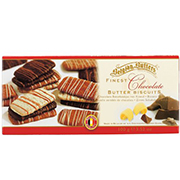 Belgian Butters Finest Chocolate Biscuits 100g
Selection of biscuits with real Belgian chocolate, created by Jules Destrooper as part of their Belgian Butters range.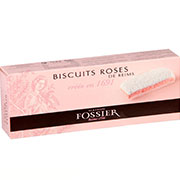 Maison Fossier 12 Biscuit Roses 100g
Gorgeous French biscuits from Reims, trademarked by their distinct pink colour, hints of vanilla and the sugar topping.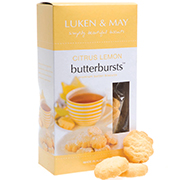 Luken & May Lemon Citrus Butterbursts 120g
Gorgeous shortbread biscuits that will melt in your mouth, suitable for every type of occasion.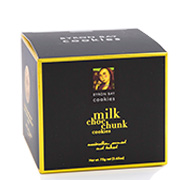 Byron Bay Cookies Milk Choc Chunk 75g
Delicious Byron Bay cookie selection with the finest European chocolate, traditionally baked.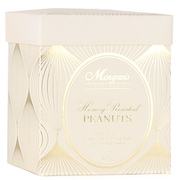 Morgan's Honey Roasted Peanuts 175g
Great selection of crunchy peanuts, traditionally prepared in 100% Australian honey.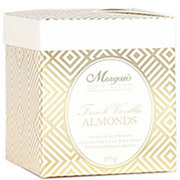 Morgan's French Vanilla Almonds 175g
A combination of French vanilla flavour and premium Australian almonds, manufactured by Morgan's in Sydney.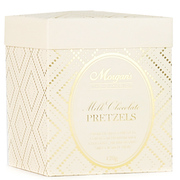 Morgan's Milk Chocolate Pretzels 135g
Traditional pretzels with a modern twist, covered in gorgeous milk chocolate. Made in Sydney.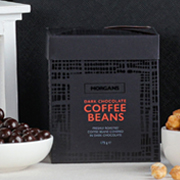 Morgan's Dark Chocolate Coffee Beans 175g
Roasted coffee beans topped in delicious premium dark chocolate. Made in Sydney.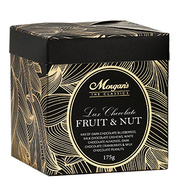 Morgan's Lux Chocolate Fruit & Nut Mix 175g
Delicious milk, dark & white chocolate covered delights, including blueberries, cranberries, cashews, peanuts & almonds. Made in Sydney.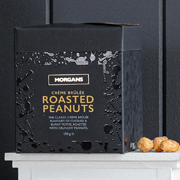 Morgan's Crème Brûlée Roasted Peanuts 175g
A selection of crunchy roasted Australian peanuts with a classic caramalised toffee flavour. Made in Australia.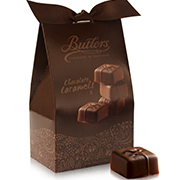 Butlers Chocolate Caramels 200g
Delightful caramels covered in the finest chocolate, these sweets are truly addictive.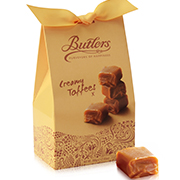 Butlers Creamy Toffees 200g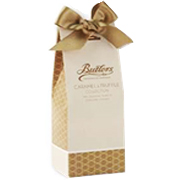 Butlers Chocolates Caramel Truffles 100g
Individually wrapped chocolate with irresistable creamy centres that will be loved by everyone.
Wine & Champagne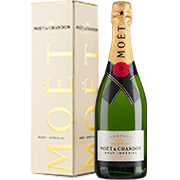 Moët & Chandon Brut Imperial NV Champagne 750ml
A gorgeous, lively champagne that goes really well with white meat, fish and fresh fruit.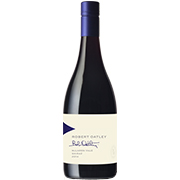 Robert Oatley Signature Series McLaren Vale Shiraz 750ml
93 points from James Halliday, this McLaren Vale Shiraz lives up to the Robert Oatley reputation with fine tannins and balanced acidity.
Chocolate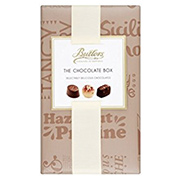 Butlers Handmade Chocolate Selection 160g
A double layer collection of 14 signature truffles and pralines including milk chocolate gianduja, 70% dark truffle & white chocolate lemon sorbet
Willie's Milk Of The Gods 'Rio Caribe 44' 50g
Sublime chocolate release from Willie's Cacao, a gorgeous milk chocolate made from exotic cacao beans.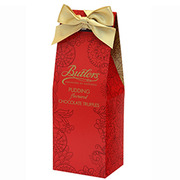 Butlers Milk Chocolate and Pudding Truffles 100g
The perfect chocolate box for sharing from Butlers Chocolates, contains some of the finest chocolate flavours from this chocolate brand.
Willie's Venezuelan Pure White Chocolate 50g
Unique Willie's Cacao white chocolate combination, made from Venezuelan cacao and sugar cane from Guadeloupe.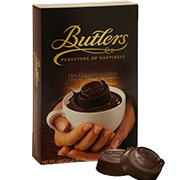 Butlers Chocolates Milk Hot Chocolate 230g
A gorgeous selection of pre-made Butlers hot chocolate so you can create your own, can also be used in coffee or for chocolate sauce.
---
Standard Delivery - FREE
NSW, VIC, QLD metro areas
1 - 3 Business Days
TAS, SA metro areas
3 - 5 Business Days
Perth, Darwin & regional areas
5 - 8 Business Days
Express Delivery* - from $14.95 per hamper
Sydney Metro Area
Same Business Day
Melb, Bris, Adel, Perth, Can, NSW cities
Next Business Day
Darwin & outside of major cities
1 - 3 Business Days
*Delivery times based on orders placed before 1pm on the same or previous business day.
Visit our
Delivery page
for detailed delivery information.
Due to seasonal variations and exclusivity of our stock, items in hampers are occasionally substituted for products of the same or higher value and quality.
Why Should I Go for The Premium Office Share Basket as a Christening Gift?

Customers who have shopped with Hamper Emporium before already know we have a great selection of gourmet gift baskets. However, none of our food gifts are as exquisite as the Premium Office Share Gift Hampers. The reason for that is quite simple, it is the perfect gift box to enjoy and share during a special occasion!

What Can I Find in One of These Christening Hampers?

Premium christening hampers have so many items, so it would be impossible to discuss them all in great detail here. However, we can discuss some of the luxurious brands you can find in these gift hampers! Before you order gift baskets from the Hamper Emporium, be sure to explore some of these brands to find out more about them and our premium delights.

When you take a closer look at our Premium gift hampers, you will immediately notice a large amount of biscuits from Maison Fossier. Maison Fossier is a French biscuit manufacturer with loads of history and secret recipes that will make your mouth water. When you choose one of our Premium gift hampers, you can fully enjoy some of their palmier pastries, almond macarons, biscuit roses and French galettes. Some of these biscuits and pastries can also be found in Hamper Emporium's selection of wine gift baskets.

Our gift basket ideas would not be complete without mentioning Jules Destrooper, a Belgian biscuit manufacturer that has been delivering quality and deliciousness for more than a hundred years. By choosing the Premium Office Share Basket, you will also get to sample their butter crisps and the Jules Destrooper virtuoso. Because of the festive nature of their biscuits, you will find Jules Destrooper in many of our holiday gift baskets as well.

Next to Maison Fossier and Jules Destrooper, you will also find other famous biscuit brands including Morgan & Albert's, Old Dominion, Great Temptations and Anna's Original. However, we also need to mention the two bottles of exquisite bubbly you will receive when you choose the Premium Office Share Basket, more specifically the Bollinger Special Cuvee Champagne and a 2010 Scarpantoni School Block Shiraz Cabernet Merlot. No matter which one of our gourmet food gifts you choose, you can always count on superior quality and sophistication.

Want to obtain the best value gift? Then you can also enjoy all the chocolate that are present in this great hamper. Because this is the perfect gift, you will also find amazing Fardoulis chocolates, which are considered to be one of the best chocolate brands in the world, as well as Willie's Cacao. In short, we are sure that you will be able to appreciate all the goodies in this unique gift and that they will ensure a great celebration. The tea pyramids are also a popular item included in this hamper.

Where Do I Go with Questions About the Premium Office Share Basket?

Do you have any questions relating to the Premium Office Share Basket? Or would you prefer to speak to one of our representatives before you purchase? Feel free to contact Hamper Emporium at 1300-459-452 or send an email to sales@thehamperemporium.com.au.

Aside from the mentioned goodies are chocolates and biscuits in varying flavours. Willie's Cacao products are present in this hamper; chocolates by Fardoulis are also included. For the biscuits, Anna's baked products are given away along with Belgian Butters, Great Temptations, Jules Des Trooper Virtuoso and the yummy and must have products of Maison Fossier. Having all these in one hamper makes the Christmas occasion way better than the previous year for sure! So don't be late in sending your Christmas presents, order from the Hamper Emporium and put the biggest smile on your recipients face now.

To see more hampers on the Hamper Emporium, for example our range of baby gift baskets or corporate hampers, please refer to our online catalogue or contact the Hamper Emporium for more information.