The beautiful hearty Pepperjack Barossa Shiraz is the mainstay for this hamper. Presented in a rustic wooden storage box, we have paired this cult classic steak wine with some great seasonings, rubs and nibbles. Simply sit back and enjoy with a wonderful steak! Like all our hampers it includes Free Delivery Australia-wide.
---
Savoury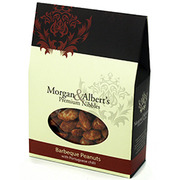 Morgan & Albert's Premium Nibbles BBQ Peanuts 100g
Made with Portuguese Chili, these delicious peanuts are full of flavour with a kick of chili.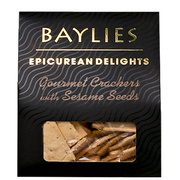 Baylies Gourmet Crackers with Sesame Seeds 130g
Baylies are one of the original gourmet providores, and these crackers are handmade with Australian Extra Virgin Olive Oil.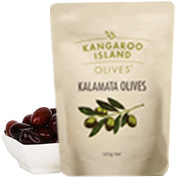 Kangaroo Island Olives Kalamata Olives 185g
Plump, juicy and bursting with flavour, Kangaroo Island Olives are 100% Australian. This is island produce at I's best.
Pantry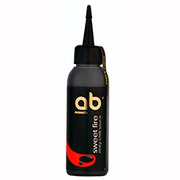 AB Sweet Fire Balsamic Reduction 100ml
White Vinegar Reduction made with fresh ginger, lemongrass & chili used to enhance stir fries, marinades and salads. Made in South Africa.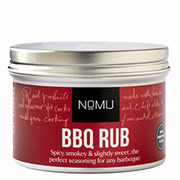 NoMU BBQ Spice Rub 55g
A blend of spicy, smokey herbs and spices makes this the perfect seasoning to enhance the flavours of your BBQ. Made in South Africa.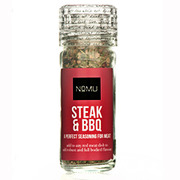 NOMU Steak & BBQ Grinder 45g
A warm, robust blend of rosemary, thyme, mustard and paprika, add before cooking or grind into olive oil to baste. Made in South Africa.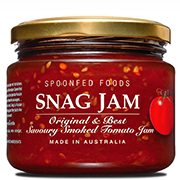 Spoonfed Foods Snag Jam 375g
Made from luscious ripe red tomatoes & naturally hand smoked in the unique Spoonfed way makes Snag Jam a truly special Aussie treat.
---
Standard Delivery - FREE
NSW, VIC, QLD metro areas
1 - 3 Business Days
TAS, SA metro areas
3 - 5 Business Days
Perth, Darwin & regional areas
5 - 8 Business Days
Express Delivery* - from $14.95 per hamper
Sydney Metro Area
Same / Next Business Day
Melb, Bris, Adel, Perth, Can, NSW cities
Next Business Day
Darwin & outside of major cities
1 - 3 Business Days
*Delivery times based on orders placed before 10am on the same or previous business day.
Visit our
Delivery page
for detailed delivery information.
Due to seasonal variations and exclusivity of our stock, items in hampers are occasionally substituted for products of the same or higher value and quality.
Do You Want to Organise a Classy Barbecue with some Unique Gift Baskets? Use Hamper Emporium's Red Wine & BBQ Hamper!
A good barbecue can be classy as well, this is proven by Hamper Emporium's Red Wine & BBQ Gift Hampers. Our Red Wine & BBQ Gift Hampers are a combination of barbecue spices, rubs, red wine and a large selection of premium nibbles. To find out if one of our Red Wine & BBQ Gift Hampers is the right hamper for you, please read on to discover all you need to know about these amazing gift hampers, or have a look at the large range of fruit baskets on the Hamper Emporium to get some additional ideas.
Which Spices Can I Find in The Red Wine & BBQ Gift Hampers?
Hamper Emporium's gourmet gift baskets may contain AB Sweet Fire balsamic vinegar, NoMU BBQ Meat Rub, Steak & BBQ Grinder and Spoonfed Snag Jam. The food gifts that have been added to this particular hamper come from South Africa and Australia, giving you the perfect opportunity to cook the best piece of barbecue meat during any party.
Which Red Wine Has Hamper Emporium Chosen for the Red Wine & BBQ Hamper?
The Red Wine & BBQ Gift Box is complemented by an outstanding 2012 Pepperjack Shiraz. Pepperjack Shiraz can be seen as a Southern Australian product and fits the classy barbecue culture to a tee. It provides consumers with the perfect blend of dark fruits, which complement most barbecue meats. Order gift baskets with the 2012 Pepperjack Shiraz today to experience this amazing Shiraz for yourself.
Which Savoury Nibbles Did the Hamper Emporium Select for the Red Wine & BBQ Hamper?
Wine gift baskets must contain a nice selection of nibbles to be fully appreciated. The savoury nibbles selected by the Hamper Emporium for the Red Wine & BBQ Hamper are Morgan & Albert's Premium Nibbles Brewer's Blend, Morgan & Albert's Premium Nibbles BBQ Peanuts, Baylies Gourmet Crackers with Sesame Seeds and Jack's Black Label Beef Jerky.

All nuts from Morgan & Albert's are the perfect appetisers before the barbecue meal commences. It can also be served sometime after the barbecue, especially when the barbecue party runs late and it has been a few hours since the last snack.

The gourmet crackers in the Red Wine & BBQ Hamper can also be served before the actual barbecue. To serve these gourmet crackers, Hamper Emporium recommends using a cheese platter with various cheeses. Be sure not to use too much cheese before the barbecue, since this can decrease the appetite of your guests. Customers can also use Jack's Black Label Beef Jerky during their barbecue. The beef jerky can be served before, during and after the barbecue, depending on the needs of your guests.

If you like the idea of holiday gift baskets or gourmet food gifts, be sure to have a look at all of Hamper Emporium's gift basket ideas. You can also contact the Hamper Emporium for some additional gift advice if you need it.
Does Hamper Emporium Have Other Barbecue Hampers?
Hamper Emporium has a fine selection of barbecue hampers waiting to take advantage of. The gift hampers on the Hamper Emporium are the best value around, so customers can find a unique gift in each category. In addition to Hamper Emporium's Red Wine & BBQ Hamper, customers can also take advantage of our Premium BBQ Australia Hamper, the perfect gift for barbecue lovers.

Our Premium BBQ Australia Hamper is very similar to the Red Wine & BBQ Hamper. It also contains a wide selection of spices and rubs, a fine wine and savoury nibbles. In addition to all these things, customers who choose the Premium BBQ Australia Hamper also get a quality chopping board from Random Harvest. The chopping board can be used to prepare your barbecue meats, cut vegetables or even to serve your favourite selection of cheeses.

Still cannot get enough of our gift hampers? Head over to our main menu and discover more categories such as baby gift baskets, corporate hampers and so much more!

The Hamper Emporium takes great pride in its gift hampers and the products they contain; this certainly applies to our range of wine hampers, including the Red Wine & BBQ Hamper, which contain some of the finest wines in Australia. The wines that can be found in these hampers are hand-selected by our hamper designer; this ensures that all our customers get wines of superior quality. Before a wine gets added to a hamper, our hamper designer does not only research the wine itself, but also the winery that makes the wine.

Our range of hampers does not only contain a fine range of wines though, since our hamper designer also add the occasional champagne to the gift hamper collection. Like wine, not all champagnes are of the same superior quality, so our hamper designer also searches for the finest champagne releases France can offer. This has led to luxurious gift hampers containing well-known champagne labels such as Moet & Chandon, Bollinger, Piper-Heidsieck and Veuve Clicquot. Even though these champagnes have an excellent reputation and are much desired by collectors, we still aim to keep our hampers affordable for all Australians. So, if you need a gift hamper of excellent quality with only the finest gourmet products, you can always count on the Hamper Emporium to deliver the excellence you deserve.