2014 Devil's Corner Tasmanian Pinot Noir 750ml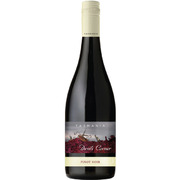 From Tasmania, this Pinot Noir layers cherry, spice and oak on a seductive palette. A Tasmanian Pinot Noir lifted with cherry, spice and oak. A marvellous mild yet sweet palette. Exuberant fruits with a sweet middle palette is generously flavoured with every sip.
Juicy, sweet-fruit middle palate; soft, ripe tannins, fresh acidity. A fruit-driven drink-now style with generous flavours. An exquisite cold climate pinot noir with a seductive palate and light astringency. Perfect for savouring with a meal or alone.
Discover Our Gift Hampers with the 2013 Devil's Corner Tasmanian Pinot Noir!
Are you looking for our gift hampers with tasty Brown Brothers wine? Then we can recommend our gift hampers containing the 2013 Devil's Corner Tasmanian Pinot Noir. Read on and discover more about this delicious Brown Brothers release and our gift hampers.
Extra Information about the Tasmanian Pinot Noir
The 2013 Devil's Corner Tasmanian Pinot Noir got his unusual name from the location where the grapes are grown. The Pinot Noir grapes come from the Brown Brothers vineyards in Tasmania's Tamar Valley, which is also referred to as Devil's Corner.
This delicious wine has a gorgeous palate and an amazing colour. Wine lovers will be able to enjoy a brightly coloured wine with some purple tones. The palate is sweet and fruity with a fresh acidity.
The aroma of the Tasmanian Pinot Noir is also something special. It is a strongly perfumed wine with hints of black cherry, dark fruit and raspberries.
Red Wine & Nibbles Hamper
Our Red Wine & Nibbles Gift Hampers contain this tasty Tasmanian Pinot Noir, but also some additional foods that complement this wine brilliantly.
In these gift hampers, you will find some Tasmanian fruit pastes of the best possible quality, Baylies gourmet crackers, Cat Cora's pitted green olives with oregano and lemon, green olives with chilli and black pepper, Morgan & Albert's premium nibbles, Partridges Artisan Bakehouse crackers and much more.
All the brands have been hand selected by Hamper Emporium so that we can provide our customers with the quality they deserve.
Christmas Delights Hamper
Cannot get enough of the 2013 Devil's Corner Pinot Noir? Then customers can try our Christmas Delights Hamper, which belongs to our Christmas gift hampers category.
The 2013 Devil's Corner Pinot Noir is an excellent choice during Christmas time and is here accompanied by a great number of Christmas foods.
Even though the Christmas Delights Hamper contains many delicious Christmas foods, one of our favourites is the Butlers Premium Handmade Chocolate Selection.
Butlers enjoyed great success since their start in 1932. The company has grown out to be a luxury chocolate supplier and has franchises all over the world. When you visit Ireland, it is highly likely you will find one of the typical Butlers cafés where you can enjoy their amazing confections.
Everything but the Cheese Hamper
The Everything but the Cheese Hamper contains the delicious 2013 Devil's Corner Pinot Noir, but also some amazing savoury treats, including fruit paste from Valley Produce.
Valley Produce is an Australian Gourmet company who specialises in all types of products, made from ingredients from the Yarra Valley in Victoria. Valley Produce does not limit itself to producing in Australia, because the company has expanded to the USA, Canada, Hong Kong, England and New Zealand.
Next to Valley Produce, you will also find famous brands such as Partridges Artisan Bakehouse, Baylies and Edinburgh Preserves. In short, these gift hampers will definitely satisfy your appetite for delicious gourmet foods and drinks. Excellent wine from Brown Brothers with well integrated spices and a subtle oak palate.