Recommended Gift Hampers for that Special Occasion
Author: Nicole Adler Date Posted:23 March 2016


Customers who have been looking for the perfect gift hampers for a special occasion can stop looking right now! The Hamper Emporium has a beautiful selection of premium gift hampers, suitable for a variety of occasions. To discover the recommended gift hampers for a special occasion, be sure to explore our hamper recommendations below.

The Glenlivet Founder's Reserve Hamper

Our Glenlivet Founder's Reserve Gift Hampers are extremely popular for Father's Day, Christmas and birthdays. The hamper contains an amazing selection of gourmet products, as well as a bottle of Glenlivet Founder's Reserve Scotch Whisky.

Glenlivet Founder's Reserve Scotch Whisky may be the latest addition to the range of Glenlivet whiskies, but the whisky itself has been 200 years in the making. The whisky was created as a tribute to the founder of the Glenlivet distillery, George Smith, and provides each whisky lover with an unforgettable experience.

All Glenlivet Founder's Reserve Scotch Whisky is made with water from crystal-clear mountain streams. The pure water and the additional secret ingredients provide a whisky that is smooth as well as fruity, a true recommendation for anyone who loves quality whisky.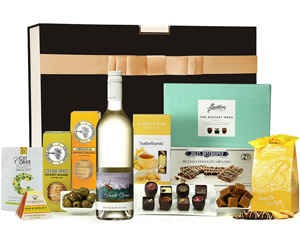 The Premium BBQ Australia Hamper

Hamper Emporium's Premium BBQ Australia Gift Hampers are perfect for the hot summer months, considering these gift hampers will give you everything you need for a fun barbecue.

The Premium BBQ Australia Hamper contains a selection of spices and rubs that works really well with all kinds of barbecue meats. The Hamper Emporium also added a variety of nibbles, which can be consumed before or after your barbecue.
Last but not least, these gift hampers also contain a bottle of 2012 Pepperjack Shiraz by Saltram of the Barossa, a great drink to accompany any barbecue. If you are planning a barbecue in the future, this Shiraz cannot be missing from your barbecue spread.

The Luxury Chocolate & Champagne Hamper

Our Luxury Chocolate & Champagne Hamper is commonly used for Valentine's Day or anniversaries, but this hamper is suitable for any occasion. The luxurious bottle of champagne in this hamper will appeal to most recipients and so will the delicious range of chocolates from Butlers Irish Chocolates, which is also included in this great hamper.

When you choose the Luxury Chocolate & Champagne Hamper for your special occasion, you will be able to enjoy a delicious glass of Veuve Clicquot Yellow Label NV Champagne. Veuve Clicquot has a unique taste of brioche and vanilla, a taste unmatched by any other champagne on the market.

Another reason to obtain one of our Luxury Chocolate & Champagne Gift Hampers is the extensive range of chocolates in this hamper. The premium chocolates for this hamper were provided by Butlers Irish Chocolates, a chocolatier known for premium chocolate flavours as well as beautiful chocolate gift boxes.

Butlers chocolates can be found in other gift hampers on the Hamper Emporium, so do not hesitate to explore other christmas gift baskets australia in our range. Exploring your options on the Hamper Emporium is always a good idea, because there are many hampers that could be interesting to you.