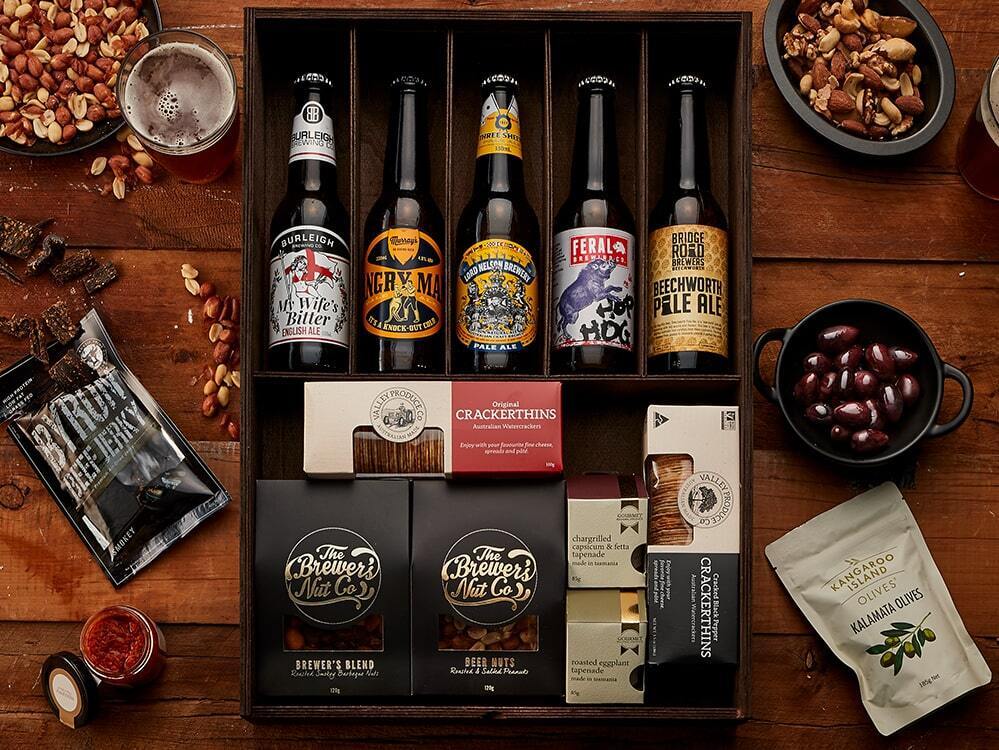 MicroBreweries of Australia Hamper
Australia's Finest Artisan Beer Gift Collection
The finest collection of handcrafted beers from Australia; this hamper is the ideal gift for beer lovers and collectors. Each of the beers is accompanied with some fine Australian treats as well, so your recipient receives a pamper experience from A to Z. Grab this beer hamper today and get a FREE Australia-wide Shipping, no matter where you live in Australia.

own it now, pay later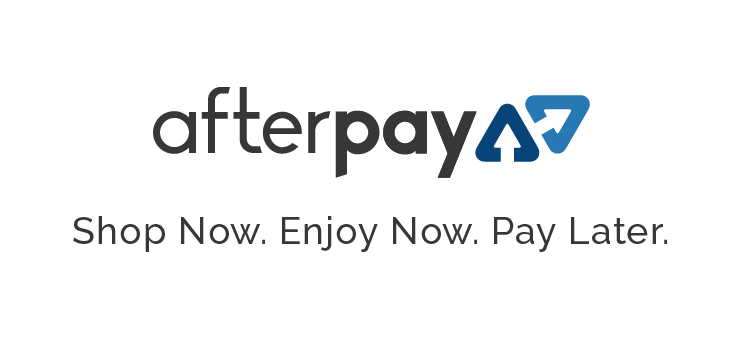 ---
Beer & Cider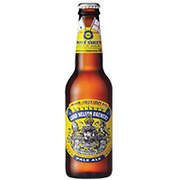 Lord Nelson Three Sheets Pale Ale 330ml (Sydney, NSW)
From the oldest licensed hotel in Sydney, this ale has delightfully balanced malt, overtones of herbaceous hops.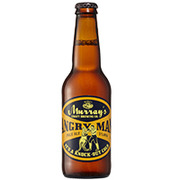 Murray Craft Brewing Co Angry Man Pale Ale (Anna Bay, NSW)
A lively ale, brilliant light golden in colour with a full bodied finish . Well balanced with biscuit toffee flavours.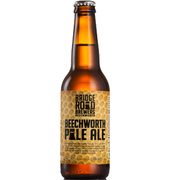 Bridge Road Brewers Pale Ale 330ml (Beechworth, VIC)
Small batch brewing at it's finest, floral hops and bitter hops are perfectly in balance and this Pale Ales.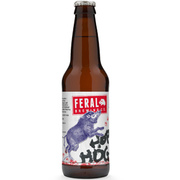 Feral Brewing Hop Hog Pale Ale 330ml (Swan Valley, WA)
Get a good whiff of this Pale Ale with plenty of hops that is just a little bit fruity with a solid malt backbone.
Burleigh Brewing Fig Jam India Pale Ale 330ml
Robust, fresh and smooth, this craft beer is power-packed with hops and aroma for a truly Aussie beer.
Savoury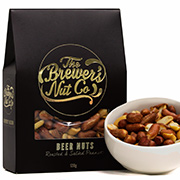 Brewer's Nut Co. Classic Beer Nuts 120g
Treat everyone to our delicious Aussie beer nuts; guaranteed to go down a treat. They're the perfect companion to a cold beverage.
Kangaroo Island Olives Kalamata Olives 185g
Pair with wine, an antipasto platter or cheese. Organically grown on Kanagroo Island, one of the world's most pristine environments.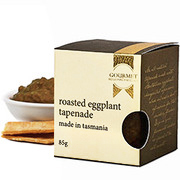 Gourmet Regional Produce Roasted Eggplant Tapenade 85g
An all natural tapenade made with Australian eggplant, chargrilled capsicums, olive oil & a hint of cumin for that smokey flavour.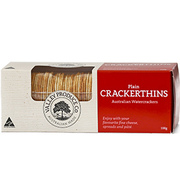 Valley Produce Cracker Thins Plain 100g
Versatile plain cracker thins from Valley Produce that are perfect with so many types of dips, spreads and condiments.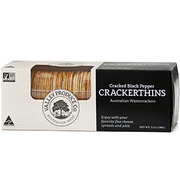 Valley Produce Cracker Thins Cracked Pepper 100g
The robust cracked pepper flavour of these Valley produce Cracker Thins matches well with many different cheese and nibbles.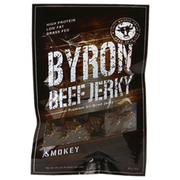 Byron Beef Jerky 'Smokey' 40g
Nestled in the quiet rolling foothills of the Byron Shire, is the home of this all natural, delicious jerky made from grass fed beef.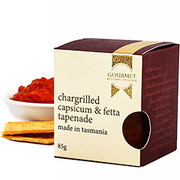 Gourmet Regional Produce Capsicum & Fetta Tapenade 85g
A Tassie produced tapenade, this gourmet dip has the perfect balance of Australian capsicums, creamy fetta cheese and olive oil.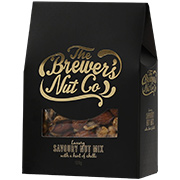 Brewer's Nut Co. Savoury Nut Mix 120g
A fresh & delicious premium nut mix with a hint of chilli, rosemary, garlic & sea salt, the perfect pair with any beverage.
Also Included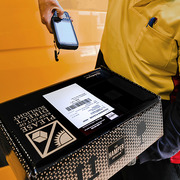 Track & Trace of your Hamper
Tracking the delivery of your hamper is easier than ever. For total peace of mind, follow the progress of your parcel right to their doorstep.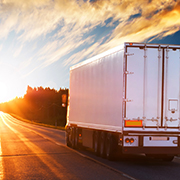 Free Australia Wide Delivery
Enjoy our completely FREE standard delivery to anywhere in Australia! Express upgrades are available for any address across the country.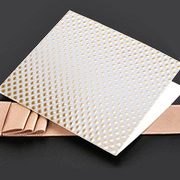 Optional Free Premium Gold Card
This luxury gold gift card with elegant embossing is completely FREE with your order. Add a special message at checkout for a personal touch.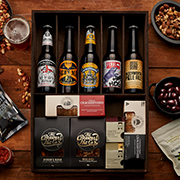 Handcrafted Stained Wood Beer Box
Their hamper is guaranteed to arrive in style with our handcrafted, rustic wooden compartment crates. Once empty, repurpose as storage modules.
---
Standard Delivery with Australia Post - FREE ** DELAYS EXPECTED **
NSW, VIC, QLD metro areas
2 - 6 Business Days
TAS, SA metro areas
4 - 8 Business Days
Perth, Darwin & regional areas
7 - 14 Business Days
Express Delivery - from $16.95 per hamper ** DELAYS EXPECTED **
Sydney Metro Area
Same / Next Business Day
Melb, Bris, Adel, Perth, ACT, NSW cities
2 - 4 Business Days
Darwin & outside of major cities
3 - 5 Business Days
We continue to send out orders on the same day if received before 1pm AEST (10am AEST for Sydney same day), however Australia Post and Star Track are experiencing COVID-related delays.
Due to the unpredictability of these delays we are currently unable to offer Preferred Date Delivery, and some Standard and Express deliveries are arriving well outside of estimated timeframes. Please keep this in mind when placing your order.

Due to seasonal variations and exclusivity of our stock, items in hampers are occasionally substituted for products of the same or higher value and quality.
Uncover the Excellent Australian Craft Beers in our Sydney Gift Hampers!
If you have chosen the MicroBreweries of Australia Hamper from our Sydney gift hampers range, you probably have a healthy interest in Australian craft beers. Fortunately, the Hamper Emporium has a marvellous selection of craft beers in its range of Sydney gift hampers, just waiting to be discovered by you. Have a look at some of the craft beers in our range of Sydney gift hampers below and uncover something new!
Burleigh Brewing My Wife's Bitter
Burleigh Brewing My Wife's Bitter is an award-winning craft beer in our Sydney gift hampers, and in our MicroBreweries of Australia Hamper in particular. As the name suggests, this beer was created in honour of the brewer's wife, so there is plenty of love to be found in this beer.

The Burleigh Brewing My Wife's Bitter draws its inspiration from the English session beer, so it could be described as a coastal version of the traditional English bitter. As beer lovers already know, a good bitter is created through a unique blend of malts, which provide subtle hints of nuttiness and caramel to the taste of the beer. Naturally, this is just what you can expect from this particular craft beer.

Considering the 'heavy' nature of Burleigh Brewing My Wife's Bitter, this beer goes best with robust meat dishes. The Burleigh Brewing Company therefore recommends trying this beer in combination with duck, beef and lamb dishes. Alternatively, you can also combine this beer with beer nuts or premium nut mixes.
Bridge Road Brewers Pale Ale
Bridge Road Brewers Pale Ale is another craft beer from an outstanding Australian brewer. The beer is considered a benchmark ale, dominated by strong hints of aromatic hops; this combination makes this beer perfect for those looking to get a thirst-quenching craft beer.

The Bridge Road Brewers Pale Ale was inspired by the classic American pale ale, which is known for its crispiness and refreshing nature. Therefore, this craft beer is best for beer lovers who prefer refreshing beers with a taste of aromatic hops. However, this beer will satisfy lovers of genuine Australian craft beers as well, because Bridge Road Brewers Pale Ale is made through a combination of American and Australian hops.

Considering Bridge Road Brewers Pale Ale is a real thirst-quencher, this beer is often drunk alone during hot temperatures. That being said, there are some foods that work well with this beer. If you are looking to serve the Bridge Road Brewers Pale Ale with some food, be sure to pick either spicy or oily foods to make the taste of the beer come to the forefront.
Lord Nelson Three Sheets Pale Ale
When you are looking into Australian craft beer brewers with plenty of history, you are probably going to encounter the name Lord Nelson. The name Lord Nelson is synonymous with delicious craft beers, but also for the oldest licensed hotel in Sydney.

Lord Nelson Three Sheets Pale Ale is brewed on the hotel premises, just as the other craft beers from the Lord Nelson Brewery. Each craft beer made by the Lord Nelson Brewery also carries a unique name, which refers back to the history of the Lord Nelson hotel.

The Lord Nelson Three Sheets Pale Ale is the ideal craft beer for those who prefer Australian pale ales. The beer is characterised by lifted florals of citrus and a balanced malty finish. It is also considered as the house favourite of the Lord Nelson Brewery, as well as the flagship of their craft beer range.
Feral Sly Fox Summer Ale
Feral Brewing has also become a big name in Australia, especially when you consider the original names of the beer and the labels that stand out from most craft beers.

One of their most popular craft beers, the sly fox, is a light beer that still packs plenty of flavour. It is also the craft beer that described the abilities of Feral Brewing the best!

In addition to the sly fox beer, Feral Brewing is also known for other releases, which includes feral white, smoked porter, the runt, and more. However, out of all the beers from Feral Brewing, sly fox stands out the most due to its lightness, flavoursome taste and vibrant hoppy aroma.
Murray Craft Brewing Company Angry Man Pale Ale
The Murray's Craft Brewing Company cannot be missing from our overview of craft beer, with in particular, their angry man pale ale.

The angry man pale ale is a classic American ale, but is made with a perfect blend of Australian, English and German malts; this combination provides the beer with an outstanding aroma of citrus and pine.
International Beers & Ciders
We already mentioned some of the Australian craft beers that can be found in our range of Sydney gift hampers, but we have not mentioned all the international craft beers and popular Australian beers and ciders that are present in our range.

If you are looking for the perfect gift for a beer lover, you can be sure that the Hamper Emporium can deliver it!

Those who are looking for the best international beers for their recipient should have a look at our Premium United Nations of Beer Hamper, which contains classics such as Hoegaarden and Chimay.

However, if you only want to get popular Australian beers, you could choose the Beers of Australia Hamper.

Recipients who are real fans of James Squire beers could also choose our James Squire Beer Hamper; this christmas hampers gifts contains the most popular beers from the James Squire beer range, but also gourmet snacks to complement the taste of each beer.

Fonder of cider? No problem either, because we also have the ANZAC Ciders Hamper, which contains the best ciders of Australia and New Zealand. Similar to our other beer and cider hampers, customers can also find a huge selection of nibbles in this hamper.

In conclusion, be sure to check our entire range before you choose a beer hamper. We are sure there is going to be a perfect beer hamper for your friend, relative or partner!