Gift Hampers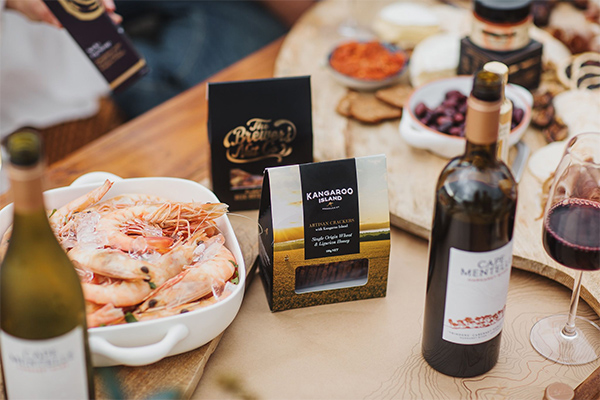 Supporting Australia's Finest Gourmet Producers The Hamper Emporium is always proud to support local Austra...
Read Full Post
5 Easy Steps For A Luxury Lifestyle A holiday away from the stress and routine of the day-to-day is th...
Read Full Post
Gift Hampers Australia - Express Delivery Available
Our range of luxury gift hampers are designed to impress. Choose your special occasion gift basket for a birthday, wedding, or as the perfect way to say thank you, congratulations, get well soon, or just because. Our premium gift baskets range from personal gifts for friends and family, to discount bulk orders for corporate branded hampers, and everything in between. If you're looking for a way to spoil that special someone in your life, you'll find the perfect gift basket in our range of hampers to delight your recipient.
We have you covered for every special occasion with our range of gift hampers to suit your budget. With over 300,000 customers, our gourmet hampers and luxury gifts are delivered to all Australian addresses. There is free standard delivery for all orders, or you can choose express or next business day delivery for those last-minute gifts.
Whether it's beautiful hampers for a birthday, Christmas, Father's Day, Valentine's Day or Mother's Day, we have the perfect gift hamper for you. We have gourmet gifts designed for men including beer, whisky and wine hamper gifts that he will love. For women we have great chocolate gift boxes, wine and champagne pamper hampers including premium brands like Moët. There are also new baby hampers and birthday gift baskets with price ranges to suit anyone's budget.
If you're looking for a professional gift basket with a personal touch, we have corporate gift hampers, staff gifts and client gifts that are bound to keep you top-of-mind. Send a congratulatory gift basket to celebrate a special event or a corporate branded gift for a special client thank you. Keep an eye out for special offers on new hampers or seasonal discounts.
What are the most popular gift baskets?
After over a decade of creating gift baskets for special occasions our most popular gift hampers are:
Wine - Nibbles & Red Wine Hamper

Baby Gift - Sheridan Bear Baby Hamper

Corporate Gift - Pure Gold Luxury Corporate Hamper

Mother's Day - Moët & Gourmet Nibbles Hamper

Father's Day - Men's Nourish & Nurture with Red Wine

Valentine's Day - L'Occitane Pamper Hamper

Xmas - Gourmet Christmas Treats Hamper

Pamper - L'Occitane Pamper Hamper

Gourmet Food - Red & White Wine Hamper

Cocktails - Chandon in Bloom Cocktail Hamper
With our extensive range of luxury gift baskets, Christmas hampers, birthday hampers and more, we can arrange the right gift delivery for you. Give to a loved one or relative, a teacher, a friend, a neighbour, a customer, or an important business contact. We can even send a gift hamper 'just because' if you want to surprise someone special. No matter the occasion, we'll include a free personalised gift card that can be customised with your message.
At The Hamper Emporium not only are our gift hampers filled with exclusive gourmet produce, but they are offered at great prices. Products include a carefully curated selection of craft beer, world-renowned skincare, and beautiful baby products. We've ensured that by creating lasting relationships with some of the world's best brands, we're able to offer the best-priced hampers in Australia. Through our partnerships with suppliers of artisan foods, luxury gifts, and premium wine, we make sure that only the best products are included in each of our hampers. This means every recipient will be truly delighted with their gift basket from The Hamper Emporium.
There's truly something for everyone, with a selection of gourmet food hampers and indulgent gift baskets. Use our delivery calculator to view expected delivery times for gift hampers Australia wide to locations from Perth to Brisbane.
Exclusive Products Included In Our Gift Boxes
At the Hamper Emporium, we source all our products very carefully from the best Australian and international suppliers using only premium brands. Everyday supermarket items do not make it into our gift selections. Everything is assembled fresh daily by our team in Sydney to ensure that all our premium gifts and hampers arrive at their destination in the best possible condition. You can consider the tastes of your gift basket recipient by selecting sweet treats or savoury nibbles, or even choose a selection that encompasses both.
Many brands included in our luxury hamper range are exclusive to The Hamper Emporium. We've decided to work closely with local suppliers to find the best of the best, because we believe that's what our customers deserve. Brands such as Morgan's, The Woods Farm, Kangaroo Island Produce Co. and The Brewer's Nut Co. work closely with The Hamper Emporium to provide artisan produce that is proudly crafted by Australian companies for our amazing customers.
Corporate Gift Hampers Online At The Hamper Emporium
Gift baskets are great professional gifts for staff or clients. We work with you to ensure your gifts are truly memorable by adding personalised ribbons or gift cards to your chosen selection. Give a settlement gift, staff appreciation gift basket, or celebrate business success with a corporate gift hamper with champagne. In our range of corporate hampers, you can also include branded gifts such as engraved glasses or other gifts, with your name or logo.
Talk to us about personalising your gifts or for special arrangements for bulk orders. Our range of Christmas hampers are great staff gift ideas for the festive season. So whether you need staff gift hampers for him, or something for her, for Christmas, a birthday, or corporate event, we have you covered for every special occasion. Choose beautifully presented hamper gifts and enjoy our free delivery service for all gift hampers Australia-wide.
What Is A Gift Hamper?
A gift hamper is a collection of gifts arranged to be attractively displayed or presented in a keepsake box. Gift hampers can be custom made to include a wide range of presents. Usually, the items chosen for a gift hamper will follow a theme. The gifts included can be made suitable for all occasions. The most popular gift baskets are those that include birthday gifts, Christmas treats, gourmet food and wine, pamper gifts, romantic Valentine's Day gifts, and baby gift products. Traditional gift baskets for a wedding or baby shower include celebration gifts for the special occasion. While birthday hampers include personal items to suit the recipients' personality. Mother's Day gift baskets often include chocolates or pamper gifts, while Father's Day hampers traditionally include beer or alcohol.
Gift hampers can also be designed to celebrate other occasions such as a graduation, a job promotion, a contract settlement, a thank you gift basket, end of year teacher gift, or anniversary. Gift hampers are timeless, versatile, and unique gifts for any occasion. It's popular to create your own personalised gift hamper with gifts to suit the recipient, although pre-designed gift baskets and hampers are a great source of inspiration. Pre-made hampers are often more convenient and more affordable.
The History of Gift Hampers
A hamper isn't always a gift basket given as a present. A hamper can also refer to a large variety of basket items all stemming from the word's Latin roots as a woven wicker container.
The history of hampers starts back in early medieval Europe. The word hamper comes from the medieval Latin anappus or hanappum. Traditionally, in medieval England and France, a willow basket called a hanapier was used to carry drinking vessels or wine goblets known as hanap. The Nuncius regis (or King's messenger) would carry valuables and important documents in a wicker case called a hanaper. In Victorian England, the tradition of carrying precious goods in a hamper expanded to include a hamper packed with food and supplies for a long journey. Travellers would present a hamper packed with clothes or food to their hosts when visiting.
It was also common to send clothes and food stored in a wicker basket to family. During the industrial revolution, packaged food and clothing sent long distance or via the railway to friends and family continued to be delivered in woven wicker hamper baskets. In addition to their use as gift baskets, wealthy families would create a simple hamper as care packages for the poor containing essential supplies. The word 'hamper' soon came to refer to a package of food and supplies given as a gift even if they were not packed in a wicker basket. Hampers in boxes or utilitarian crates were also given as care packages to soldiers during World War One. Loved ones at home would send gift hampers to injured soldiers or those on the front line as a way of sending their love with a few home comforts.
Because the word 'hamper' evolved from a woven wicker basket, the word continues to be used for a range of basket-like containers. In Australia and North American, a laundry hamper refers to a household basket used for storing clean linen off the line or for dirty clothing prior to washing. A laundry hamper used for storage may be made from woven wicker or from plastic. These hampers are tall, sturdy containers with a lid compared to a laundry basket which is open and mainly used to carry clothes.
Laundry services would also use large basketwork containers with a lid to collect dirty linen. This was part of the regular Chinese laundry services offered in 19th-century England and America. Hamper containers would be left with business clients. The laundry service would then collect the full basket and leave another in its place while the dirty linen was washed.
Food-related hampers that are not gift baskets are also used in agriculture. For example, field workers carry a wide-mouthed basketwork container called a hamper on their backs when harvesting fruit or vegetables. The lightweight hamper makes it easy to carry small loads allowing the fresh produce to be emptied into a wagon or truck for transport.
The woven wicker basket design also became a popular choice for picnic hampers. Being breathable, easily ventilated, and sturdy, the woven timber picnic hamper made it suitable for the transport of wine and food, hence the continued popularity of hinged cases used as picnic hampers.
Frequently Asked Questions About Gift Hampers
A gift hamper is a special way to send your love from afar. No matter the occasion, sending a wrapped gift basket as a special gesture lets the recipient know you are thinking of them. While gift baskets are often sent to close family and friends as a personal gift, a gift hamper doesn't have to be an intimate gift. A hamper is also a polite way to send your thanks, your condolences, or other best wishes. The meaning behind a gift hamper is unique to every occasion.
The best gift hampers are chosen with your individual recipient in mind. They should suit the special occasion, include hamper items unique to your theme, be gorgeously wrapped, or presented in a gift box. The best gift baskets make the recipient feel extra special. Every item that they unwrap from within their gift box should make them say 'wow'!
A hamper should be a complete gift including consumable gift products to use as well as something special to keep as a memento for a special event. You should choose only the finest products in a gift basket for any occasion. If choosing a food hamper, all the products should pair well together. For a pampering beauty hamper or romantic hamper, the gift items should work together to create a special mood.
You should never include unappealing items just to stuff or pad out your hamper. Every item should be chosen to impress. Don't include random items that don't match the overall theme or mood that you are trying to create with your special gift. It's also a good idea to avoid regular items that are commonly available at the supermarket. Perishable items that will quickly expire should also not be put in a gift basket.
If you're giving a luxury gift basket, it's generally not cheaper to make your own hamper. Buying a selection of matching themed items curated by gift hamper experts from Australia's luxury brands ensures you get a better deal than if you purchased each item separately. As a cheap alternative, you can make a functional gift basket for a friend from a re-usable container and with their favourite items. While it's no cheaper than if your friend purchased for themselves, it's the thought that counts when you just want to surprise them with an unexpected gift.
To give the best hamper, start by narrowing down the search according to hamper recipient and occasion. Often, it helps to choose one particular item that you know the recipient will love. Perhaps that's a bottle of champagne, a large selection of chocolates, spicy mixed nuts, or a luxury satin robe. Once you have chosen the feature item of your gift hamper, you can browse to find the best selection of matching gifts to impress and other special treats they'll love. The Hamper Emporium specialises in creating scrumptious food gift baskets filled with Australian artisan produce, delicious treats, and gourmet food and wine. Plus our beauty, skincare, and pamper hampers offer you a world of choice to spoil your loved ones.
We've spent years curating our hamper range, and one of the most exciting introductions has been our range of personalised gift hampers. These aren't your everyday personalised gifts that are outsourced to third parties so you're left desperately hoping they'll arrive. Instead, all of our customised hamper gifts are personalised in house so you can be assured of the finest quality.
Our personalised gift range includes a selection of genuine leather gifts embossed with stunning gold lettering that can be customised during purchase. Whether it's a monogrammed leather keyring for her, or a personalised genuine leather toiletries bag for him, our premium personalised hampers are the finest of quality. Make them feel loved with a one of a kind gift.
All of our gift hampers, whether personalised or from our general range, are available for delivery Australia-wide. Every hamper includes FREE standard Australian delivery to ensure that your gift shopping is affordable. From Perth to Melbourne, we have that special occasion covered with the best gift hampers in Australia.
We offer gift basket delivery Australia wide to each of the states and territories. The Hamper Emporium's warehouse is located in Sydney, and we offer express same day delivery options throughout the Sydney area. Our courier service for gift hampers Melbourne, and for gift hamper delivery in Brisbane, Perth, and Adelaide offers express delivery options. View our delivery calculator for an estimate for shipping times to Australian postcodes.
It's easy to arrange gift hamper delivery direct to their door either to a home or a business address. You can even choose individual delivery addresses for bulk corporate hamper orders. We also offer hospital gift basket delivery where possible. See our delivery page for more information.