Gift Boxes 4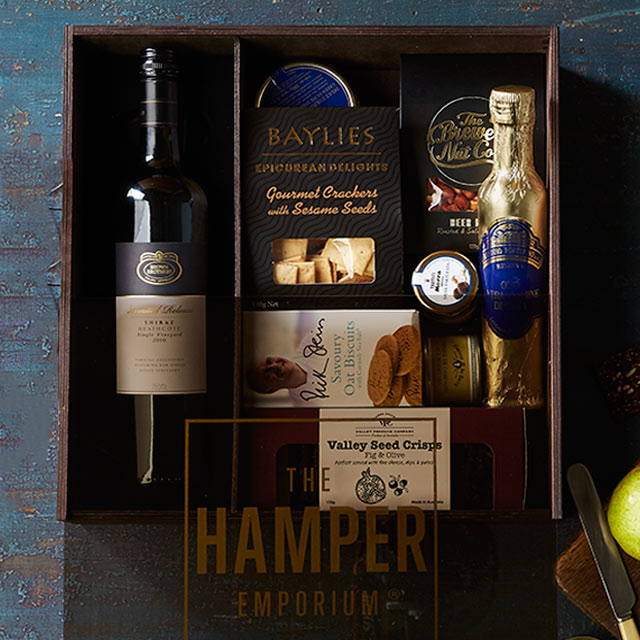 Handcrafted and stained wooden wine box with tinted slide-on lid.
Gift Box 4: A Gift Box of Treasure and Treats
Do you want a gift that will be treasured for quite a long time? Gifts speak our fondest words to our loved ones. The perfect gift reflects the personality of both the giver and the recipient. However, finding the perfect gift may be a difficult task for most people. Have you ever found yourself in the mall, scouring every store for the perfect gift yet ending up empty-handed? You are not alone! Most people are in a rut when it comes to finding the perfect gift for their loved ones.

The Hamper Emporium lets you enjoy the process of choosing the best gifts in the comfort of your own home. With their high quality gift boxes and Christmas hampers, you can surely find that one special gift you are looking for. A gift, like thoughtful words, has the power to make someone happy. If you want a gift that has a variety of treats and will be treasured by your loved ones, then choose Gift Box 4 from The Hamper Emporium.
What are the Contents of Gift Box 4?
Gift Box 4 is an amazing gift for many reasons. First, it has savoury mouth-watering snacks that can be enjoyed by your loved ones. Some of these delightful snacks are the Baylies Epicurean Delights Gourmet Crackers with Sesame Seeds and Rick Stein's Savoury Oat Biscuits. You will be happy to know that these flavourful snacks are also healthy and made with the finest ingredients. While you enjoy your crackers with yummy dips, you can also enjoy drinking a glass Shiraz Heathcote.

One of the finest wines in Australia, Shiraz Heathcote is a luscious and fruity wine which is perfect for evening dinners and celebrations and goes well with meat dishes. These wonderful treats are packed inside a handcrafted, dark brown stained wooden box which is a treasure in itself. Sturdy and well-made, this box can be reused as an organiser for your tools, accessories, and kitchen ware. With its impeccable craftsmanship, it can even be a décor for your living room or dining area.
Why Should You Buy Christmas Hampers and Gift Boxes From The Hamper Emporium?
Christmas hampers, Chocolate hampers, and gift boxes are special gifts you can give your loved ones. Christmas hampers contain sweet and savoury treats like biscuits, glazed nuts, traditional cakes, crisps, and crackers. They also contain exquisite chocolates, delicious jams, and yummy syrups.

What makes the Christmas hamper even more special is a bottle of fine wine or champagne. Chocolate hampers contain different varieties of chocolates and chocolate covered treats. Who could resist a basket filled with chocolates? All Christmas hampers and Chocolate baskets come in a gift basket with a ribbon and a gift card.

Gift boxes also contain different gourmet snacks and wines but they come in a handcrafted elegant wooden box. Each gift box is a unique combination of food items and wine and it also comes with a charming ribbon and gift card. The gift box is part of the gift you are giving. You would not discard this beautifully made gift box but instead reuse it as a décor or organiser.

Giveaways are a great way to give your employees a reward for a great job. If you want to give Christmas hampers as corporate giveaways, you can have the ribbons and gift cards personalised to bear the name or logo of your company.
Where Can You Order Gift Box 4?
Gift Box 4 is truly a treasure for your loved ones. Not only does it contain snacks that are made from the finest and healthiest ingredients, this gift box also contains a bottle of Shiraz wine which is a romantic and elegant addition to any dinner table. If you think Gift Box 4 is the perfect gift box for your loved ones then visit The Hamper Emporium to order.

You can also browse other products like Christmas hampers and Chocolate hampers. You can be sure that each hamper and gift box contains only the highest quality artisanal and gourmet products. And if you order one of our hampers and gift boxes, you can have them delivered to your own home or to your loved ones. Make someone happy by giving them the Gift Box 4.