Gift Boxes 6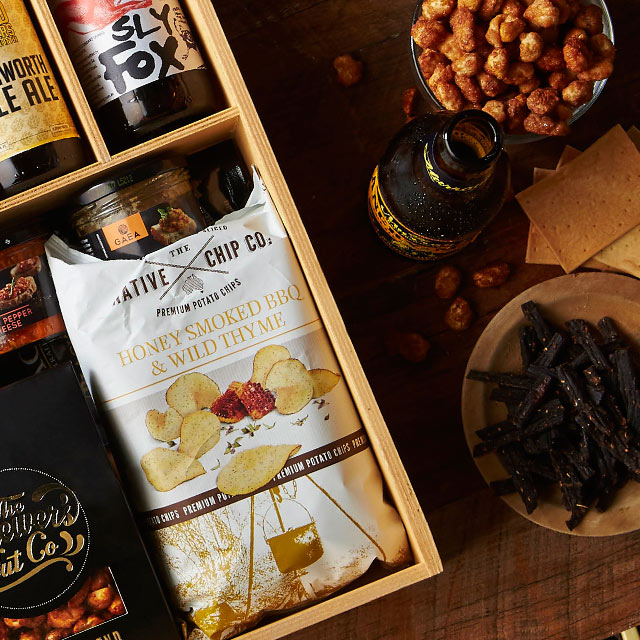 Handcrafted and stained wooden beer box. Single compartments for each beer, making it perfect for reuse in a tool shed or man cave.
Gift Box 6 for Beer Lovers
It is always a challenge to look for the perfect gift. Especially during the holiday season, people rush to shopping malls to look for gifts. Traffic, crowded stores, and the lack of suitable choices make shopping a time-consuming and unproductive activity.

You always want to choose the best gift for your loved ones. A great gift is an expression of gratitude, appreciation, and love. If you want a gift that says all the good things to your family and friends, then shop online at The Hamper Emporium. The Hamper Emporium is the best online store to shop for Christmas hampers, chocolate hampers and gift boxes. Each hamper contains only the best products from Australia.

If you want to give that special man (or woman!) in your life - a friend, sibling, family member, co-worker, or employee - the gift they deserve, then the Gift Box 6 of The Hamper Emporium is the perfect gift to buy.
Christmas Hampers and Gift Boxes are the Best Gifts You Can Give
If you want to impress with a gift that has it all, then choose Christmas hampers, chocolate hampers, and gift boxes. Christmas hampers contain gourmet food items like biscuits, savoury treats, and chocolates. Chocolate hampers contain a variety of delicious and unique chocolates. Hampers a great way of giving a gift that contains a little bit of everything. Some gift hampers also have special wines that will complete any holiday celebration. Gift hampers are beautifully packed in a gift basket with a ribbon and a gift card. Each of the Christmas hampers at The Hamper Emporium contains only the best artisanal products in Australia so you can be sure you are getting value for your money.

Gift Boxes also contain a selection of premium gourmet food items, wines, and beers. However, they are placed in a unique and handcrafted box which is a durable and reusable container. It is an elegant container that will look good even as a display to your home. The wonderful gift boxes along with Christmas hampers will surely be a treat to their recipients.
What is the Gift Box 6 from The Hamper Emporium?
Gift Box 6 is the perfect gift for that special gentleman in your life whom you think deserves a great treat. It is also great for all beer lovers. It contains different kinds of specialty beers and yummy savoury snacks that you can eat while drinking. Each beer is placed in a single compartment in the special handcrafted wooden box. After using, the gift box can be reused as a tool or accessories organiser.

The Gift Box 6, like The Hamper Emporium's Christmas hampers, contains different gourmet snacks that will satisfy all food lovers. Mouth-watering snacks like potato chips and gourmet nuts will surely make your beer drinking experience a pleasant one. It contains different kinds of tasty beers brewed to their best. If you are in for movie nights or just a cosy relaxing evening in your home, then the Gift Box 6 is your perfect companion.
Where Can You Order the Gift Box 6 and other Hampers?
Sometimes, a single gift is simply not enough to express your love and gratitude. If you think that a person deserves not one, but a variety of gifts, then choose one of gift hampers, chocolate hampers or gift boxes from The Hamper Emporium.

You can order the Gift Box 6, along with other Christmas hampers at The Hamper Emporium. All you need to do is click the item you want, order and it will be delivered right to your doorstep or to the recipient of your gift. You do not need to go out of your house on a holiday rush. You can order one of our gift boxes and hampers right in the comfort of your own home or office.

There are other hampers you can choose from for anyone you can think of. There is a gift hamper perfect for your family, friends, employees, and co-workers at The Hamper Emporium. We have special hampers for other occasions like Father's Day, Mother's Day, Valentine's Day, Christenings, Anniversaries, and Birthdays. You can even have purchase corporate hampers and personalise them for advertising purposes. You can choose ribbons and gift cards to make your hampers extra special. Browse The Hamper Emporium's website to see which gift hampers you like.

The Gift Box 6 is a special gift item that will delight its recipient. If you want a gift that will express a simple "Thank you", "I love you", or "Great Job!", then order the Gift Box 6 from The Hamper Emporium.