Book: What Are Little Boys Made Of?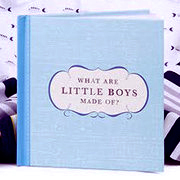 They'll adore the gorgeous words and illustrations in this book that celebrate how wonderful it is to have a son. A beautiful bonding time book. Adorable illustrations and wonderful words that celebrate the joy of a son; a wonderful way for parents to share bonding time. It's a truly special gift for parents to share with their sons. This lovely book features adorable illustrations and words to share together.
Parents will treasure the gorgeous illustrations that capture the imagination and sensitivity of little boys. Featuring gorgeous illustrations and fun text that celebrates the joy of having a little boy. A special book for parents and Sons to share. A gorgeous book that's great for sons and parents to share together. Features gorgeous illustrations and a lovely story to share together.
---