Wooden Cheese Board Handcrafted in South Australia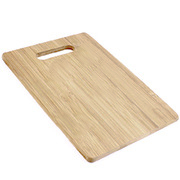 This Australia made and sourced Cheeseboard is the perfect way to display your cheese and accompaniments. A beautiful, Australian made cheese board that will add a sense of elegance to any entertainer's table. It's all about beautiful presentation with this Australian-made cheese board that looks great every time.
Beautifully finished, this Australia made and sourced Cheeseboard is the perfect way to display your cheese and accompaniments. Every serving table needs a gorgeous cheese board to display their exquisite spread.
Display Your Cheeses with a Beautiful Bamboo Cheese Board
Many people love cheese, so we had to include some cheeses and related products in our gift hampers. One of the related products you will find is the Bamboo cheese board, which complements our cheese gift hampers perfectly. Let us take a closer look at what you can take advantage of at Hamper Emporium!
Functional and Beautiful
The Bamboo cheese board in our gift hampers can be used to cut cheese, but it can also be used to present your cheeses during a small party.
Discover Great Products
One of our gift hampers that contains the bamboo cheese board also has some remarkable products. To get the bamboo cheese board and some great additional products, we can recommend the
Everything but the Cheese Hamper
.
Some of the following products are considered great delicacies all over the world and can all be found in the Everything but the Cheese Hamper: Le Cordon Blue olive spread, Baylies gourmet crackers, Partridges Artisan Bakehouse gourmet crackers, and so much more.
In addition to great foods, you will also find a great 2013 Devil's Corner Tasmanian Pinot Noir. This pinot noir is fruity with fresh acidity, simply perfect for the delicacies you will also find in this particular gourmet hamper.
Explore More Gourmet Hampers
Hamper Emporium specialises in all types of gift hampers, so you will also find more gourmet hampers on our website. Even the harshest of critics will certainly be able to appreciate what Hamper Emporium has to offer in our gourmet hampers.
Discover More Food in our Christmas Hampers
Customers who are also looking for food gifts for the holiday season must also visit our Christmas hampers category. Our Christmas hampers contain some very exclusive and unique products, but also some traditional Christmas foods.
Need more information about our Christmas hampers or about the products in our Christmas hampers? Do not hesitate to contact us.
Safe Payments
All transactions done on Hamper Emporium are completely safe. We currently offer four payment methods, more specifically PayPal, Visa, MasterCard and Direct Deposit.
Transactions on Hamper Emporium are encrypted, which means that your information cannot be stolen or traced.
Quick and Free Delivery
Hamper Emporium offers a free standard delivery on all gift hampers, including our Christmas hampers and gourmet hampers. It does not matter if you buy a big or small hamper, the delivery will be completely free of charge.
Customers in Sydney Metro can also benefit from a same day delivery. As long as you order your gift hamper before 1 pm on a working day, you will receive the hamper that very same evening.
For more information about the delivery times for different regions in Australia, please refer to our delivery page.
Our Customer Support
Could you use some additional help picking out the perfect gift hamper? Then feel free to contact us at 1300 459 452 or send us a message at sales@thehamperemporium.com.au. Our customer support team will reply to you as soon as possible. Display cheeses and antipasto in style with this beautifully crafted bamboo cheese board.