EcoStore All Natural Baby Bubble Bath 200ml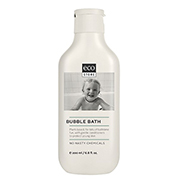 A healthier bubble bath option for newborn babies, only contains natural ingredients and protects the skin of any newborn baby. Bubble bath for newborn babies made from plant-based ingredients, does not contain any harmful chemicals that could damage the baby's skin. Organic bubble bath made from natural ingredients, containing conditioning agents to keep the skin soft and silky after bath time.
Plant based ingredients designed to match the natural oils in babies' skin with conditioning agents to keep skin soft and silky. Give Your Baby's Skin the Ultimate Protection with All Natural Baby Bubble Bath! Cleansing and gentle. Have you ever wondered how many harmful chemicals there are in standard baby products? Hamper Emporium has and because of that we tried to find all natural replacements that do not harm the skin of a newborn baby. Eventually we found Ecostore, a brand that could deliver a natural product without all the harmful chemicals. In our gift hampers, you will also find Ecostore Baby Bubble Bath, one of the products that is true recommendation for any newborn baby. So let us find more about this particular product! Ecostore Baby Products Ecostore is a company that steps away from the harmful chemicals in current day beauty and cosmetic products. This is something that Hamper Emporium can stand behind, so we gladly include some of their products in our gift hampers. The Ecostore range is not limited to baby products either, because they produce natural products for anyone. Many of the natural products from this company are not only good for the person using it, but also for the environment. Ecostore Natural Baby Bubble Bath The Ecostore Natural Baby Bubble Bath in our gift hampers is truly amazing. The ingredients of this Natural Baby Bubble Bath are all natural and they are designed to match the oils and amino acids that are naturally found in the skin of your baby. Having such ingredients in this product will therefore help to keep the skin of your baby protected. Ecostore Natural Baby Bubble Bath is also perfect for people who are concerned about the environment. All the ingredients are safe for the environment and the bathwater can even be reused for your flower garden, lawn or trees. Every product from Ecostore found in our gift hampers complies with the strict environmental standards in New Zealand, more specifically ISO14001. All products are therefore certified when they leave the factory and make their way to the consumer. Found in Multiple Gift Hampers The Ecostore All Natural Baby Bubble Bath can be found in multiple gift hampers displayed on our website. These gift hampers are Nature's Child Bath Time Natural Baby Hamper,
Organic and Natural Baby Hamper
and Natural Collection Baby Hamper. In addition to the Ecostore All Natural Baby Bubble Bath, you will also find additional organic and natural products. Some of these products are Ecostore shampoo, nappy balm, hooded towels and singlets. Want to provide the newborn with the ultimate gift that will protect them against harmful chemicals? Then we can definitely recommend one of our organic and natural gift hampers. For additional information about all the products in our gift hampers, please click on the gift hamper of your choice. Each product has its own description and additional information. Do you have more questions after that? Please contact our customer support team for more info. Do You Need Additional Help? Is this your first time shopping for a fully organic baby gift and do you need some advice or help? Give us a call at 1300 459 452 or send us an email at sales@thehamperemporium.com.au. Plant based, natural ingredients to nourish baby's skin and leave them feeling moisturised and comfortable and clean!
---