FREE Father's Day Gift Card (optional)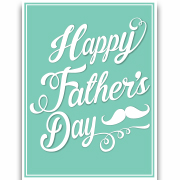 Fun gift card that can be added to your selected gift for free, making it the perfect option for Father's Day. Free gift card provided by the Hamper Emporium, the perfect addition to your Father's Day gift. Beautiful gift card for Father's Day, can be added to a gift of your choice free of charge and can be customised during the checkout process.
This Free Gift Card is available to add to your order in the checkout process, find it in the gift card dropdown options.
The Hamper Emporium is one of the most reliable gift providers online, you can rely on this site to find great gifts, unique and very affordable ones for different occasions. This is why gift hampers of this site are highly in demand, it offers a complete basket filled with impressive brand choices, delectable delights and even some giftable items are included like chopping board and more. If you've found the right gift hamper for you, you can then take advantage of the site's optional gift card for free. Yes, most of its gift cards are for free. So whether you are celebrating Christmas, Valentine's Day, Birthdays and even Father's Day, you are assured to find the appropriate gift card for the occasion.

Why Should You Add Gift Cards to Your Gift Hampers?

Adding of gift cards to your gift hampers can make your presents even more special. You get to express your inner feelings toward your recipient. Good thing The Hamper Emporium provides optional gift cards at no cost to you. One of its fun and loving gift card options is the Father's Day gift card which you can use to tell your beloved father how much he means to you. So aside from receiving an awesome gift, your father gets to read a simple yet very touching message from you thanks to the gift card you added. So don't just buy gift hampers, make sure to use the free gift card offered to put a smile on your fathers face, and melt his heart.

Can the Gift Cards Be Customised?

Customising your Father's Day gift card is possible at The Hamper Emporium. Unlike other sites', The Hamper Emporium offers the ability to customise your chosen gift card without any additional cost. So if you have a tight budget, and you want the best for your father, grab some gift hampers for Father's Day and take advantage of the team's offered customised gift cards. This can be added to your gift during the checkout process. So when checking out online, all you have to do is look for the dropdown options and take advantage of the customised option for your gift card. This is an easy task to do, you don't need to do anything and simply click on the option you want. So hurry now, purchase as many gift hampers as you want for Father's Day or even for other occasions and make sure to add some gift cards to your gifts.

Can You Add Personal Message to Your Gift Cards?

If you feel like adding a heartfelt message in your gift card, you can do so through the site's secure online order process. In fact, you can even add a logo to your gift card especially if you are giving away company gift hampers to each employee. For Father's Day, you can also include your own personal message. Just make sure to purchase gift hampers straight from The Hamper Emporium and you will be given an option to add gift cards and personalised it with your own touching message.