Kangaroo Island Eucalyptus Conditioner 250ml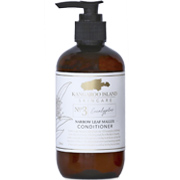 From the untouched beauty of Kangaroo Island featuring Narrow Leaf Mallee to thicken hair & add shine. Add body & shine to hair naturally, with Narrow Leaf Mallee, a Kangaroo Island native ingredient. Native Kangaroo Island Narrow Leaf Mallee will nourish, add volume and shine to hair naturally.
Made from the Narrow Leaf Mallee, native to Kangaroo Island, this conditioner improves shine & thickness, naturally.
Invigorate the senses and improve hair's shine and thickness, featuring Narrow Leaf Mallee Eucalyptus native to Kangaroo Island.
Featuring Native Narrow Leaf Mallee Eucalyptus from Kangaroo Island, boost shine and thickness naturally.
---