Marquise Baby Pink Cotton Knitted Cardigan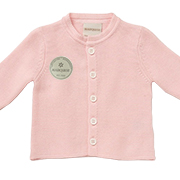 Luxurious white cardigan from luxury baby brand Marquise, perfect to keep the newborn baby warm. Marquise cardigan of excellent quality, the perfect gift for a newborn baby or as a Christening gift. Gorgeous cardigan from the Marquise baby clothing brand, who has been creating the most exquisite baby clothing since 1932.
For that extra warmth on a cool day this baby pink 100% cotton fine knit cardigan from Marquise will look beautiful on the new arrival. Size 000 The cardigans are essential fashion statements perfect during cold season. It adds warmth, comfort and style. In fact, cardigans are available in different designs such as the tied, the zipped style, buttoned and over the shoulders. This is why The Hamper Emporium highly suggests gift hampers with the Marquise Baby Pink Cotton Knitted Cardigan. It protects your child from the harmful weather and it gives utmost comfort like no other fashion clothes can.
It terms of quality, cardigans can be used every day without having to worry of its effects on your child. This is one of the safest types of clothing, which can lasts for longer periods of time. Kids and even adults would love this clothing, especially if it comes from one of the top notch cardigan manufacturers around the globe.
What Are the Best Things You Can Get Out of Wearing a Cardigan?
Adults use cardigans as fashion statements, however for concerned parents the use of cardigan for their kids is more than just a fashion statement. Kids have sensitive skin, and choosing the best type of clothing is essential. When it comes to gift hampers, you must make sure to purchase gift hampers with Marquise Baby Pink Cotton Knitted Cardigan. This product is perfect for your little girl, it is smooth and comfy to use. It is made of high quality materials, knitted intricately.
Aside from comfort, the use of cardigan makes you feel more secure and protected against sudden change in the weather, it keeps your body warm and it does not irritate your skin. So why opt for other gift hampers this summer if you can take advantage of The Hamper Emporium gift hampers for an affordable rate, with premium products in it such as the Marquise Baby Pink Cotton Knitted Cardigan.
Why Is Marquise Baby Pink Cardigan Highly in Demand?
This product is purchased by many because of its overall appearance. It comes in pink colour, very attractive especially for your cute little angels, the price is affordable, the packaging is totally impressive, other items are also included like the informative and helpful book for baby, and some clothing materials and a rattle to make your baby feel happy and comfortable.
What Gift Hamper Offers the Marquise Baby Pink Cotton Knitted Cardigan?
The Hamper Emporium proudly presents the
100 Ways to Make Your Baby Smile Baby Gift Hamper
. Just like other gift hampers, this one is priced within your means, therefore anyone can purchase this with ease. The products included in this hamper are the Marquise soft cotton booties, the knitted cardigan, the bashful bunny rattle and the very informative book for first time parents, the 100 Ways to Make Your Baby Smile Book. So make sure to check on The Hamper Emporium first, this is the only site that offers inexpensive, first class products for everyone and with free shipping included. So speed up, you need to check The Hamper Emporium now before it's too late. Great gift hampers are always on demand and you surely don't want to miss out on this product.