Marquise Boys Embroided Train Set of 3 Cotton Singlets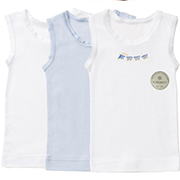 Selection of high-quality singlets from baby brand Marquise, includes the trademarked Marquise embroidery. Gorgeous selection of singlets made from the softest white cotton and lace, ensuring your baby is always comfortable and warm. Collection of some of the finest Marquise singlets, the perfect luxurious gift for a newborn baby.
Made from beautiful soft cotton, train embroided, scooped neckline picot trim. Size 000 To mark an exceptional occasion in one's life, giving away of gift hampers is just what you need to make everything memorable. One good example is the birth of a baby boy in the family; an additional member is something that everyone should celebrate. The giving of gift hampers during this time is highly suggested, it signifies that you value the moment, and the people involved in such important occasion. Speaking of gift hampers, there's one perfect baby boy hamper you can check direct from The Hamper Emporium, the Marquise Boys Embroided Train Set of 3 Cotton Singlets.
This gift hamper is filled with lavish products that every individual will find hard to resist. It is expected that when looking for gift hampers, you must opt for something that will emulate your love for the recipient, and this Marquise Boys Embroided Train Set of 3 Cotton Singlets is just the right thing to give to the celebrant of the occasion. So let's find out why this hamper is one of the finest baby boy gift hampers online.
What Are The Reasons Singlets Are Perfect for Babies?
For a new baby in the family, over buying cute little clothes for the baby can happen. This is why looking only for the best and the finest is a must, to avoid wasting your budget and at the same time, ensure that what you will be getting is healthy and would fit comfortably to the baby. So what are the reasons why you should choose gift hampers with singlets for babies? As a start, singlets can be very fashionable.
There is tons of it online with so many cute designs. Just like in The Hamper Emporium, Marquise singlets are included with embroided train in set of 3. The best part of it, this product is made in cotton. This simply means it is one of the most comfortable baby items to wear. It is perfect for hot weather, cotton materials are known to resist heat and deliver a cool feeling once worn. It is also long lasting and very durable.
What Gift Hamper Offers the Marquise Boys Embroided Train Set of 3 Cotton Singlets?
The Hamper Emporium, which is one of the most reliable online hamper provider offers the Marquise Singlets in most of its gift hampers, especially the
'Guess How Much I Love You' Baby Boy Hamper
. This hamper includes giftable items for the baby boy like the cute little rattle, at first glance you thought it's a stuffed toy, however once carefully checked you will realize it's a cute little rattle your baby boy can play around when bored. There are set of books too and cotton booties. Above all, the cotton and well embroided singlet of Marquise is included too.
Are Embroided Singlets Commendable for Daily Use?
Of course, this type of baby clothing is highly recommended for daily use. Believe it or not, embroided singlets deliver a professional look even if it's worn by babies for fashion reasons only. The use of embroided clothes showcases the different stitching arts your baby boy can use even if he is at home and doing nothing. This is why baby boy gift hampers with the Marquise singlets is one of the finest gift hampers right now. It will exceed one's expectations and will certainly satisfy the buyer without spending too much financially.