Marquise White Cotton Singlet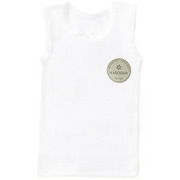 Super soft Marquise singlet made from 100% cotton, with a subtle lace trim, perfect for baby girl or boy. Size 000. A baby singlet made from perfectly soft 100% cotton. Made by Marquise, creating baby fashion since 1932. Size 000. Soft cotton singlet with the world 'baby' embroided on the singlet, perfect as a gift for a newborn baby. Size 000.
Made from 100% beautifully soft cotton, a simple singlet with scooped neckline picot trim. A newborn essential gift. Size 000.
From the baby clothes experts, Marquise, this little white singlet will be a durable essential for newborn baby. Size 000.

A lot of mothers today are extremely fond of singlets and vests for their babies. No wonder most online gift hamper providers are offering different designs of singlets; some are made in cotton and comes with embroided letters while others are made of organic materials and more designs and colours to choose from. One of the popular hamper providers online, The Hamper Emporium offers top three picks of gift hampers with cottony soft embroided singlet every mother would love to own and have their babies wear it.

What Are The Top Three Picks of Gift Hampers with Embroided Singlet In It?

Sophie & Moet Baby Gift Hamper - When looking for one of the most beautiful singlets online, this hamper is qualified to suit your taste. It offers gifts & accessories that are made of high quality materials. The Marquise Embroided Baby Soft Cotton Singlet is present to satisfy your needs. It is made of 100% cotton, very smooth and quite simple with the word "Baby" professionally and carefully embroided to meet your standards of beauty. Just like any other expensive gift hampers, this one is filled with other world class products like the Pure Baby Organic Cotton Mitten in White, the Growsuit and the Sophie La Giraffe Teether in Gift Box. This gift hamper is indeed one of the finest you could ever have online.

Paddington Bear Baby Hamper - Paddington Bear is certified cutie stuff for your baby; this makes it one of the top pick gift hampers online because of its effect to babies. This gift hamper features gifts and accessories worth purchasing, as it includes the Paddington Bear in Wellington, the Red Striped Growsuit for babies made of organic cotton, the organic mittens and a red striped hat to match your baby's outfit for the day. To make it more worthy of its price, this hamper also comes with the Marquise Embroided Baby Soft Cotton Singlet. The size starts at 00 and is perfect for babies with sensitive skin. This one has cotton material that is soft and silky for everyday use. So why check on other gift hampers, when The Hamper Emporium offers world class products within your means.

Sophie La Girafe with Navy Stripes - Who haven't heard about the Sophie La Girafe? This product is a must have when it comes to baby's needs. This is why The Hamper Emporium ensures that it is included in most of its gift hampers, along with Marquise singlet. For an affordable price, the Sophie La Girafe with Navy Stripes gift hamper presents you with Sophie items like the teether in gift box and pop-up peek-a-boo book, which were manufactured back in 1961 and until now is quite in demand. Of course, this hamper wouldn't be complete without the best cottony soft singlet from Marquise.

Are These Gift Hampers Worth Buying?

Absolutely yes! These top three gift hampers are worth buying because aside from its impressive packaging, which can bring a smile to your recipient, it also presents products considered as world class thanks to its quality. So make sure to purchase gift hampers online that comes with reliable brand.

Are There Other Gift Hampers Offering Marquise Soft Cotton Singlet?

If you browse for more gift hampers with class and value, there are more that offers the marquise Singlet such as the Welcome Baby Boy with Moet and the Welcome Baby Girl Hamper with Moet. All these gift hampers are offering the Marquise Singlet in an affordable rate, reasonable enough to spend your money with. You also get the Moet & Chandon Brut Imperial NV Champagne, which is perfect if you are not only putting a smile to a baby's face but as well as celebrating a special event. So what are you waiting for? Grab The Hamper Emporium's top three picks of gift hampers, don't hesitate and simply purchase it. The Hamper Emporium surely offers gift hampers that are considered as the epitome of gifts and beauty.
An essentail item for new baby, the little white singlet is perfect for Summer or Winter. Made from soft yet durable cotton. Size 000.
---