Marquise Embroided 'Bunny' Soft Cotton Singlet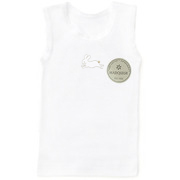 An absolute basic for the newborn baby's wardrobe, a beautiful singlet made from the softest cotton from Australian baby brand Marquise. High-quality singlet with bunny embroidery, coming from the luxurious baby brand Marquise. Soft bunny singlet made by famous baby brand Marquise, does not contain harmful chemicals and keeps your baby warm during the winter.
Made from 100% beautiful soft cotton with a cute little bunny embroided on the front, a simple singlet with scooped neckline picot trim. Size 00 Babies are so gullible that almost all mothers want the best and the safest for them at all cost. No doubt mothers today prefer to purchase gift items that are purely safe, smooth, soft, cute and above all healthy for the babies. So when it comes to the top gift hampers for mothers who love cute baby stuffs, there's only one reliable hamper provider you can count on, The Hamper Emporium. This site offers baby items that are tested and proven to be safe for daily use as well as comes with utmost cuteness, making it quite hard to resist and neglect. Whatever occasion you are looking forward to, you can count on The Hamper Emporium to showcase baby items that are of high quality, inexpensive and really suited for babies use.
Is There a Cute Gift Hamper For Your Baby Boy?
When you say cute, it is not only intended for baby girls but as well as boys. Although it can be hard to find a cute baby boy staff, it is not a hindrance to let your little angel wear a cute singlet that will enhance his cuteness more! The
Snuggles Baby Boy Hamper
of The Hamper Emporium is one perfect hamper for your little boy. Just like other gift hampers of The Hamper Emporium, this one is offered with free delivery Australia wide for a certain price. The amount of this hamper is reasonable, not too low yet not to high; just enough to fit everyone's budget. It is filled with a cute snugly bear toy in baby blue colour, a soft cottony blanket, Jules Destrooper Almond Florentines biscuit, a bottle of Chardonnay and the ever cute Marquise Embroided Bunny Soft Cotton Singlet which comes with a Bunny embroided right in front of the singlet.
Is There a Cute Gift Hamper For Baby Girls Online?
If there are cute gift hampers for boys, then you can certainly expect a lot for little girls and princesses. The Snuggles Baby Girl Hamper offers a delectable Maison Fossier 12 Biscuit Roses with a cute and attractive girly packaging. It also presents you with Brown Brother's Chardonnay to celebrate a wondrous occasion. When it comes to gifts and accessories, there are three charming products you can't resist; the soft blanket in baby pink colour, the snuggles bear in pink shade and of course, the highly recommended singlet from Marquise with a small bunny embroided intricately in front of the singlet. The size of the singlet is 00 which is perfect for newborns too.
Are There More Cute Gift Hampers for Mothers and Babies?
The Hamper Emporium is a versatile gift hamper provider, therefore you can expect to see different gift hampers perfect for birthdays, anniversaries, christening, Christmas, adding members in the family, and so much more events. There are cuter gift hampers you can purchase online; some are the Snuggles Baby Hamper which is a combination of edible treats and giftable items, the Snuggles Baby Boy with Moet, Snuggles Baby Girl with Moet and lastly, the Snuggles Baby Hamper with Moet. Hurry now; grab these gift hampers for a low price and avail of the site's free delivery service. Get the best out of your purchase and enjoy the products included in each hamper, as a mother you will surely find each item cute, sweet and quite charming.